New Mexico. A state settled by people from all walks of life – it has the appearance of physical and cultural diversity at its finest. Famous cities like Albuquerque and Santa Fe are known for honoring their cultural legacies. But the rest of New Mexico's landscape is equally, if not more, varied. From rejuvenating hot springs to white sand deserts, cave dwellings to vast volcanic calderas, New Mexico has some of the most beautiful places to visit in the United States.
At the heart of New Mexico, there's skiing and outdoor adventures, history and cultural excursions – including foodie and relaxing opportunities – that paint the locale with all the assorted flavors that makes New Mexico unique. We have created the ultimate bucket list of 14 beautiful places in New Mexico that'll leave you in no doubt that this is the "Land of Enchantment." Get ready to add, add, add to your New Mexico bucket list.
What are the best things to do and the most beautiful places in New Mexico to see?

Gila Cliff Dwellings and Middle Fork Trail Hot Springs hike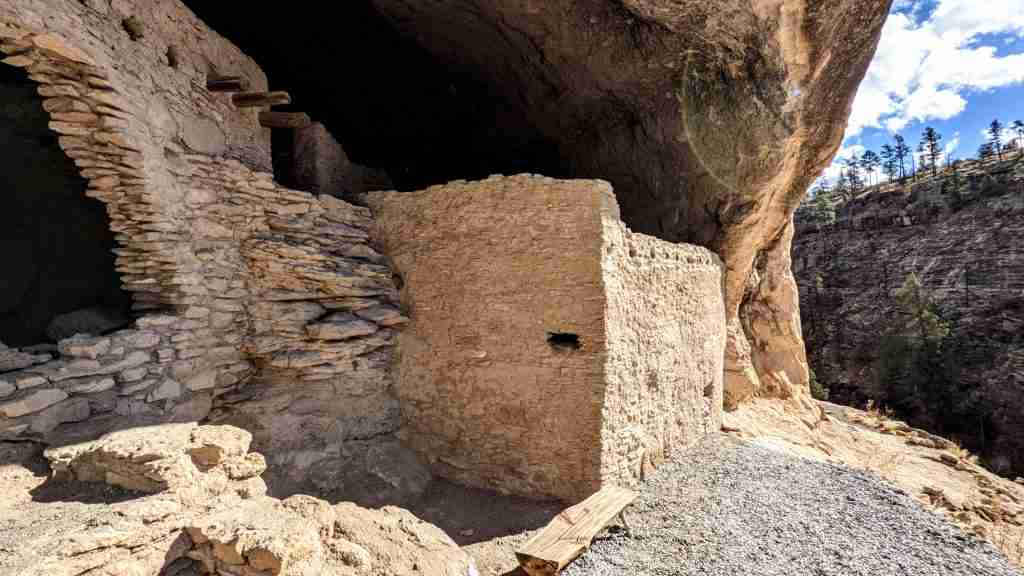 The Gila Cliff Dwellings are a fascinating discovery as they shed light on the Native American Mogollon culture who sheltered here from the 1280s through to early 1300s. Situated in the southern portion of Catron County on the Gila River, these Mogollon cliff dwellings are encompassed by the Gila National Forest and lie on the Gila Wilderness's edge.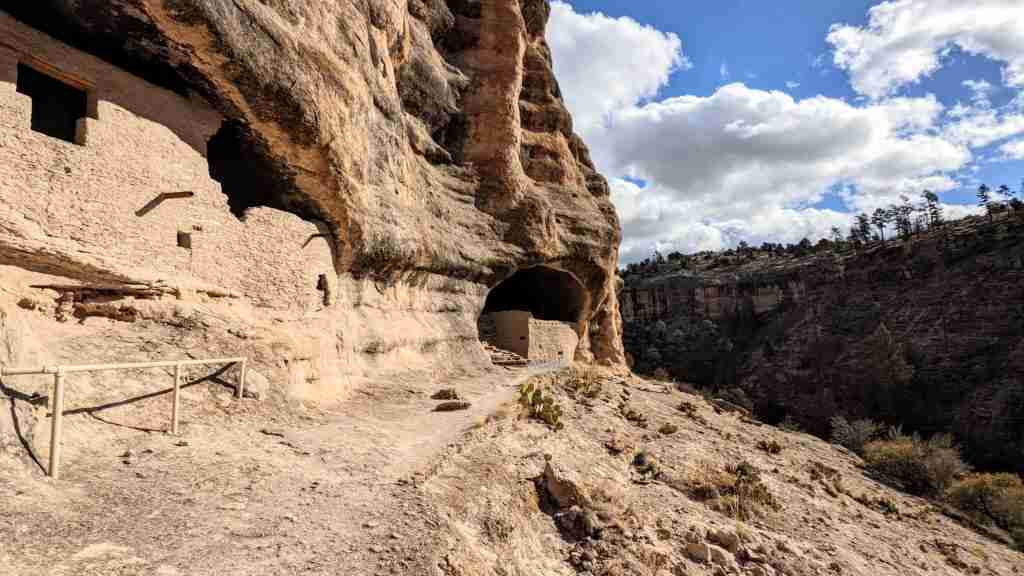 Both of which have over 1,927 miles of hiking and riding trails. Off the beaten path and considered the "most beautiful" of pre-Columbian ruins in New Mexico, the Gila Cliff Dwellings house five main caves and 46 rooms, a museum and visitor centre that digs deeper into its heritage with exhibits' of Apache and Mogollon artifacts. There's also an invigorating one-mile-long hike to the site. For those hiking, the cliff dwellings are closed at 5 pm, but the park offers a moonlight hike if you're interested.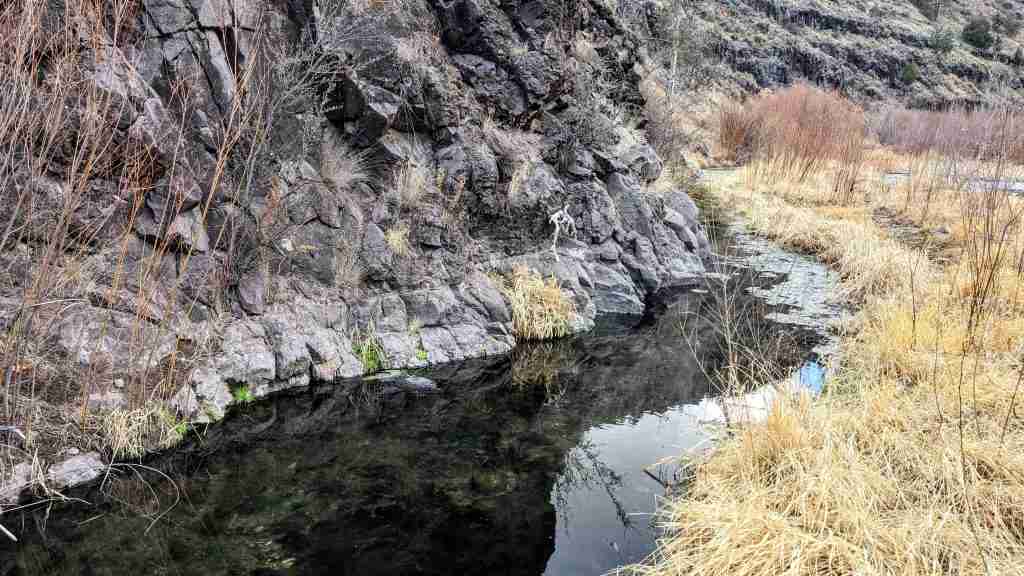 The Middle Fork, otherwise known as Light Feather Hot Springs, is considered a hidden gem and one of the most beautiful places in New Mexico. This oasis can be accessed by the Middle Fork Trail from the Gila Cliff Dwellings National Monument. The path is perhaps equally beautiful with towering mountains foregrounded by grassland, sweet flowers, a gentle river and hot spring pools. From the pools, guests are given a choice, to head back to the Gila Cliffs or proceed onwards to a place where the grass is always greener.
White Sands National Park and Monument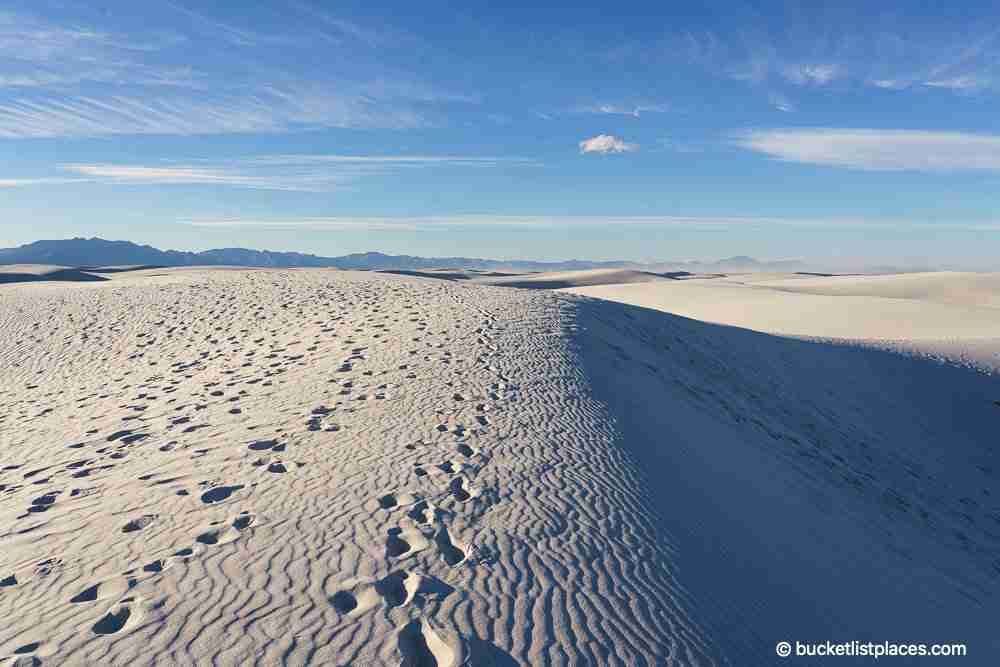 If you have a bucket list for Earth locations that look otherworldly, then the White Sands National Park should be at the top of that list. This is undoubtedly one of the most beautiful places in New Mexico. Located in the Chihuahuan Desert's northern section, these waves of undulating dunes are composed of gypsum crystals. They are the largest gypsum dune field globally, coating 275 square miles – which can be seen from space. While it is spectacular at any time of the day, sunrise and sunset cascade a lilac hue across the dazzlingly white sea, which will leave you flabbergasted as to how the scene before your eyes is real.
Consider this a road trip where the principal objective is to get out and explore. With this in mind, start from the visitor centre and loop your way along the 16-mile drive, stopping to walk around, hike the five-mile backcountry trail called the Alkali Flat, picnic, sunbathe or embark on a sand sledding adventure.
Looking for one of a kind, adventurous things to do in New Mexico? Sand sledding down a sand dune at White Sands National Park should be at the top of your bucket list. No need to bring along a sled, the National Park Visitor's Center sells sleds for a small cost.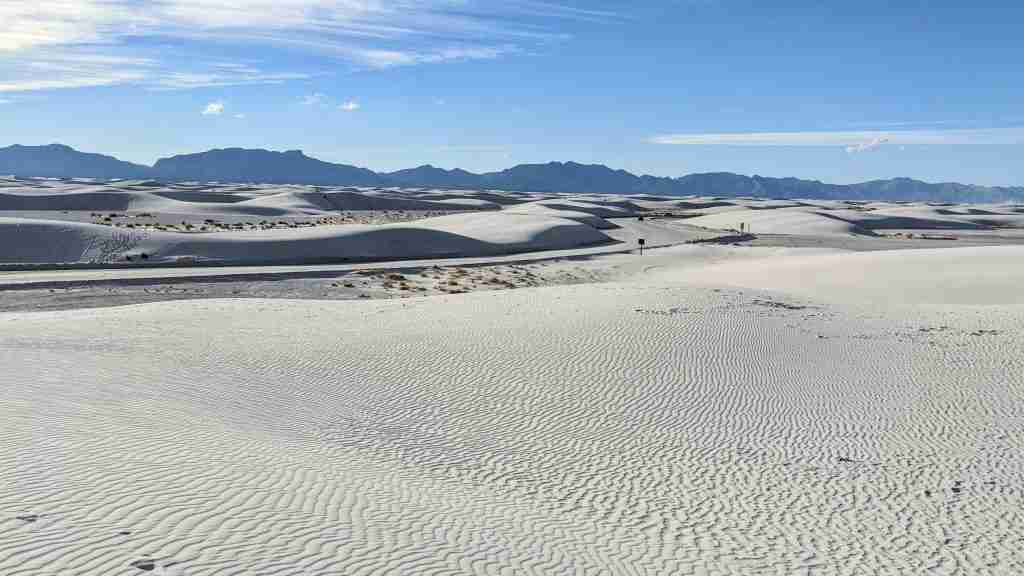 Carlsbad Canyon National Park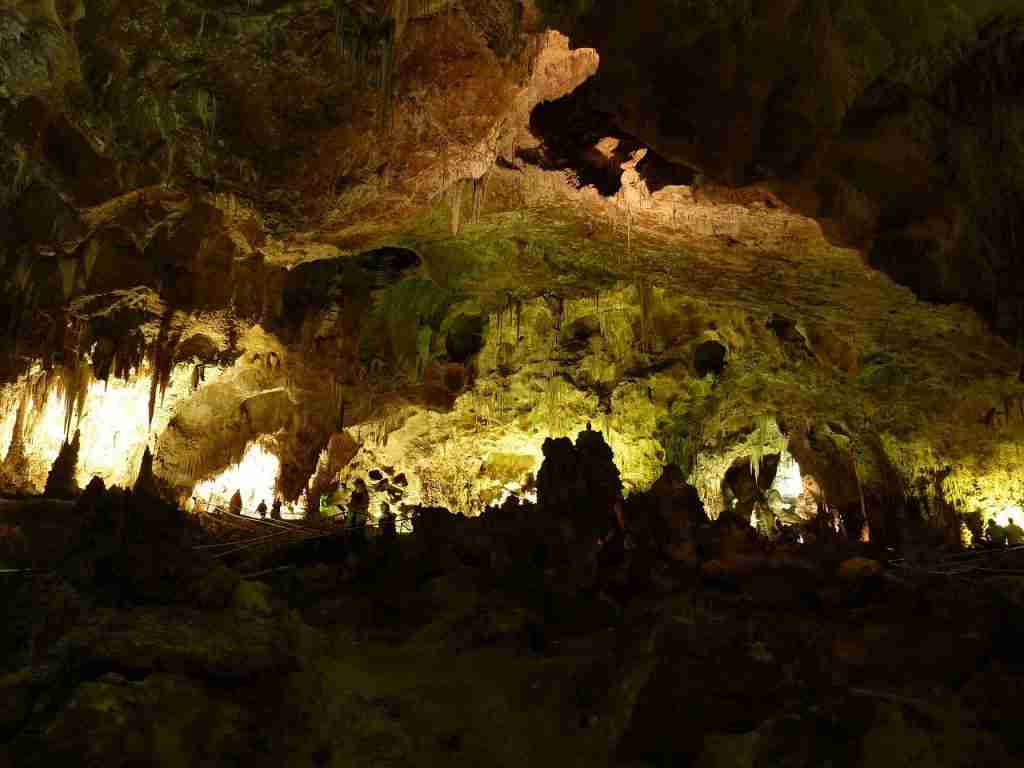 Among the most beautiful National Parks in New Mexico is the Carlsbad Canyon National Park for its colossal 119 caves! The park is located in the Chihuahuan Desert, and the star of the show is the park's namesake, Carlsbad Cavern, with its terrifying quantity of low hanging stalactites. Guests can either descend to the main chamber in an elevator that drops the Empire State Building's equivalent height or take a more active route by walking 1.25 miles down into the darkness.
Once arrived, you'll find yourself located in the aptly named Big Room, which is 1,800ft long, 225ft in height and roughly 800ft below ground level. Here, you will find one of the coolest things to do in New Mexico. An underground snack bar that you'll probably never forget – how many times can you say you've eaten underground?
Then capitalize on being underground and traverse the 1.25-mile loop trail, stopping on the way to marvel at the Bottomless Pit and the world's largest stalagmite. You might catch a glimpse of the 400,000 Mexican free-tailed bats that call the caves home!
Alternatively, explore above ground with one of the park's hiking trails encompassing over 50 miles of canyons, cactus, prickly shrubs, gravelly slopes and grass. Easily one of the most beautiful places in New Mexico, keep in mind that you'll need to pick up a free permit from the visitor centre before hiking this area.
Petroglyph National Monument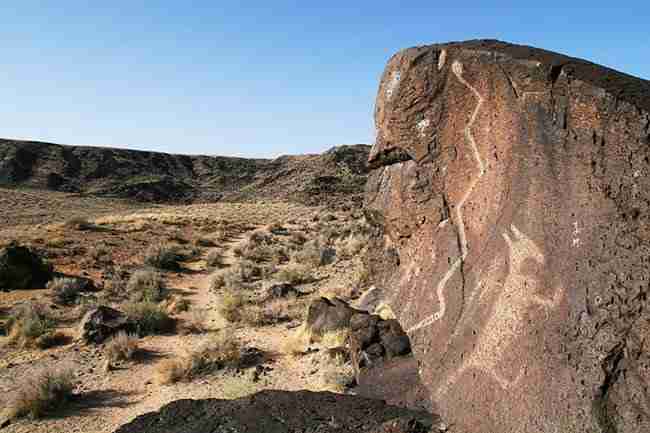 Stretching 14 miles along Albuquerque, the Petroglyph National Monument is undoubtedly one of the most beautiful places in New Mexico. It has four major sites – Boca Negra Canyon, Piedras Marcadas Canyon, Rinconada Canyon and the Volcano Day Use trails, which hold 24,000 images, otherwise known as petroglyphs. These petroglyphs are mostly free of graffiti and carved by Ancestral Pueblo people and early Spanish settlers. Many of them are recognisable as animals, people, and crosses, and it is believed that the meaning of the carvings was understood only by their maker.
These regions also have hundreds of archaeological sites, five fissure volcanoes and cliff-side ridges created a few millennia ago. To see the petroglyphs head to the Boca Negra Canyon zone as it hosts the most, with some being more than 3,000 years old. It'll take roughly half an hour to explore, but visitors are encouraged to take a hike around the designated trail map, which will take about two hours.
Pecos National Historical Park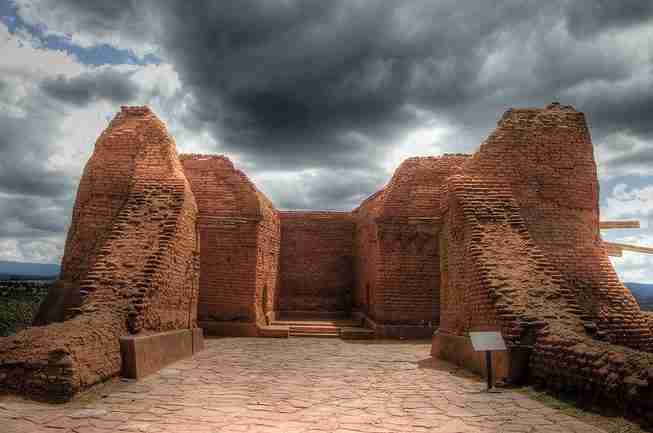 Visiting the Pecos National Historical Park is your chance to live your wildest dreams of being an archaeologist.
Situated east of the city of Santa Fe, the Pecos National Historical Park is a collection of landscapes infused with historical features from prehistoric ruins to an American Civil War battlefield. Its largest element is Pecos Pueblos ruins, dating back almost 1,000 years and is otherwise known as Cicuye Pueblo, meaning the "village of 500 warriors". Within 350 years of first settling here, the Pecos village grew to house more than 2,000 people in five-storied complexes and remains of 20 ceremonial subterranean kivas indicates they lived an elaborate religious life.
A self-guided trail begins in the visitor centre and takes guests to the Spanish mission church's ruins, built-in 1625. For something completely different head to the Forked Lightning Ranch – a cattle ranch founded by a famous rodeos' producer, Tex Austin. Before leaving, a must-see is the Glorieta Pass Battlefield, where Confederate forces were fought to a standoff by the Colorado Territory militia.
Bandelier National Monument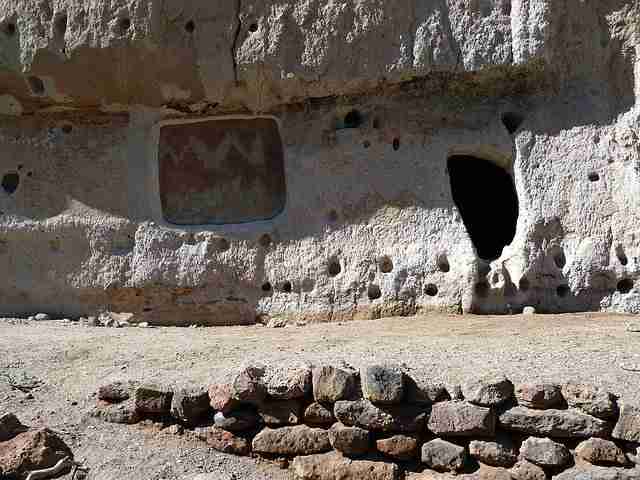 This 33,000+ acres of the Frijoles Canyon's cliffs, dotted with alcoves and caves, looks like a planet out of Star Wars. In reality, the Bandelier National Monument preserves the Ancestral Puebloans' territory and homes, dating between 1150 and 1600 AD.
It is only an hour's drive from Santa Fe and the largest cliff dwellings in New Mexico, with ladders on-site to make access to the higher caves easier. Its location on the Jemez volcanic field slopes in the Jemez Mountains makes it even more thrilling.
There's also 1.2-mile Main Loop Trail that offers an introduction to the ruins, passing Big Kiva and the Tyuonyi Ruins, the original pueblo on the canyon floor. Further along the trail is the Alcove House, otherwise known as Ceremonial Cave, which is 140ft above ground.
Valles Caldera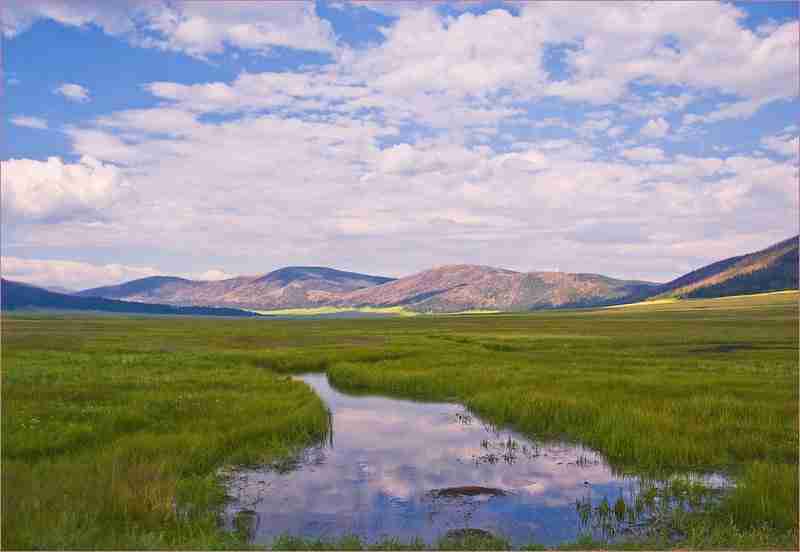 One of the best volcanoes in New Mexico is Valles Caldera, a 13.7-mile-wide volcanic caldera in the northern part of New Mexico in Jemez Mountains. It is the place to visit if you've ever wondered what it would be like to stand in a dormant volcano that erupted millions of years ago.
Valles Caldera is home to New Mexico's second-largest herd of elk, meadows, hot springs, streams, natural gasses, volcanic domes that make for an exciting hike or mountain bike excursion in the summer months. Alternatively, the winter offers a different kind of adrenaline rush as the landscapes lend itself to cross-country skiing and snowshoeing.
If heights are your way of feeling alive, make sure to head to Redondo Peak. It is the caldera's highest point, towering at 11,253ft and also within the caldera are grass valleys that are worthy of your time.
Santa Fe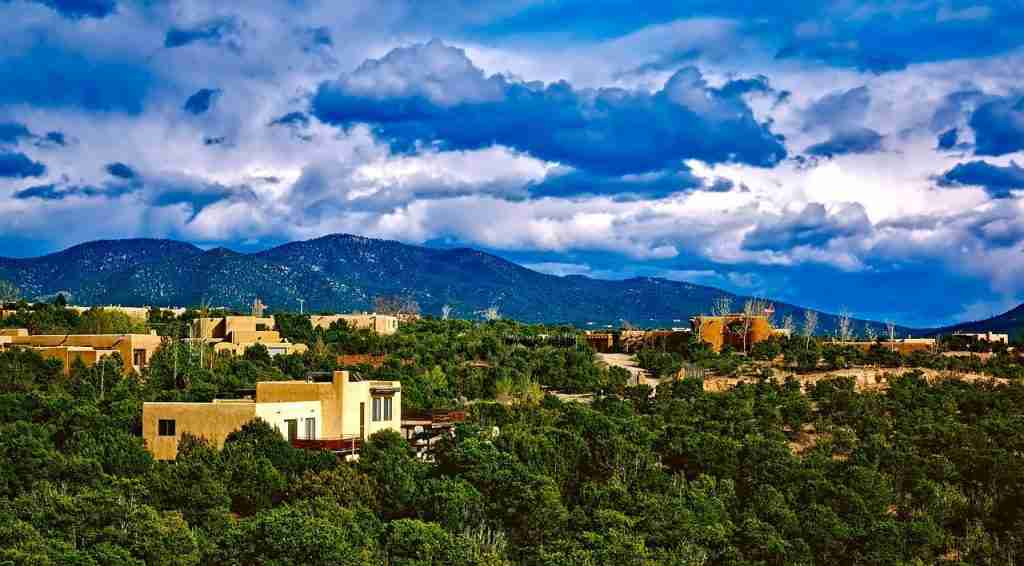 Known as "The City Different," Santa Fe lives up to that tagline. Around every corner, an eclectic art scene of galleries and museums dances blithely from traditional to contemporary. Varied history and culture are commemorated in the city's every step and breath, through the adobe streets, busy plaza, and in their award-winning cuisine. There's a sumptuous yet timeless soul that'll leave you discovering something about yourself in a city that never forgot itself.
Experiences in Santa Fe are many, but its geographical position at the bottom of the Sangre de Cristo range makes it an excellent place for you to try hiking, skiing or mountain biking. Or if you desire a less active day, pop into the Randall Davey Audubon Center and Sanctuary to see over 180 species of birds or visit one of its remarkable churches while wandering its ancient lanes. Après adventure should be indulged in one of its local restaurants where an amalgamation of Anglo, Spanish and Indigenous American influences make for a delightful gastronomic experience.
Drive from Santa Fe to Taos along the Rio Grande River and Gorge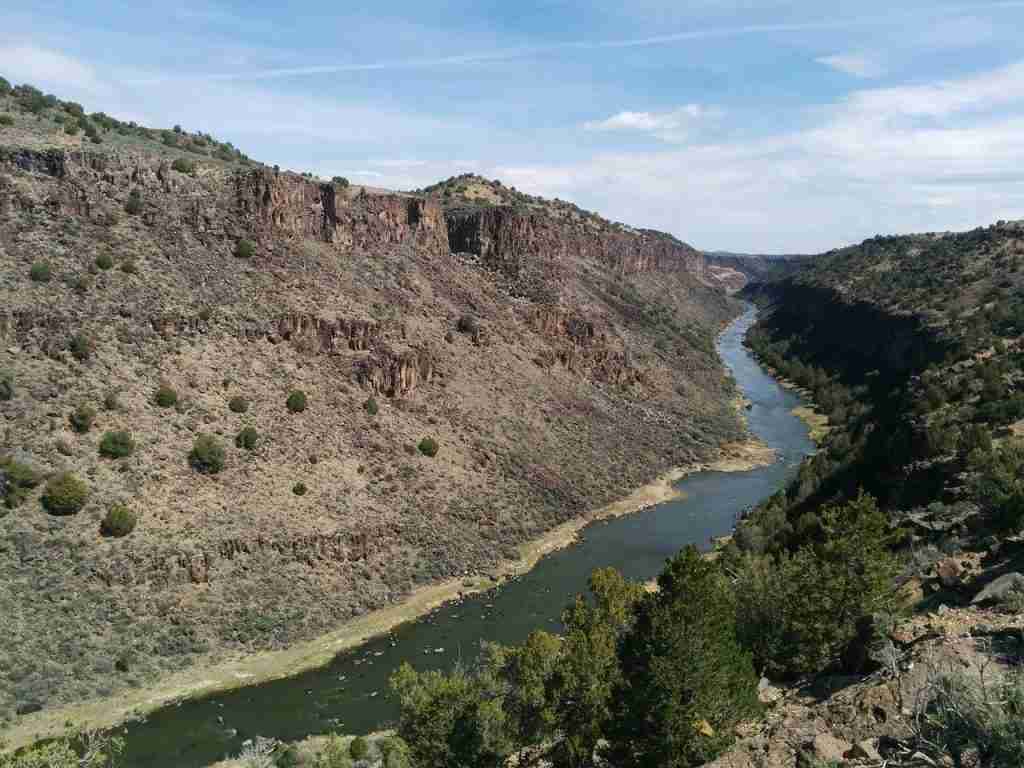 Hire a car, pack your things and get ready for the ultimate road trip in New Mexico. Start by taking the low road from Santa Fe to Taos (U.S. Hwy 68), following the meandering Rio Grande River and eventually ascending high into the mountains. On this road, you'll pass by the modern town of Española and spell-binding canyons.
When you climb out of the slender precincts of the River Gorge it's a thrilling rush; the view opens to a vast sagebrush vista with the endless blue Taos Mountain range and black-and-white magpies soaring above. Should you wish to stop and take in the scenery, there's a parking space adjacent to the Rio Grande Gorge Bridge. This allows you to walk to the middle of the bridge and see for yourself why this is one of the most beautiful places in New Mexico.
Taos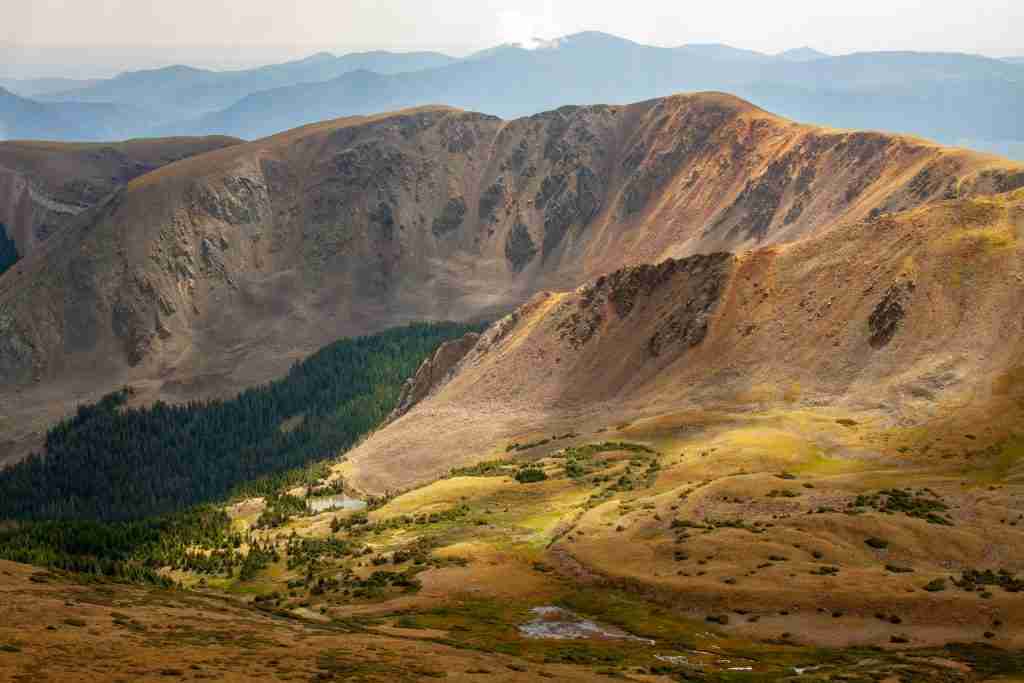 It has been argued that Taos is perhaps the most extraordinary of beautiful places in New Mexico, exceeding in magic, charm and allure than anywhere else in the "Land of Enchantment". A quaint town that has been bewitched by its formidable surroundings – think snow-capped peaks that ascend to 12,300ft which are caressed by an intense sapphire blue sky, while a plateau peppered with sage plunges 800ft into the Taos Gorge – offering the best spot for photographing the Rio Grande.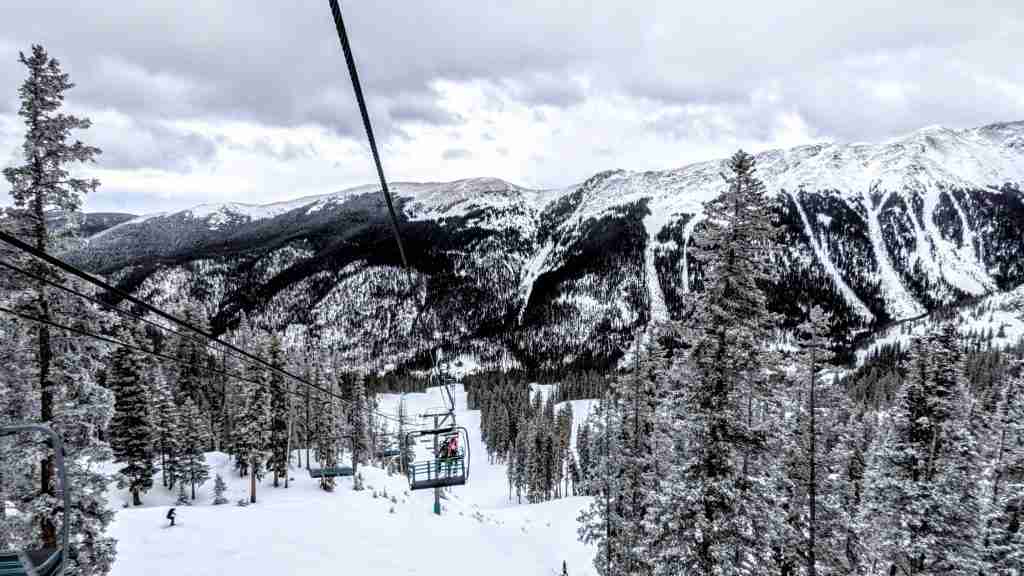 Despite their ancient heritage, the town itself is a calm environment with quirky cafes, a plethora of museums and excellent restaurants. Taos is also the premier ski town in New Mexico with its demanding Sangro de Cristo mountains. In fact, we created an epic 2 week bucket list ski road trip itinerary for those who love to chase powder. Make sure to head to Taos Ski Valley for the best slopes and luxurious accommodation.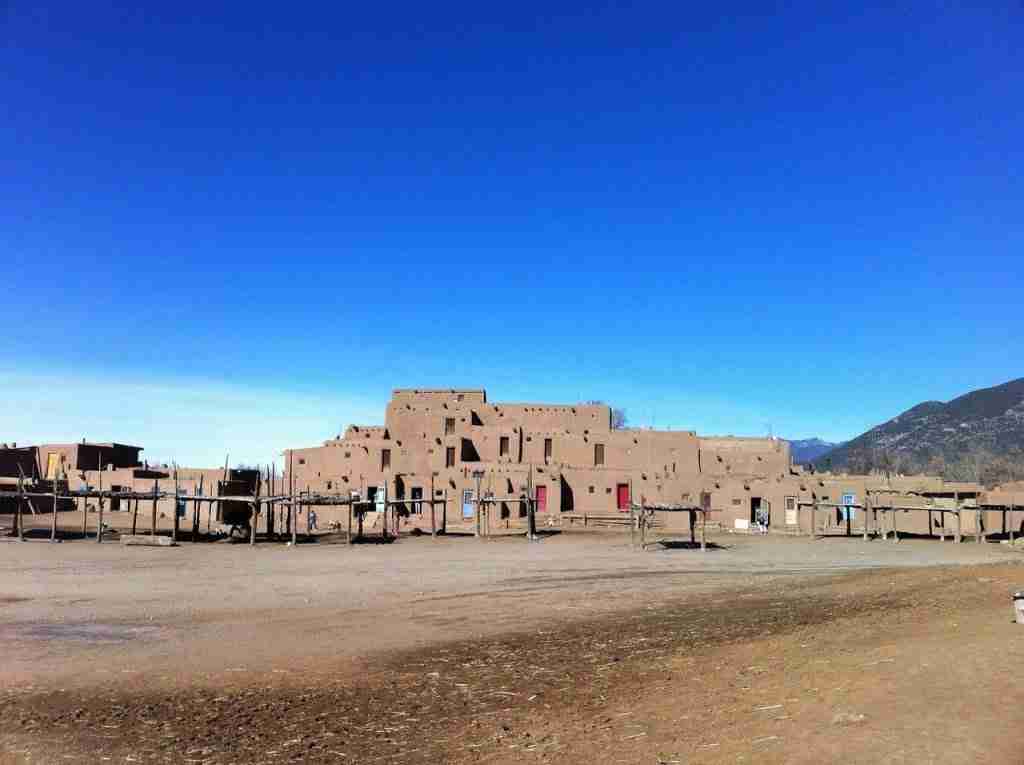 The Taos Pueblo has one of the oldest continuously inhabited communities in the U.S., extending over 1,000 years. From dwellings to ceremonial buildings, seven kivas to a track for traditional footraces, church ruins to the present-day San Geronimo Catholic Church, the Taos Pueblo evokes the culture of the Pueblo Indians of New Mexico and Arizona.
Black Rock Hot Springs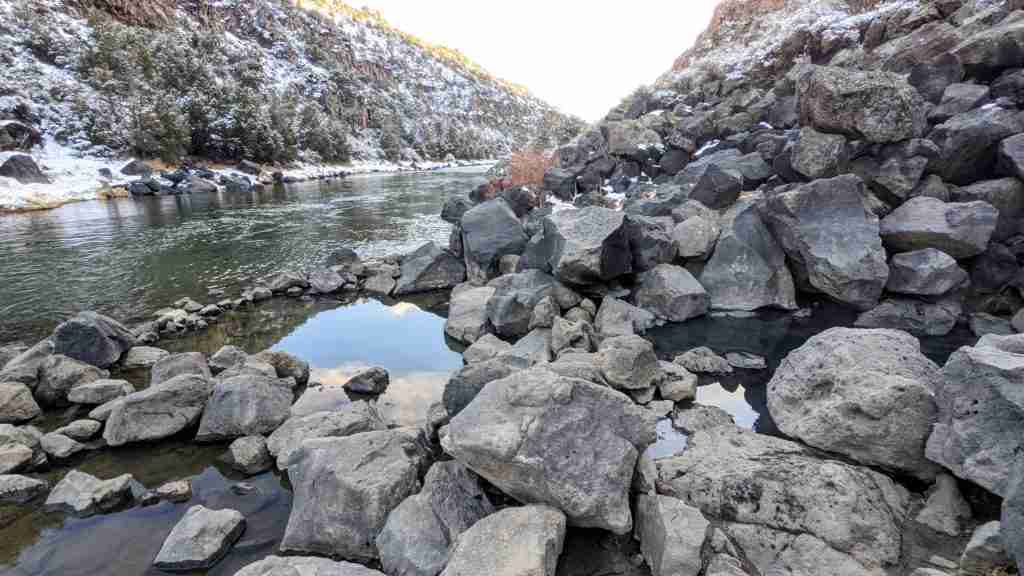 Considered as a locals-only secret, the Black Rock Hot Springs comprise two rock bottomed pools along the Rio Grande. These hot springs are often overlooked for the more popular Manby Hot Springs down the road, but their secluded and deserted nature makes it the ideal spot for the free-spirited. Its privateness opens your eyes to the natural world, making it truly one of the most beautiful places in New Mexico.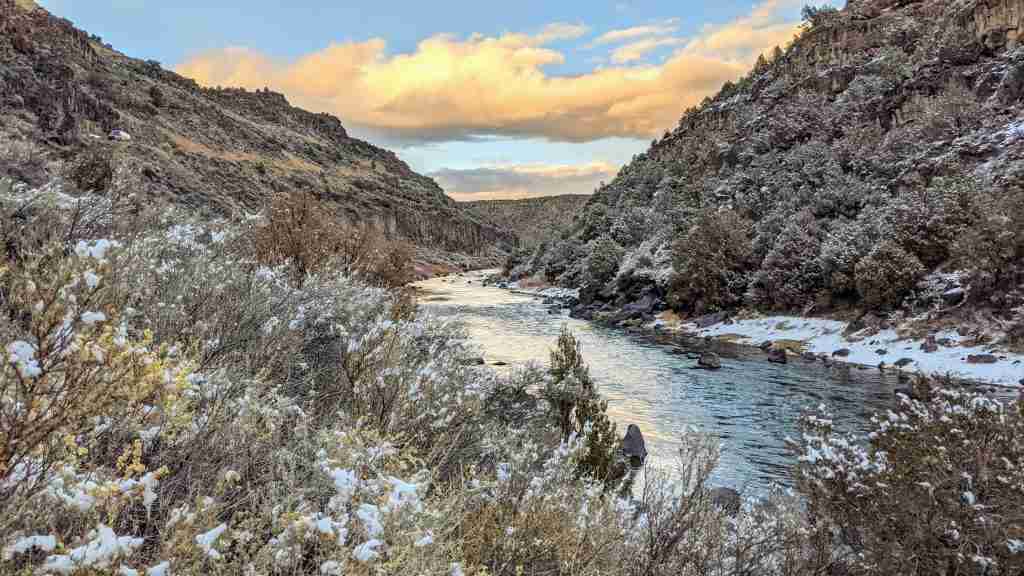 Park your car on a little cliff and hike down a narrow path peppered with sagebrush, guiding you towards the one-lane John Dunn Bridge. From here, it is an easy walk downstream to the hot pools where clothing is optional, and access is free.
Ah-Shi-Sle-Pah Wilderness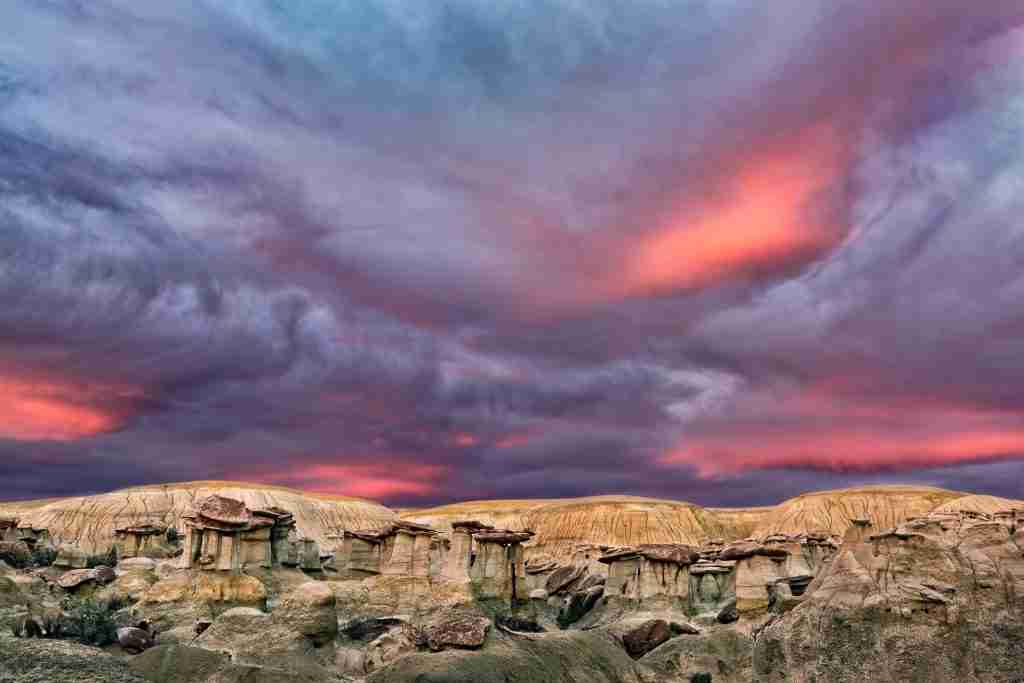 One of the strangest landscapes in New Mexico is the Ah-Shi-Sle-Pah Wilderness Study Area. Hovering in San Juan County, there's multicoloured Badlands, dinosaur bones, petrified wood including stumps still in upright positions with roots, balanced rocks and sandstone mushroom-shaped hoodoos.
These eroded rocks lie in northwest New Mexico's highest desert, and its vast flat, sandy and uninhabited terrain feel like a Martian planet. The rock formations extend 6 miles, but the best and easiest section covers about 1.5 miles and can be reached by the official trail path.
Bisti/De-Na-Zin Wilderness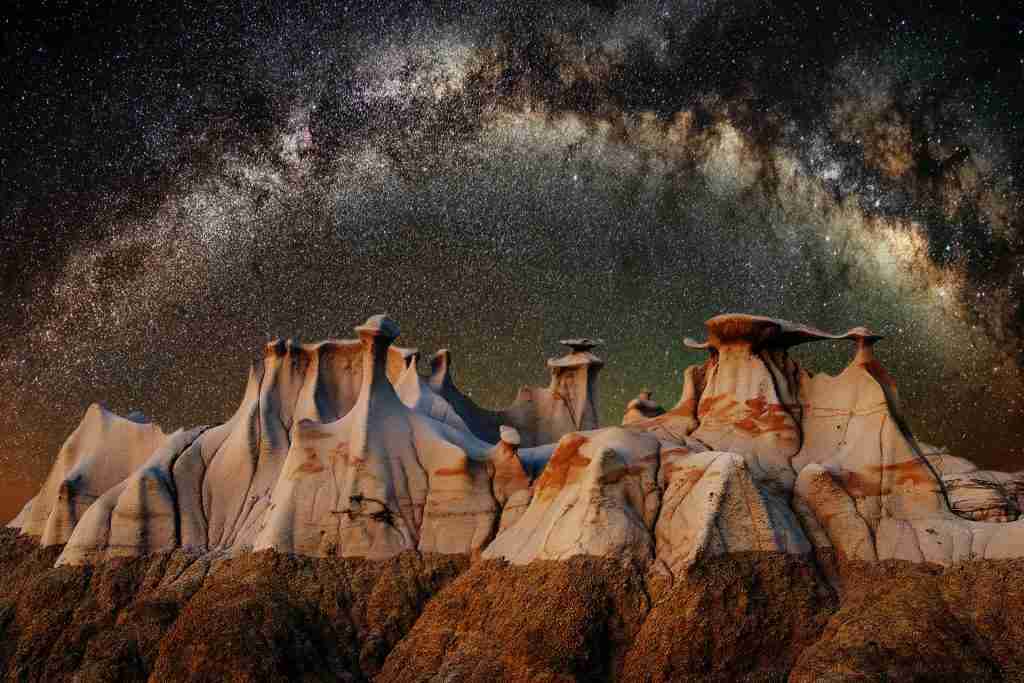 Similar to Ah-Shi-Sle-Pah, the Bisti/De-Na-Sin Wilderness – otherwise known as the Bisti Badlands – looks like the set of the next big alien movie. Located in the northwest New Mexico's desert, the Bisti Badlands takes its name from the remarkable rock formations, and the petroglyphs of a crane discovered in the area. 'Bisti' translates to "among the adobe formations", while 'De-Na-Zin' is the Navajo word for animal.
Made from sandstone and shale, the undulating landscape is a labyrinth of tall hoodoos and oddly shaped stone resulting from water and moisture wearing away the softer layers of ash. The finest point of the Bisti Badlands can be accessed off State Highway 371. Make sure to take the Road 7297 for approximately two miles, take a left and then drive a mile to the Bisti Access Parking Area. The rock formations are 1.6 miles from here, so pack your water and hike your day away.
Additional information about these beautiful places in New Mexico
All the aforementioned most beautiful places in New Mexico can be explored independently or with a tour guide. Before visiting, it is worth checking to see if the tour guides give more intimate access to these sites, as most do. This will provide you with a more enriching New Mexico experience that'll stay with you long after your bags are unpacked.
Looking for more inspiration for your bucket list? Check out:
Ecuadorian Amazon Trip Review: 5 days/4 nights on the Manatee Amazon Explorer
Romantic Boston for Couples: The Perfect Date Night Out
Culinary Perfection in Mindo, Ecuador: Cuyana Restaurant Review
Ultimate Kauai Travel Guide: The Best Things to Do