Alaska is a truly bucket list worthy destination and one of the most beautiful places to visit in the world. The monumentally large glaciers, national parks, wildlife and sweeping displays of Northern Lights found in Alaska, make it not only geographically the biggest state in the U.S., but a destination that defies logic. It's an intensely scenic landscape making it a haven for creatives and adventure seekers. But where should you stay when visiting the epic destination? We've rounded up the top locations and best places to stay in Alaska for you right here!
Best Places to Stay in Alaska
The Best Lodging in Anchorage
As the largest city in Alaska, Anchorage is one of the main transport hubs for travelers arriving by plane or boat. From the Chugach Mountains and the magnificently beautiful Chugach State Park to the Anchorage Museum; The Tony Knowles Coastal Trail to the Alaska Native Heritage Center, there's something for everyone to enjoy.
Loft in the Clouds
Located a short 25 minutes from downtown Anchorage, situated on top of a mountain right by Chugach State Park, Loft in the Clouds is not only the top pick for the best place to stay in Anchorage but is also one of the most beautiful places to stay in Alaska. This ultra modern, loft-like home has 4 bedrooms, 2.5 baths and sleeps up to 10.
What makes this property truly incredible is the amazing views from every floor including decks on every level and a roof deck that has 360 degree views of Denali peak, the Alaska mountain range, Knik inlet and the mountains in Chugach State Park. In the winter, it is also one of the best places to stay in Alaska to see northern lights. Other amenities include an outdoor propane fire-pit, wet bar area with a pool table, 65 inch TV and much more, perfect for groups large and small.
Embassy Suites by Hilton Anchorage
The second place on our list of best places to stay in Anchorage is the Embassy Suites by Hilton Anchorage. Situated six miles from Anchorage airport and only 15 minutes from the Tony Knowles Coastal Trail, the hotel has upscale facilities, including spacious rooms with magnificent waterfront or mountain views. Guests can enjoy free made-to-order breakfasts, a state-of-the-art fitness center, an on-site restaurant, an indoor pool, and the on-site library!
Alyeska Resort
For those visiting in the winter and looking for the best places to stay in Alaska in December, head out to Alaska's top ski resort. Around 40 miles from Anchorage is Alyseka Resort which prides itself on being 'lush outside, sumptuous inside', and on this note, it delivers! Inside, there are 304 bedrooms with bathrobes, Wi-Fi, and sumptuous beds.
There's a spa, pool, exercise room, a hot tub and sauna, four restaurants and two bars. Take the tram to the top of the mountain for incredible views of glaciers and the surrounding area. The concierge team can also arrange dog sledding, rafting, heli-hiking, and fishing activities. During wintertime, the hotel becomes a premier ski resort.
Sheraton Anchorage Hotel
Sheraton Anchorage Hotel is one of the best options for lodging in Anchorage as it's right in the center of the city with easy access to the country's main sights! Its sleek exterior gives way to an earthy, wooden interior. Expect to find roaring fires, bedrooms with flat-screen TVs and insane mountain views, and a spa and fitness center. Two restaurants are serving Alaskan cuisine, cocktails, and appetizers.
Parkside Guest House
This is a 3-bedroom inn, open between June and mid-September. The Cole/Hamm Family of Camp Denali operates the guest house which has rooms varying from twin to queen-size beds. These rooms are decorated with quality handcraftsmanship, and there is free Wi-Fi and a private bath. A spacious living room is on the second floor with views of downtown Anchorage, Cook Inlet, and the mountains.
Best Places to Stay in Wrangell St. Elias National Park
Situated in the south center region of Alaska, Wrangell is full of mountains and glaciers. There are plenty of hiking opportunities, including nine of the highest peaks in the north USA. It also has an abundance of wildlife and tours to an abandoned copper mill.
Kennicott Glacier Lodge
Kennicott Glacier Lodge is in the center of the national park with views of the Wrangell and Chugach mountains. The property is a beautiful replica of a traditional copper-mining building and has a 190-foot-long porch, five downstairs and 18 upstairs bedrooms with shared or private bathrooms. The bedrooms have antique mining artifacts and photos, while the restaurant, Reading Room, and Gathering Room, featuring a TV, are ideal for relaxing.
Ma Johnson's Hotel
Ma Johnson's Hotel was originally a boarding house, but today it's the best place to stay in Alaska for an authentic Alaskan experience. It's the only place in the area to be mentioned by Michelin Guide for quality accommodation and food. The rooms have original bed frames, an in-room sink, and a shared bathroom. The award-winning restaurant serves local delicacies like Wild Copper River Red Salmon.
Ultima Thule Lodge
Ultima Thule Lodge is an adventure-centric complex that is a truly bucket list lodging destination. If you want to see truly untouched, Alaskan wilderness, this is it. The main lodge houses a dining room, an open kitchen, and a sitting room with floor-to-ceiling windows so you can enjoy the scenic view. It's one of the best luxury lodges in Alaska with a library, yoga yurt, wood-fired sauna, fire-pits, a meditation house, and private cabins. All in complete wilderness in the middle of the Wrangle mountains. These cabins are handcrafted, and the team can personalize your adventurous activities.
Best Lodging in Talkeetna
Talkeetna is a charming town between Anchorage and the Denali National Park. It's known for its flight-seeing over the Denali, North America's tallest peak, and for sitting at the confluence of the Susitna, Chulitna and Talkeetna rivers. When looking for the best places to stay in Talkeetna, it's all about figuring out what you want. Talkeetna lodges can go from very high end all the way down to hostels.
Talkeetna Alaskan Lodge
This is one of the best luxury lodges in Alaska and a top place to stay in Talkeetna, as it has forest and mountain views and a rustic interior design. It is world famous of its incredible views of Denali on clear days. At Talkeetna Alaskan Lodge, you'll find roaring fires, native art, and cozy furniture. The rooms range from Guest Lodge rooms with two double beds to the King Suite which has an additional living room. There are multiple dining options, serving traditional Alaskan cuisine and an award-winning wine list.
Denali Overlook Inn
Believed to be one of the best B&Bs in Alaska, the Denali Overlook Inn is just five miles from Talkeetna and overlooks the Denali National Park. The grounds are spectacular and perfect for watching the Northern Lights. It also has access to cross-country skiing, snowshoeing, and snow machining. The inside is equally impressive with six rooms and Alaskan-style breakfasts are included in your stay.
Best Places to Stay Near Denali National Park
The Denali National Park is by far one of the best places to stay in Alaska as there's a wealth of wildlife, outdoor adventures, and staggering scenery to discover. Its six million acres have America's tallest peak, grizzly bears, and wolves.
Grande Denali Lodge
Considered one of the best luxury lodges in Alaska and situated on Sugarloaf Mountain, Grande Denali Lodge was designed to mirror the natural landscape. It is considered one of the top choices for places to stay in Denali National Park. Expect to find log architecture, vaulted ceilings, rock fireplaces and views of the Nenana River canyon.
The spacious rooms are smoke-free, featuring amenities to make you feel pampered. The guest cabins are similar; each sleeping four persons with a separate living room and viewing deck. The hotel hosts local tours, and the Alpenglow Restaurant serves traditional cuisine!
Denali Bluffs Hotel
Situated at the lower slopes of Sugarloaf Mountain, Denali Bluffs Hotel has 12 buildings with guest rooms. These have a private balcony, Wi-Fi, a TV, coffee-making facilities, and lofty walls with native artwork. The hotel offers hiking, whitewater rafting, helicopter tours, dog mushing, zip lining and more, while the restaurant serves BBQ cuisine and hand-crafted cocktails, making it one of the best places to stay in Alaska.
Denali Sunset House
Perhaps one of the most charming vacation rentals in Alaska, Denali Sunset House is situated minutes from the entrance of Denali National Park and can accommodate up to 10 guests in 7 beds. The house is perfect for those traveling as a family or larger group so everyone can stay together comfortably. It's minutes from Denali National Park and surrounded by untouched woodland – excellent for spotting moose.
McKinley Chalet Resort
Less than one minute drive from the entrance to the Denali National Park, this resort is one of the best places to stay in Alaska if you're looking for a nature and adventure-focused vacation. Each room at McKinley Chalet Resort has modern amenities and two on-site restaurants are serving local cuisine. There are dinner theatre experiences and a large outdoor fire pit!
Best Places to Stay in Seward & Kenai Fjords National Park
The landscape that comprises Seward and the Kenai Fjords National Park (known as the 'glacial wonderland') is truly exceptional. Both places have an abundance of wildlife, and hiking trails and Seward has a historic community right on its harbor front. Seward is world famous for whale watching and while there are not a lot of places to stay in Kenai Fjords National Park itself, Seward lodging provides the perfect jumping off point.
Resurrection Lodge on the Bay
Situated on the waterfront, this hotel offers guests 360-degree views of Resurrection Bay, and the Kenai Mountains and features comes with a delicious hot breakfast and afternoon home made cookies. This already makes Resurrection Lodge on the Bay sound like one of the best places to stay in Seward Alaska, but the fact it has a variety of spacious king or queen-sized rooms located near boarding for glacier cruises puts it at the top of our list of hotels in Seward Alaska.
Front Row Bed and Breakfast
A short drive from Seward Airport and located in the heart of Seward right by the water, Front Row Bed and Breakfast is one of the best Bed and Breakfasts in Seward. The B&B serves a delicious Alaskan breakfast each morning, and these rooms have free Wi-Fi and great areas to hang out in. The B&B hosts can also arrange wildlife tours.
Seward Windsong Lodge
The Seward Windsong Lodge is the highest rated hotels in Seward Alaska. This is a hotel offering easy access to Seward and the Kenai Fjords National Park. Located in the heart of Exit Glacier, it is the perfect lodging in Seward for those that want to have great access to the only part of Kenai Fjords National Park that you can reach by car.
Kenai Fjords Wilderness Lodge
Kenai Fjords Wilderness Lodge is the only lodge situated within the Kenai Fjords National Park. It has a central lodge and 16 guest cabins, offering views of Pedersen Glacier. No wonder it's considered one of the best places to stay in Alaska! Owned and operated by Alaska Wildland Adventures (Ecotourism pioneers), the cabins promise to leave no trace on the environment. The deck, bar and lounge areas are ideal for relaxing before sampling gourmet meals.
Best Places to Stay in Homer
Homer is a town that exudes beauty and is known as the City of Peonies and the Halibut Fishing Capital of the World. Beyond this, there is a vibrant museum, art, and food district, and it has some of the best places to stay in Alaska!
Kachemak Bay Wilderness Lodge
With several awards and an all-inclusive Alaskan experience, Kachemak Bay Wilderness Lodge is one of the top luxury lodges in Alaska. With only five cabins, the property is designed to give guest's an intimate and personal experience. It's a 30-minute boat ride from Homer and each lodge has mountain and ocean views, featuring intricate woodwork, local Alaskan art, robes, and a bathroom. There will be fresh flowers, chocolate, fruit, and wine upon arrival!
Land's End Resort
Land's End Resort is great for families and is on Homer Spit, with beaches and views of sea otters and whales just outside the windows. There are several types of accommodation, ranging from two-room suites, beachfront homes, and fully furnished homes suitable for large families and groups. On top of this, the property has an indoor pool, sauna, hot tub, and gym!
Kenai Peninsula Suites
Among the vacation rentals in Alaska, Kenai Peninsula Suites has got to be the most unusual. It features yurts and underground cabins with eco-friendly grass roofs and floor heating. The site spreads across five acres with five rustic cabins, boasting incredible views of Kachemak Bay. All cabins have a private porch, kitchenettes, and custom-made furniture, while the communal areas include an outdoor fire pit for roasting marshmallows and a Jacuzzi.
Best Hotels and Places to Stay in Fairbanks, Alaska
Fairbanks is the place to see the aurora borealis (or northern lights), as they're visible for more than 200 days per year, and the midnight sun can also be seen. On top of this, Fairbanks is ideal for exploring the nearby North Pole and for discovering authentic Alaskan Native culture.
Westmark Fairbanks Hotel
Among the many hotels in Fairbanks Alaska, the Westmark Fairbanks has around 400 rooms and suites all kitted with contemporary, sleek furniture and views of the White Mountains. These rooms range in price and there are over 17,000 square feet of conference space, a state-of-the-art fitness center, and several in-house restaurants serving delicacies like Reindeer Meatloaf. Moreover, the hotel has locally crafted microbrew, complimentary parking, laundry facilities and a fresh herb garden.
Sophie Station Suites
Most hotels in Fairbanks Alaska are great for business and leisure travelers, and Sophie Station Suites is no exception. It's a locally owned hotel with easy access to the airport and an award-winning flower garden. The 148 suites have a kitchen, games for children, and a balcony. Zach's Restaurant serves everything from blueberry pancakes to a salmon hash, and the Express Room and library are ideal for relaxing with a drink.
Borealis Basecamp
The fact that Borealis Basecamp offers clear-roofed, geodesic igloos as accommodation makes it one of the best places to stay in Alaska. Situated 25 miles from Fairbanks, it has 100 acres of boreal forest which is great for spotting the northern lights. Inside, you'll find an intimate space with luxurious linens, a 12-foot ceiling, and a bathroom. The Beverage Bar is great for coffee, while Latitude 65 Restaurant – set in a yurt – has an award-winning chef.
Where to Stay in Valdez, Alaska
Valdez has the world's tallest coastal mountains, rainforests, tidewater glaciers and a range of wildlife. The drive alone is one of the best things to do in all of Alaska. The small harbor also has several unique museums, restaurants, and accommodations.
Totem Hotel & Suites
Amongst the newest and best hotels in Valdez, Totem Hotel & Suites is a refreshingly modern place with eco-friendly rooms, cabins, and business class suites. All options are stocked with premium linens, fluffy towels, and coffee-making facilities. The business suites have a breakfast bar, kitchen, and lounge. The cabins have a porch for watching the northern lights and a picnic table. Breakfast is served every morning, and there's a pool and exercise room!
Best Western Valdez Harbor Inn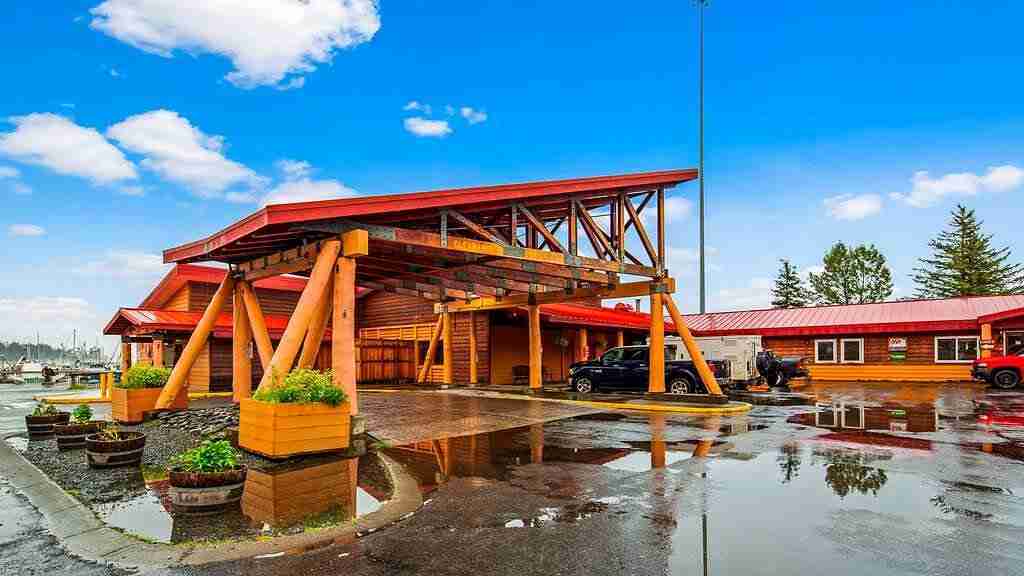 Ideally located on the waterfront, the Best Western Valdez Harbor Inn is another top hotel in Valdez. It has a range of spacious rooms with cable TV, quality linens, Wi-Fi, a fridge and more. Some have an in-room whirlpool, while others boast harbor views. You couldn't be in a better place as the hotel is just steps away from the area's top tours.
Tsaina Lodge
If you're a fan of heli-skiing, then Tsaina Lodge is the place for you. The Valdez Heli-Ski Guide, founded by two-time WESC winner, Doug Coombs, has its helicopters take off here every morning. On-site there are private rooms and suites, as well as a gym, a cigar room with a fireplace, a hot tub, an outdoor fire pit and a massage room. The kitchen showcases premium Alaskan game.
The Best Speciality Lodges and Unique Places to Stay in Alaska
Some of the best places to stay in Alaska aren't in major towns and cities. Some of the most unique places to stay in Alaska give you access to wildlife and world-class fishing like no where else on the planet. For some, they are the highlight of their time in Alaska for their stunning locations and once-in-a-lifetime activities.
Brooks Lodge
Situated in the middle of Katmai National Park, Brooks Lodge is known worldwide for its bear viewing activity at Brooks Falls. The 16 rooms have private facilities with two sets of bunk beds, while the six log cabins offer one twin bed and one queen-sized bed. Three meals are served daily, and the deck, gazebo hot tub, and wood-fired sauna are great areas for relaxing.
Silver Salmon Creek
Silver Salmon Creek is one of the best places to stay in Alaska to view bears in their natural environment and wildlife photography near Cook Inlet. It is a family-owned lodge featuring Alaskan-style amenities with a lounge room, outdoor deck, a dining room, and a bonfire pit. Each cabin has a queen and twin beds, with a lounge area, baths, and Wi-Fi.
Alaska Stillpoint Lodge
Last on our list is Stillpoint Lodge, which is probably the most luxurious lodge on our list of best places to stay in Alaska. Located in Kachemak Bay State Park, Stillpoint is an all-inclusive seaside lodge with rustic yet elegant log cabins. Each is built to accentuate the natural landscape while offering modern luxuries. The property also organizes tailor-made adventures, and has a private sauna, yoga space, and more!