Kenya has an enviable location in Africa with the Indian Ocean to the East. It is known for evocative landscapes with many protected areas and for being one of the finest African Safari destinations with first-rate national parks and an excellent history of animal conservation. Kenya safaris almost guarantee travelers the chance to see the big five African animals – leopard, buffalo, lion, rhino and elephant – along with crocodiles, cheetahs and hyenas in their natural habitats.
Organized Kenya Safari Tours vs Self-Driving Safari
You may be wondering, should I book a pre-arranged Kenya safari tour or go at it alone. There are many options in Kenya when it comes to safari companies. While some people may opt to rent a vehicle and do a self-driving safari, this is not our recommended approach for a number of reasons.
The first, driving in Kenya can be a bit chaotic. From the drivers on the road to the lack of road in some places, it is best to let someone experienced do the driving. Further, going with an organized Kenya safari tour means having a guide that knows the parks and most importantly is an expert in wildlife spotting. You don't want to spend all this time and money coming to Kenya and not have the chance to spot all the incredible wildlife it has to offer.
Types of Guided Safaris Offered in Kenya
There are two main types of safari tours in Kenya. These include private safari tour packages and group safari tours.
Private Kenya Safari Packages
If you prefer a luxury Kenya safari, we highly recommend splurging for a private safari tour. This will allow you to pick the parks that you want to go to including the best national parks and private conservancies in Kenya that we list below. You also get to choose the dates and length of time that you want to be on safari in Kenya for. You can even decide if you would like to do a multi-country safari and combine a Kenya & Tanzania safari.
See all of your options and prices for a private Safari in Kenya here on Viator.
Group Safari Tours in Kenya
For those on a budget, a group Kenya safari may make more sense. Group safaris start on a specific date and run for a specific period of time. You can choose to do 3, 5, 7 day or even longer group safaris. Group size are typically small as you share a Landcruiser that can fit 6 or 8 people. You save money plus get the chance of meeting new friends! Keep in mind with a group safari you may not be able to choose which national parks or reserves you want to go to as they are pre-planned.
See all of your options and prices for a group Kenya safari here on Viator.
Kenya is the Best Place in Africa to Go for a Safari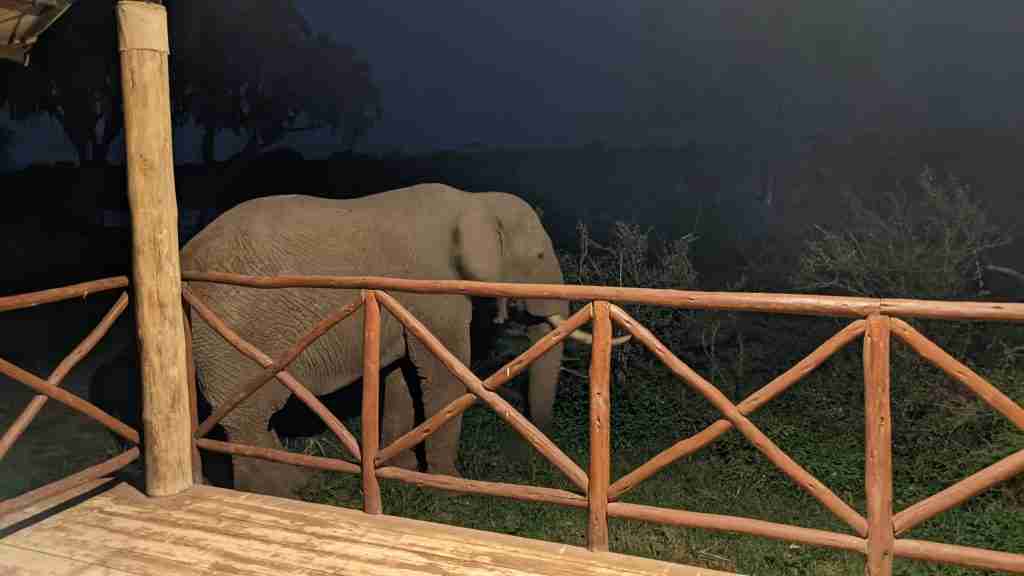 Some people may be wondering, is Kenya or Tanzania better for safari? Having travelled through them both, we can say that Kenya is truly one of a kind and the best place to go for an African safari. With so many amazing destinations in Africa famous for safaris, you may be wondering why we believe Kenya safaris are the best. Well, we have a long list for you of what makes Kenya the best place to go for a safari vacation.
Why is a safari holiday in Kenya the best?
Incredible scenery and Africa's tallest peaks.

Kenya straddles the equator and is covered by the Rift Valley. This has a range of valleys running over a 5,000km crack in the Earth and is also home to Africa's highest peaks, including Mount Kenya. There are exquisite coastal plains and dry wastelands in the north.

Unique wildlife that can be seen only in this part of the world.

With this variety, it might be hard to choose where to base yourself, but the Central Highlands is a prime Kenya safari location. It has Mount Kenya and Aberdare mountains towering over its landscape and there are many conservation areas. As a result, travellers will find unusual species exclusive to this part of Africa, such as a reticulated giraffe, a Gerenuk, a Beisa oryx or a Grevy's zebra.

Masai Mara and "The Great Migration."

In the South of Kenya, you'll witness the great migration of animals – like the wildebeests – and the eagle-eyed predators that hunt them. Known as "The Great Migration", every year between July to November, millions of wildebeests cross the Mara River to the Maasai Mara mainland followed by gazelles, zebras, topi, elands and the predators that hunt them. This area is considered one of the most important in the world for animal conservation. This is a sight to behold and is considered "one of the natural wonders of the world".

Kenya Banned Big Game Hunting in 1977 and is a Leader in Wildlife Conservation.

There's a reason why there are so many animals in Kenya. The country banned hunting in 1977, the first African country to do so and remains to be one of the few countries in Africa where hunting is strictly prohibited. As a result, the wildlife on a Kenya safari is not only plentiful but they are also not as afraid of human beings as in many other African safari destinations.

Further, Kenya goes above and beyond when it comes to conserving their endangered species. A large part of the country is protected by public and private parks and conservancies. They work closely with the local people to ensure that they benefit from tourism and therefor protect the wildlife. According to the IFAW, there were 0 rhinos poached in Kenya in 2020 and the overall Rhino population increased by over 150 rhinos.

Kenyan People are Friendly.

The final reason why Kenya is the best place in Africa to go on a safari is because the people there are very friendly and always welcoming of tourists.

It's Less "Touristy" Than Other Safari Destinations.

There is no doubt as to why safari vacations are so popular. Being in Africa and seeing incredible wildlife including lions, cheetah, elephants and so much more is truly a bucket list worthy experience. Many popular destinations, including Tanzania, are incredibly crowded and places like the Serengeti gets very dusty with the hundreds of safari vehicles you encounter even during off season. Being in a less crowded place means that you have more private time with the wildlife without having 50 safari vehicles fighting over a spot to see a lion.

It's no wonder that safaris in Kenya are nothing short of exceptional, with a once-in-a-lifetime opportunity to experience Africa's best scenery, wildlife and sunrises/sunsets! A Kenya safari will not only be one of your most bucket list worthy experiences but will likely keep you coming back for more.
Best National Parks and Reserves in Kenya to Visit on a Safari
Naboisho Conservancy – Best Safari Destination for Seeing Lions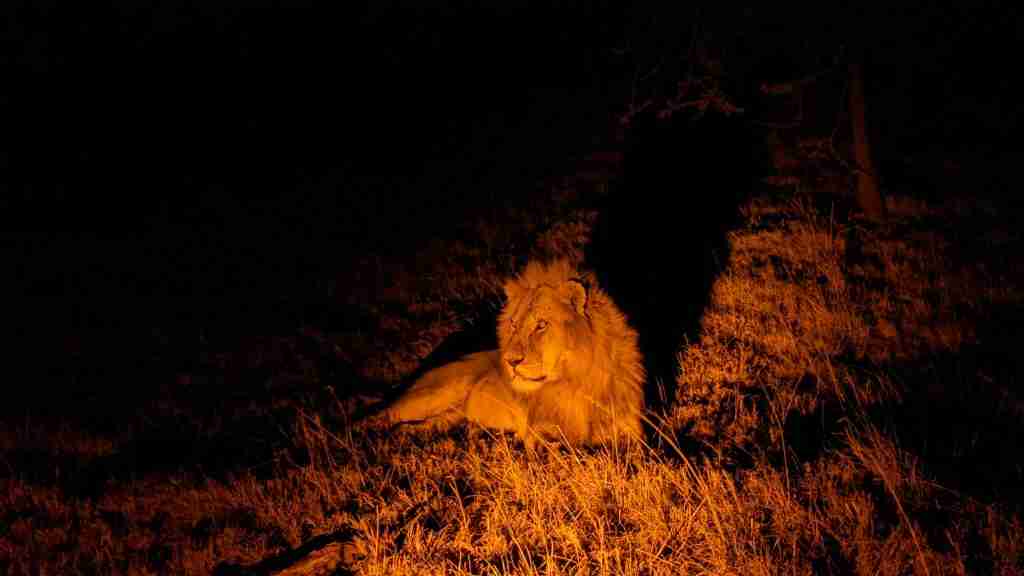 The Mara Naboisho Conservancy works with the local people to preserve the authenticity of the natural land and the Mara ecosystem. As a result, around 500 Maasai people own the land, renting it to camp owners which in return funds the local community with a sustainable livelihood.
The area covers 53,000 acres and the conservancy limits the number of tourists entering the land, meaning you'll get an exclusive safari experience and unspoiled views of Africa's animals. This is the best place to visit for a Kenya luxury safari as some of the best safari lodges in Kenya can be found within this conservancy.
Top animals to spot at Naboisho Mara Conservancy
This conservancy has the largest density of lions in Africa. There are around 100 lions as well as an impressive number of giraffes, the adorable bat eared fox, elephants and a large family of hyenas. This conservancy has a very large lion pride that is made up of over 20 lions! Moreover, the Naboisho Conservancy is the Kenya safari to embark on for spotting the region's rarest animals, like the wild dog. The land also is part of a migration corridor between the Maasai Mara National Reserve and the Loita plains, so watch out for wildebeest and zebra.
Best places to stay in Naboisho Mara
There are nine camps in the conservancy, each committed to making sure any negative impact on the wildlife and land is as low as possible. They all have fantastic views, traditional-style safari tents, en-suite bathrooms and a complimentary laundry service.
Leopard Hill – Our personal favorite hotel at Naboisho Mara, this incredible, luxurious property sits in the center of it all. Hear the majestic lion roar while you sleep at night. The tents have retractable netted roofs so you can stargaze and listen to the sounds of the wildlife. Enjoy your dinner surrounded by monkeys and baboons in the African savannah. This lodge is a truly bucket list experience on any Kenya safari.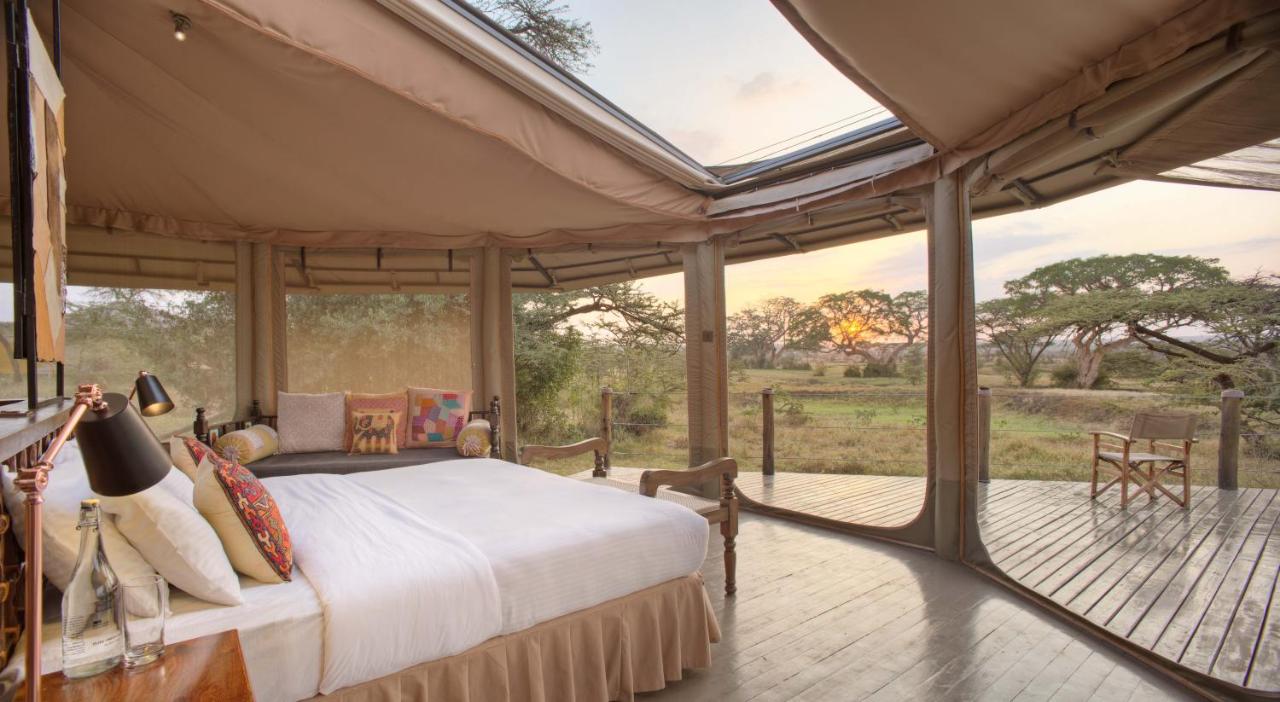 Eagle View – Located on top of a hill, this stunning hotel provides an incredible view of a natural watering hole where both predator and prey come to drink.
Kicheche Valley Camp – Made up of only 6 tents, the camp is sure to come with a luxurious, personal experience. Surrounded by Acacia trees, enjoy your time in the wild Kenya safari with incredible views surrounding you.
How to get to Naboisho Mara Conservancy
Flying is the recommended mode of travel to reach this conservancy. The nearest airport is the Ol Seki Airstrip which is about a 10-minute drive away. Other nearby airstrips include Keekorok, Serena, Musiara, and Mara North. For those that prefer to drive, it takes approximately 5 hours to drive from Nairobi to Naboisho Mara Conservancy. We recommend hiring a private driver because roads in Kenya can be challenging to drive on.
Ol Pejeta Conservancy – The Best Safari Destination for Seeing Rhinos
Situated between the Aberdare Hills and Mount Kenya, Ol Pejeta is one of the best safaris in Kenya for seeing rhinos and was established to rehabilitate animals saved from the black market. Moreover, it has one of the largest densities of predators in Kenya while also running a thriving livestock program.
Top animals to spot at Ol Pejeta Conservancy in Kenya
Ol Pejeta is the largest black rhino sanctuary in East Africa and is home to the world's last two northern white rhinos. On top of this, the conservancy is the only place in Kenya to discover chimpanzees! Within its 36,420 hectares, you'll find bat-eared fox, wild dogs, hippos, zebra and more than 500 species of birds, including the Malachite sunbirds.
Best places to stay in Ol Pejeta Conservancy
Ol Pejeta has tented camps, homestays and lodges. If you're traveling as a family or a bigger group, consider staying at a homestay or vacation rental. This could be the most budget friendly option. VRBO has several larger vacation rentals for a low price. See all of your options on VRBO.
The Safari Cottages are located along a river in the heart of the conservancy's wilderness area. It has an eco-friendly luxury design and includes a guide and 4×4 safari vehicle.
Alternatively, for a luxurious lodge experience where you can dine with views of a watering hole where elephants come within feet of you the Sweetwaters Serena Camp is a must.
See all Ol Pejeta conservancy accommodation options here.
How to get to Ol Pejeta Conservancy
If you are driving from Nairobi, it'll take around 3-4 hours to reach the conservancy. Alternatively, there are daily flights from Nairobi Wilson Airport to Nanyuki airstrip. This flight takes around 45 minutes.
Samburu National Reserve – Best Safari Destination for Seeing Leopards
The Samburu National Reserve is situated along the South-Eastern part of the Samburu District in Kenya. The reserve spans 165km2 of land and since it lies on the banks of the Ewaso Ng'iro River and covers pristine wilderness, this reserve is a special location for rare species like the Grevy zebra and Beisa oryx. For these reasons, as well as its excellent number of conservancies and ranches, Samburu is one of the best wildlife reserves in all of Africa.
Top animals to spot in Samburu National Reserve
Samburu is the best safari in Kenya for spotting leopards and 900 elephants. You'll also see lions – including Kamunyak, the famous lioness that adopted a baby Oryx – cheetahs, wild dogs and over 450 bird species.
Best Places to Stay in Samburu National Reserve
One of the best luxury safari lodges in Africa is the Elephant Bedroom Camp. We liked it so much we even wrote a whole separate feature on it as a top bucket list place to stay in the world. Here you can enjoy breakfast with an elephant and be in the center of all of the wildlife action situated on the river in Samburu. Their luxurious rooms even have their own private outdoor soaking pools. Be careful, a thirsty elephant might decide to stop by for a drink.
You can find additional places to stay at Samburu National Reserve on Booking.com.
How to Get to Samburu National Reserve
The reserve is about 310kms from Nairobi and the best way to reach it is by air or by road. The drive from Nairobi takes around 5-6 hours along the Thika Superhighway Road. Flying to the reserve is easier and takes only 1.5 hours from Wilson Airport to multiple airstrips in Samburu.
Maasai Mara National Park – The Best Overall Safari in Kenya
In the South-West of Kenya, the Masai Mara – together with the Serengeti National Park – has Africa's most diverse ecosystem. As it covers 1,510 square km and is over 1,500 metres above sea level, it is also the best safari in Kenya for exquisite views of the big game. Within this space, there are over 500 species of birds, and 95 species of mammals, and between July-October travelers can witness the Great Wildebeest Migration.
Top animals you can see on safari in Maasai Mara
The national park has two million wildebeest, antelopes, zebras, and many cheetahs. In fact, Maasai Mara is the best place to spot cheetahs in Kenya! Within the dense thickets, endangered black rhinos can be found, while hippos hide in the large rafts.
Best luxury safari lodges and budget places to stay in Masai Mara
There are many incredible places to stay in Masai Mara National Reserve. From luxury safari lodges to budget-friendly accommodations there is a bit of something for everyone.
See options and pricing for safari lodges in Masai Mara on Booking.
How to get to Masai Mara from Nairobi
Driving from Nairobi will take about 3-4 hours, while flying takes about 40-45 minutes from Nairobi. Driving is considered the best way to reach the park, and it's recommended to take the Safari Link if you want to fly. The nearest airport is Jomo Kenyatta International Airport in Nairobi. You can have a private driver take you from the Nairobi airport to Masai Mara by car.
Nairobi National Park – The Most Accessible National Park in Africa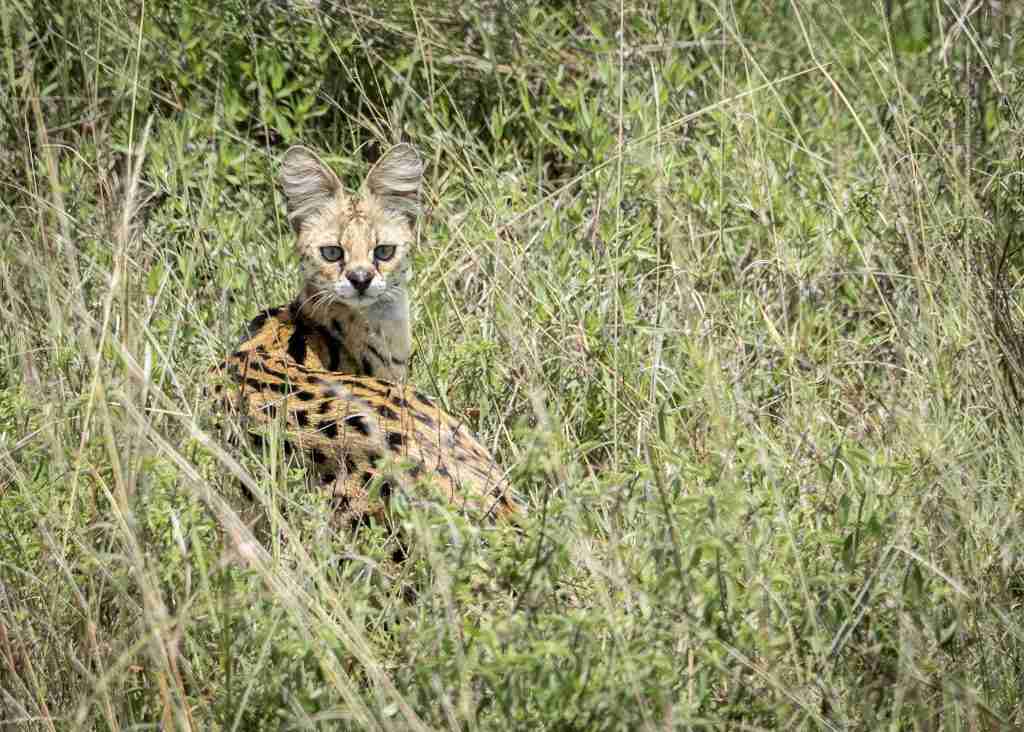 The Nairobi park is a one-of-a-kind safari in Kenya as it's the world's only "wildlife capital", and it's the most accessible safari experience in Africa. Located only a short drive from the Nairobi airport or out of Nairobi's business district, you'll find lots of open grassland with cityscape background.
Top wildlife to see in Nairobi National Park
Despite its proximity to a city, the Nairobi National Park plays host to several astonishing wildlife, including over 100 mammals. The park has the densest concentration of black rhinos in the world and has strong anti-poaching measures in place. On this African safari, it is also common to see hyenas and lions, and if visitors are lucky, they'll spot leopards and cheetahs. Here, expect to find buffaloes, giraffes, warthogs, gazelles and zebras. The park also has a wetland with over 400 bird species.
Best places to stay in Nairobi National Park
The park has several places to stay, and travelers on a budget should opt for one of their cottages or guesthouses. These range from sleeping two to eight guests and were designed to give the best view of the wildlife. The site also has camping facilities that promote "sleep in the wild with the wild" and has basic facilities like a kitchen, bathroom, drinking water and open huts. There are special campsites which give you exclusive use of the area, however, these do not have any facilities.
How to get to Nairobi National Park
The nearest airports are Jomo Kenyatta International Airport and Wilsons Airports, and it's roughly a 10km drive from Nairobi City Centre. Private tours will take you directly from the airport which is perfect for people that have a day layover in Nairobi or those looking for a day trip from Nairobi. You can also hop on a bus from Nairobi Railway Station which will drop you at the park's main gate. This journey takes about 35 minutes.
Tsavo East National Park
This is Kenya's largest national park, it has one of the country's largest rivers flowing through its centre and spans 13,747 square km. Despite this, Tsavo East is flatter and drier than Tsavo West, but this makes it easier to spot wildlife. On this safari in Kenya, you can explore the Yatta plateau, characterised by wide and shallow valleys that were created by lava flows.
Top animals to spot in Tsavo East
The River Galana is among Tsavo East's main attractions and it's here where tourists will find crocodiles. The Lugard falls are a great place to discover buffalos and hippos but be aware, there are also crocodiles in the pools. The Aruba dam is the main drinking point where you'll spot waterbucks, elephants, warthogs, duikers, dik-dik, and hartebeest. The main attraction to Tsavo East is the lions which are plentiful and it is here that the infamous Tsavo man-eaters resided.
Best safari lodges in Tsavo East National Park
Despite being the largest national park in Kenya, Tsavo East is less visited than other parks and has fewer lodging options. You can find available safari lodges in Tsavo East here on Booking.
How to get to Tsavo East National Park
There are several ways to reach Tsavo East National Park. One way is to drive along the Nairobi-Mombasa highway which takes around six hours. The quickest way to travel is by plane from Nairobi to Voi airstrip, Sala airstrip, Bachuma airstrip, Aruba airstrip, or Ithumba airstrip which takes roughly four hours. This travel time includes transfers.
Tsavo West National Park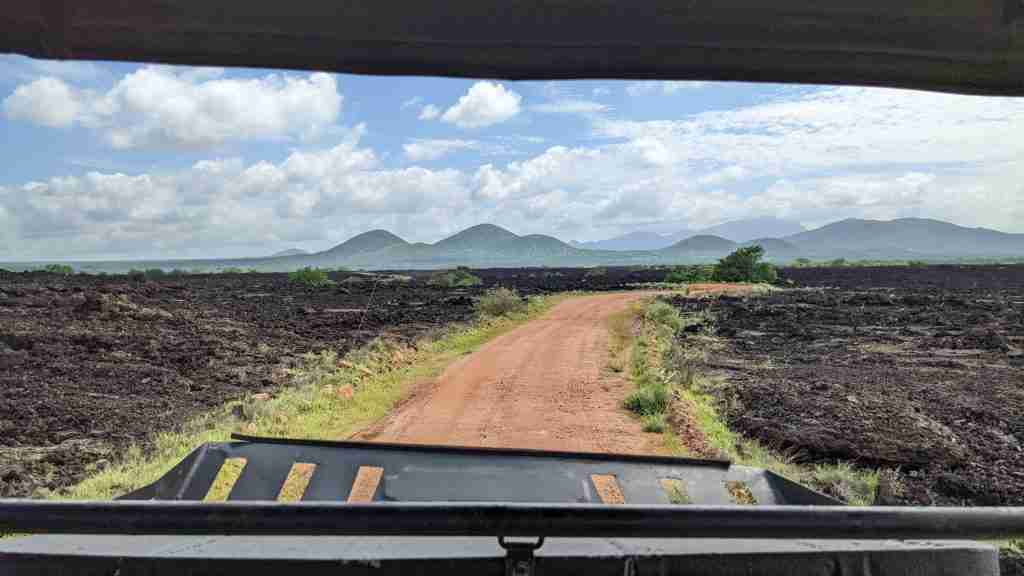 Unlike Tsavo East, Tsavo West is made up of wooded grasslands and mountains. The Mzima springs can be visited which are comprised of four springs from the reservoir under the Chyulu Hills. The trees surrounding these are home to vervet monkeys who feed on date trees, figs and raffia palms. A variety of birds can likewise be spotted here.
Top animals to spot at Tsavo West
The Ngulia Rhino sanctuary is at the base of Ngulia hill and houses endangered rhinos, including the nocturnal black rhinos. The Shetani lava flow which folds across the savannah has many animals, including the elusive wild dogs, cheetah, buffalos, hippos, elephants, leopards and elephants. The backdrop with the lava is absolutely stunning.
Best places to stay in Tsavo West National Park
Kilaguni Serena Safari Lodge is a wonderful place to stay in Tsavo West National Park. It is situated next to a watering hole which allows prime wildlife viewing opportunities.
Another option for hotels in Tsavo West is Severin Safari Camp. This upscale property has incredible views of Mt. Kilimanjaro and a pool and spa overlooking the savannah.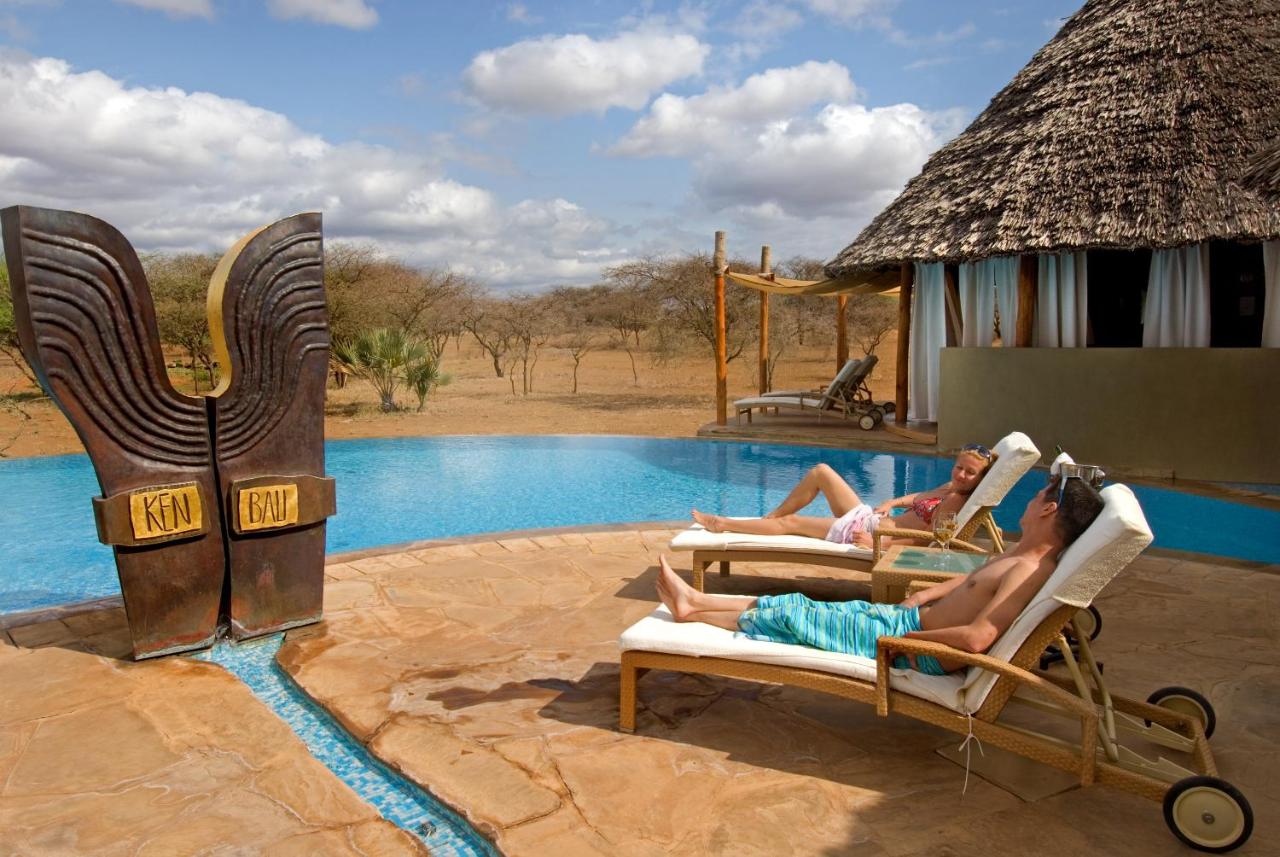 How to get to Tsavo West National Park
The instructions to Tsavo West are similar to the ones from Tsavo East. This park is easily accessible from Amboseli National Park as well and Kenya safaris to both national parks are often combined together
Amboseli National Park – The Best for Seeing Elephants
If you're considering taking safaris in Kenya, then the one at Amboseli National Park is a must. It is the second most popular national park in Kenya and was named a UNESCO-Mab Biosphere Reserve in 1991. The name comes from a Maasai word that means "salty dust" and looking at its landscape you'd understand why. The park is divided into five habitats, ranging from wetlands with sulphur springs to the dried Lake Amboseli. There are also woodlands and savannah, and travelers can visit a local Maasai community that lives around the park.
Top animals you can see at Amboseli National Park
Here you're guaranteed to see hundreds of big-tusked elephants. Other animals that can be spotted are lions, buffalos, zebras, impalas and over 400 species of birds, including Dickinson's kestrel, Greater flamingo and the African swamphen.
Best safari lodges in Amboseli National Park
Amboseli Serena Safari Lodge – Situated in the heart of Amboseli National Park, Amboseli Serena Safari Lodge is a beautiful property. Hang out with the local troop of monkeys and baboons as you enjoy your home in the middle of the wild.
Ol Tukai Lodge Amboseli – An incredible pool with a view. Watch wildlife passing buy as you soak in the pool after a hot day out on safari.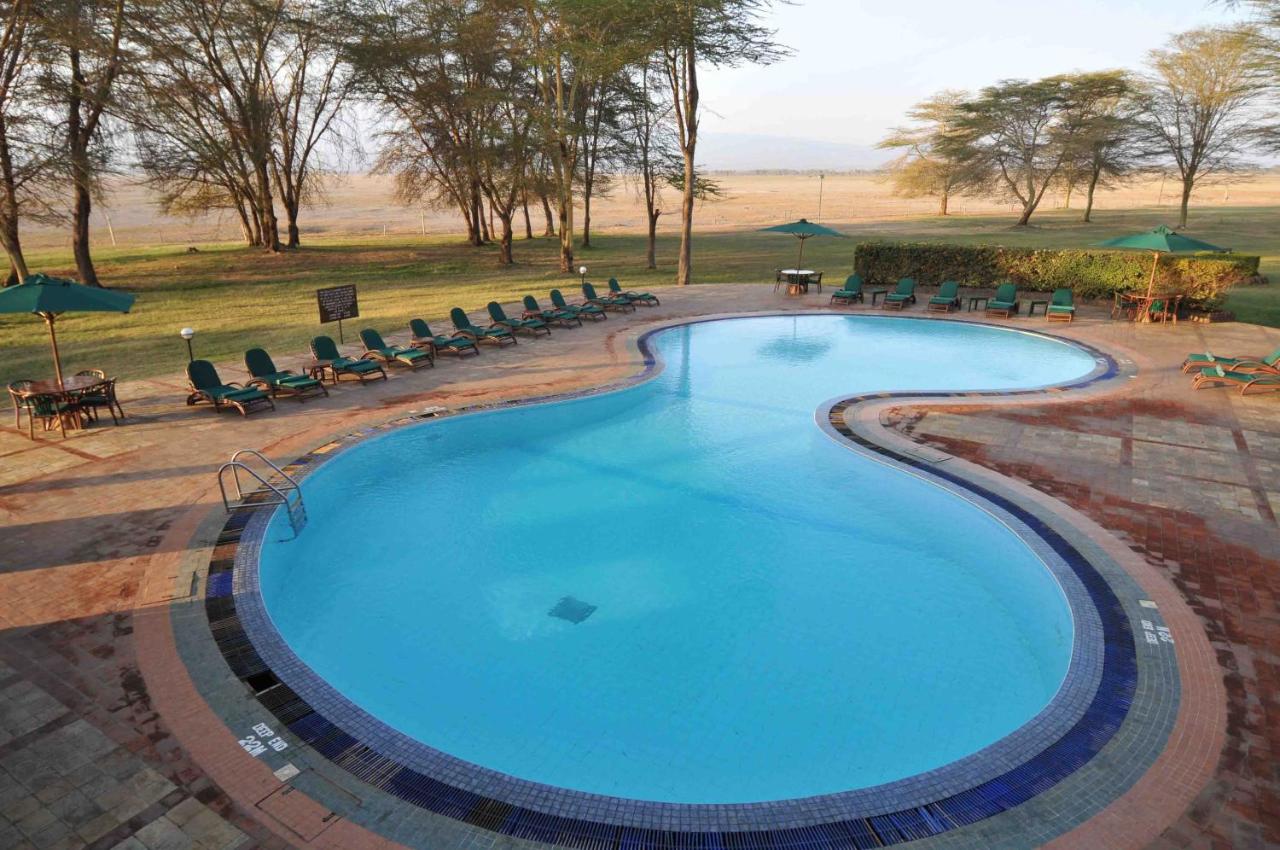 How to get to Amboseli National Park from Nairobi
You can get to Amboseli by road or by air. Driving from Nairobi takes around 3 hours and is the most convenient way to reach the park. Several airlines will take travelers to Amboseli and it's best to fly into Amboseli Airport. This journey takes roughly 35 minutes.
Hell's Gate National Park – The Best for a Biking Safari
Carnivores are rarely spotted here, meaning this national park is one for biking and walking.
The park is named after the geothermal activity within its borders, and its location in the Great Rift Valley is enviable. You'll find gorges, soaring cliffs and rock towers, and geothermal steam. The latter adds the atmosphere needed for a place named Hell's Gate. On top of this, its landscape offers some of the best sunrises, rock climbing opportunities and a natural spa. For history lovers, there's a Maasai Cultural Centre where you can learn about the tribe's traditions and customs.
Top animals to spot at Hell's Gate National Park
This Kenya safari offers a smaller range of wildlife, but you're unlikely to see predators like cheetahs, hyenas, leopards and lions. Other species within the park are klipspringers, hartebeests, Thomson's gazelles, zebra, buffalo, reedbucks and elands. There are also over 100 species of birds, including Verreaux eagles, vultures and augur buzzards.
Best places to stay near Hell's Gate National Park
Hell's Gate has the Enashipai Resort & Spa which is ideal for luxury travellers, couples and those traveling for business. The lodge has gorgeous grounds, guest rooms with fine linens, Afro-chic décor, and traditional Masai headboards. The resort also has the Senteu Restaurant serving traditional Kenyan cuisine. There are three campsites at Hell's Gate – Endachata, Olduvai and Naiburta. For larger groups and families, a vacation rental is a better option as it can fit more people. Check available vacation rentals near Hell's Gate National Park on VRBO.
How to get to Hell's Gate National Park from Nairobi
Hell's Gate is close to Nairobi and can be easily accessed by road. Its entrance is about nine miles from the Nairobi-Naivasha highway and takes roughly two hours to get to from Nairobi. If you'd like to fly, the Naivasha airstrip is the nearest and it has connecting chartering flights between parks which can be booked by tour operators. Domestic flights fly from Wilson Airport in Nairobi.
Lake Naivasha – The Land of the Hippos
Lake Naivasha is the Rift Valley's highest lake, sitting at 1,884m above sea level. Its name derives from the Maasai word for 'rough water' as the area is known for having storms that suddenly appear. The landscape surrounding the lake is covered in swampland spanning 64km2 and there's a colony of fever trees.
Top wildlife to spot in Lake Naivasha, Kenya
Lake Naivasha is the most unusual safari in Kenya as you can hop on board a boat safari, meaning you can get close and personal with hippos and birds. This safari takes roughly an hour, and you might see over 1,500 hippos and over 400 bird species. On top of this, waterbucks, impalas, zebras and giraffes can be spotted in the lake's immediate vicinity, and very lucky travelers might spot a leopard.
Best places to stay in Lake Naivasha
The Sawela Lodges are one of the most popular hotels in the area and is situated 85km from Nairobi, taking roughly 90-minutes to reach. There are 90 rooms, ranging from basic to luxury, and the restaurant prepares dishes with produce from local farms. The hotel has a football pitch, netball and volleyball courts, and a swimming pool. Lake Naivasha Resort is another option which again has three pools, a restaurant, a jacuzzi, two bars, a spa and a gym.
How to get to Lake Naivasha
Lake Naivasha is easily accessible from Nairobi, and the drive takes roughly 2.5 hours along the C88 and the Old Naivasha Road. The cheapest way to travel is to hire a minibus which seats 7-8 people. There is also the Mololine Express from Nairobi to Nakuru, make sure to disembark at Naivasha Junction. The lake is only a 15-minute flight from Nairobi via safari Link.
Lake Naivasha and Hell's Gate National Park are very close to one another and can be done as part of a combined Kenya safari itinerary.
What Does a Kenya Safari Cost?
The cost of a Kenya safari varies depending on the types of accommodations you would like to stay in and whether you are doing a private or group tour.
Safari lodging accommodations vary from luxury safari lodges to mid-range safari lodges to budget safari lodges. Depending on your budget and the type of experience you want to have you can expect to pay anywhere from $100 to $1000 per person per night for a group tour.
For a private tour, accommodations again can vary however between the safari vehicle, driver/guide and accommodations you can expect anywhere from $150-$2000 per person per night for a private safari tour.
When is the Best Time to Go on Safari in Kenya?
The best time to go on a safari in Kenya is between July-March which is the dry season. As a result of the mild and dry weather, there is less water which forces animals to congregate at watering holes, meaning it's easier for safari-goers to spot them. For those who want to witness The Great Migration in Masai Mara, the best time to go is from July to October.