We had heard repeatedly from other divers we met on various dives that Galapagos had some of the best diving in the world. When the opportunity presented itself to spend a day of our Galapagos luxury cruise experiencing diving in Galapagos, we immediately jumped on it. We booked a two tank dive with Albatross Dive Center located right in the town of Puerta Ayora on the island of Santa Cruz. It is a great outfit that made sure we were equipped with high quality gear for the chilly waters.
A 5mm wetsuit and booties will keep you nice and warm, but a 7mm option is also available for those that especially can't stand the cold. We recommend that you invest in your own high-quality dive mask and bring it for the trip.
After a car trip to the other side of the island we were greeted by our private guide, Joel, and briefed on our dive onboard the boat. While we chatted, the dive boat arrived at our first dive spot – the rocky outcrop of Mosquera. It was time for our first experience diving in Galapagos. We suited up on the edge of the boat, prepared for a buoyant entrance and rolled back into the splashing waves with anticipation building.
Our first experience diving in Galapagos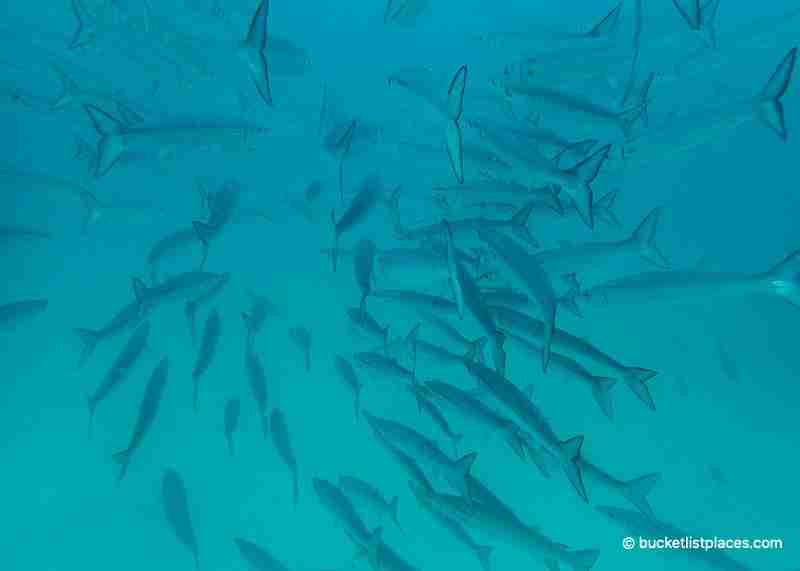 What lay ahead was a constant flood of adrenaline and amazement. We descended to 15 feet and got our bearings. The water visibility was good in front and below but the periphery was quite cloudy building up wonder of what might just come out of the nebulous blue. Within a minute the smaller fish were joined with massive black outlines in the distance and we got the signal from our dive guide that we love so much, sharks.
What started as a single outline, became several large hammerhead sharks scouting the ocean floor, moving gently with their unmistakable prowl. The ground under them was covered in hundreds of garden eel, an endemic species that stick out part of their bodies from the sand floor waiting for an opportunistic snack. I knew immediately that diving in Galapagos was unlike anywhere else I had experienced.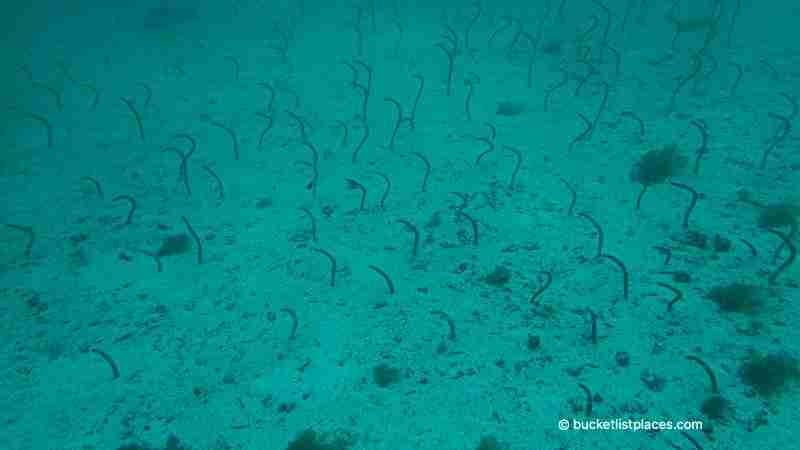 Moments later as we approached a rock wall another shark appeared out of the blue. This time, it was the majestic Galapagos shark, the largest shark found in the Galapagos, which found itself between us and the rock wall within five feet of us. It seemed that our excitement to see him was not reciprocated as the shark quickly changed course.
As we continued to our max depth of sixty plus feet and on to the other side of the channel, we were greeted by a large group of white tip sharks resting in the sand. We swam through a large school of fish and saw of a large Black-tip shark. We later saw a pair of large Mobula rays swimming by as well.
One of the highlights was seeing a large group of Eagle ray swimming by led by a large Eagle ray that was easily several times bigger than any we had seen before. The aquatic amazement did not stop even as we did out safety stop or floated on the surface waiting to be picked up. We continued to see rays, sharks and more. Phew, we saw more in one dive in the Galapagos than many divers see in a lifetime.
The second dive was even better than the first.
After a break and snacks we set off on the second dive off of North Seymore island. Though the first dive had current and other challenges, the second dive was to be a more technical dive with 3-5 knots of current. As we descended, we were met with a large gang of mid-sized barracuda. But we were easily distracted, as it happens when there is so much vying for your attention.
Hammerheads started appearing out of the depths, and quickly one and then another turned into a formation of forty or more hammerheads all undulating in the depth below us. They reminded us that this majestic place is theirs and what privilege we have to visit it even for a tank's worth of time.
We proceeded lower and out of the crevices large Moray eels stuck out their curious heads wondering when their meal would swim by. From the deep blue we were greeted by Golden ray with one odd ray in tow, a Mobula ray, famous for their acrobatic theatrics as part of their mating displays.
Following our dive guide, we enter a channel where current pushed much harder and we got low to the rocks and held on as surges of current pushed everything around us. Diving in Galapagos was by far the most technical dive I had done before. Schools of Golden ray and Eagle ray swam by. We moved on to another area were the current was a bit weaker and there were two large groups of White-tip sharks. While one group rested on the sandy floor another circled above our heads, giving us two different perspectives of these great creatures.
Even the end of the dive had another surprise. Our dive guide led us past the rocky area with the White-tip sharks and we entered another channel with strong flowing current. Yet this time we didn't hold on to anything and began rapidly drifting with the current as it pushed us up and out to the end of the dive. The feeling was akin to flying as we buzzed by rocks and other fish. This was by far the best way to do a safety stop coming up from the sixty plus foot depths, as the gentle ascent of the ocean floor ensured we were ready to surface at the end of the drift.
On the ride back to the dock we were treated with a tuna lunch and fresh juice.
Conclusion
Diving in Galapagos was by far one of the best dives we have ever done. Each dive was filled with so much wonder and stimulation that the bottom time passed faster than I had ever experienced before. With multiple flights daily from Guayaquil, Ecuador, a dive trip in the Galapagos can easily be done in a long weekend. This is truly a must-do experience for anyone who is into diving and underwater wildlife.