At least one island vacation is on everybody's before I die bucket list. It's the go-to destination for unwinding, soaking in the sun rays and reclaiming "me time". The curving 50km long and only 4km wide, Roatán is a diving, snorkeling, and fishing utopia. Fringed by an exceptionally diverse coral reef brimming with an abundance of tropical creatures, Roatán is the island destination of a lifetime.
On land, it's equally intoxicating with mountainous geography full of pine-forested hills, powder white sands, and the undisturbed natural countryside of the East End. As the largest of the Bay Islands of Honduras, wedged in between the Utila and Guanaja Islands, Roatan is the ideal location for quiet mornings, jam-packed afternoons, and romantic evening strolls along the beachfronts.
We have put together the ultimate Roatan travel guide filled with everything you must know for your bucket list getaway.
Ultimate Roatan Honduras Travel Guide: Everything You Need to Know
The Best Time To Travel To Roatán
Our Roatan travel guide starts off with the practicals. Roatán is visited all-year round by sun worshippers, but the rainy season lasts roughly between October and December. For the ideal weather – of warm temperatures and next to no rain – the months of February to March offer days with temperature in the 80s. These are the months to visit for consistently fair weather across the whole country. The trails and roads will be dry while the air is fresh, and the trees and underbrush will still be vibrantly green and lush. These are perfect conditions to explore this enchanting island.
Getting to and Around on Roatán Island
There are two viable options for getting to Roatán– boat or plane. The airlines servicing the island include Sun Country Air, United and American Airlines along with others. For weekly direct flights, travelers should take off from Miami, Minneapolis or Houston. For those traveling from Europe, there are occasionally charter flights to the island.
For those looking to take to the seas, catch a bus, plane or car to La Ceiba – a port city on the north coast of Honduras. From here, a daily boat will transport you to Roatán Island, allowing you to feel the wind rustling through your hair while the subtle hints of coconut and banana welcome you to paradise.
Once on island, the roads a decent so consider renting a car to be able to truly explore everything Roatan has to offer. There are also taxis and shared shuttles available. Those staying on the water can get around by water taxi.
The Guide on The Best Places to Stay on Roatan
There are a variety of lodging options on Roatan that offer something for everyone. From all inclusives, to luxury resorts to backpacker hostels, there is something for every budget.
Where to Stay in Roatan on a Budget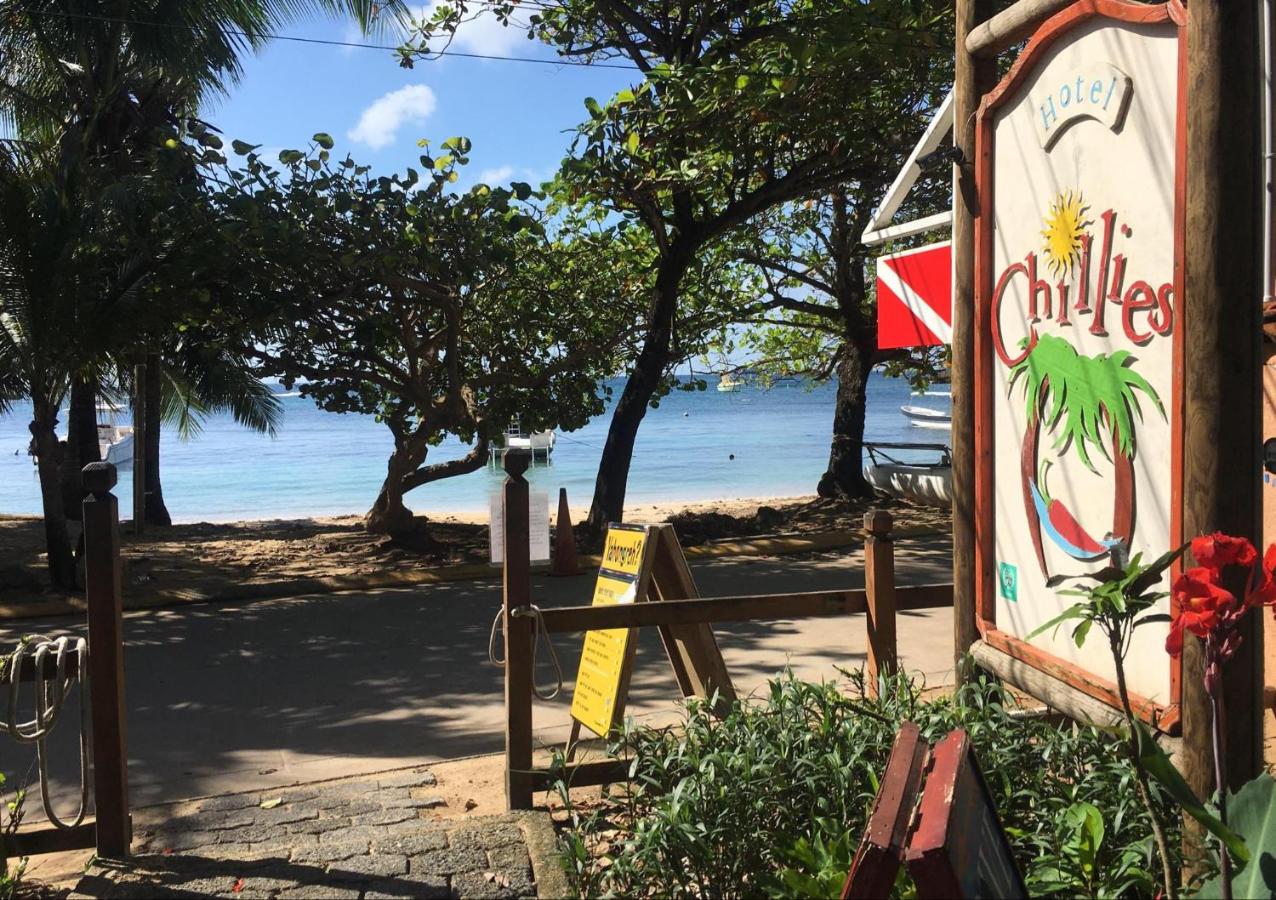 One of the best cheap hotels in Roatán is Hotel Chillies. Considered to be the 'best budget hotel on Roatán', Hotel Chillies' cabins each have a wonderful porch with a hammock that gives you the opportunity to glimpse hummingbirds as they buzz by. There's an excellent dive shop here called Native Sons.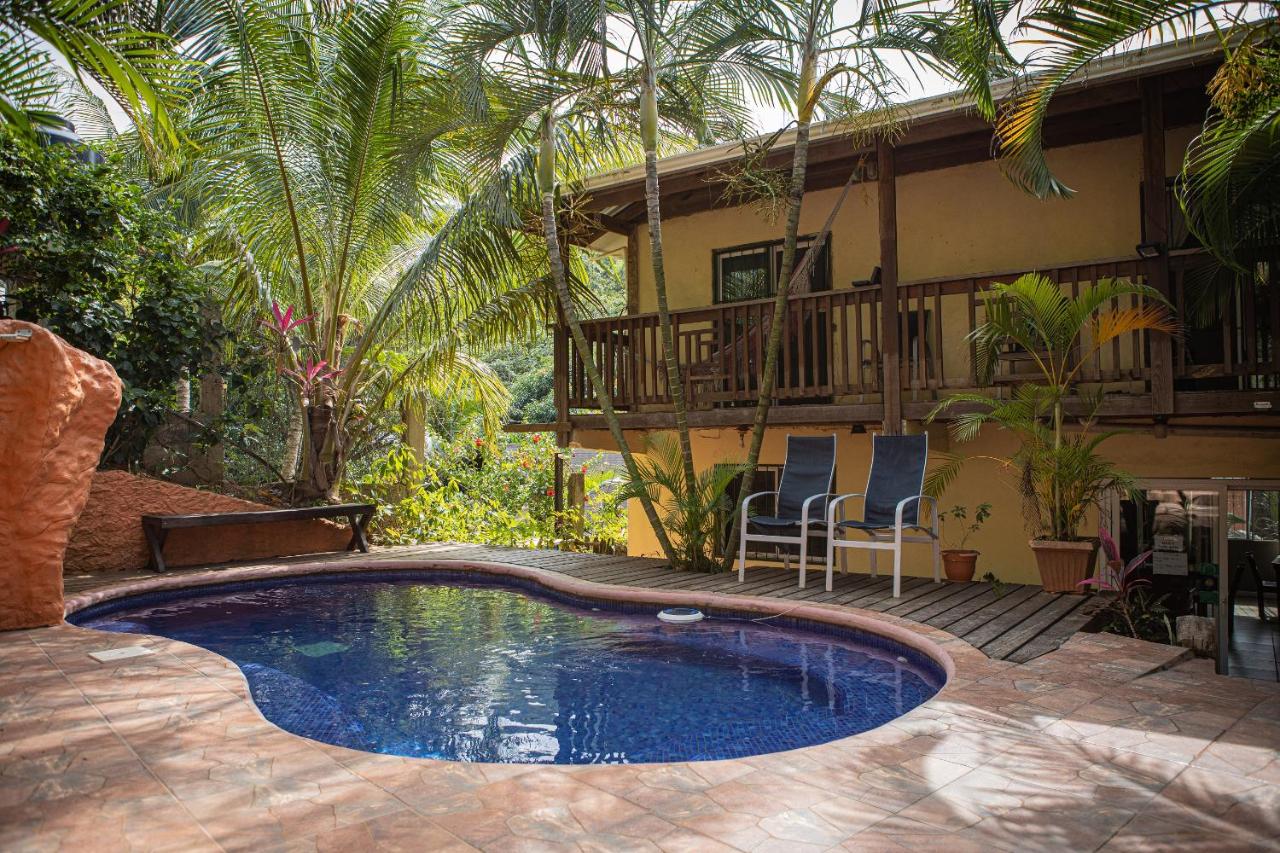 Alternatively, book a night in at the Roatan Backpackers hostel. This highly rated hostel is centrally located in Sandy Bay, near many of the dive shops and attractions on the island.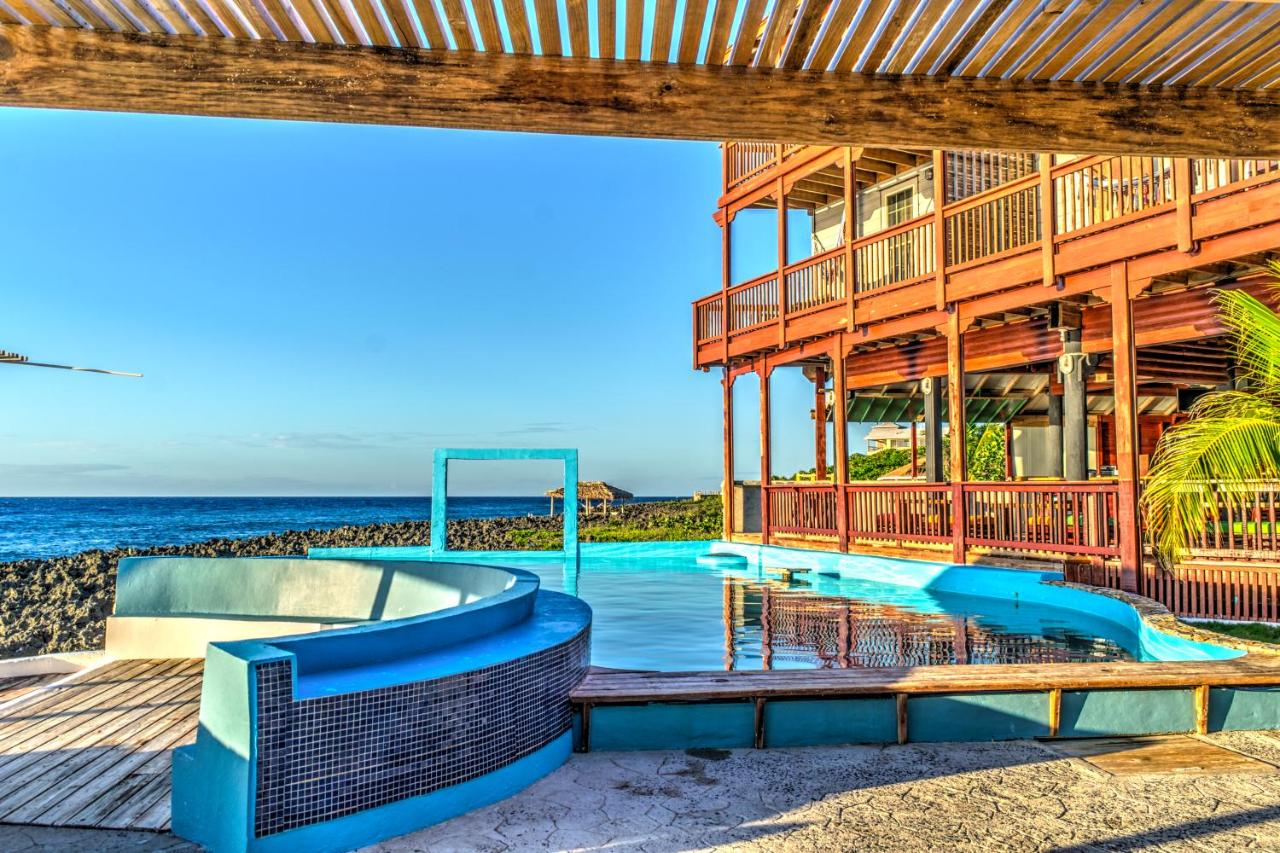 Land's End, located in Roatan's famous West End is another option for the budget traveler who wants to be in the center of it all. Located just steps from popular bars and restaurants, this is a great hotel to consider just a 6 minute walk from the beach.
Mid-level Budget Lodging on Roatan Island
For those that want to have a higher end experience but can't spring for the luxury accommodations that Roatan has to offer, there are a number of choice hotels for you to choose from.
The restaurant at Blue Bahia Resort was one of our favorites on the island. Nightly specials and located right on the beach, this is a fun place to hang out in the evening especially if you are there during a night that they have live music. The hotel is comfortable, has a dive shop on site and you can choose between dipping in the swimming pool or enjoying the beach.
Another great mid budget option for lodging in Roatan is West Bay Lodge and Spa. With multiple types of villa accommodations to choose from, this is a good option for those traveling with a group. There is also a spa on site where you can enjoy massages and other treatments.
Best Luxury Hotels and Lodging on Roatan Island
Travelers that truly want to experience the best that Roatan has to offer are in for a treat as there are a number of incredible hotels and luxury lodging options to explore and this Roatan travel guide has made sure to include the best ones for you to drool over.
One of the best hotels on Roatan, Ibagari Boutique Hotel is recommended for those looking to relax and for the beach lifestyle. This is by far the most beautifully designed hotel on the island and should also get a note in our Roatan travel guide as a great place to eat and drink. In fact, their cocktails are some of the best we have tried anywhere in the world. The five-star resort has everything you could need, including a private garden and beach area, perfectly situated between West Bay Beach and West End. 
Puerta Azul is another fantastic option for those that want to be away from the hustle and bustle of the West End and Sandy Bay. Several luxury cottages nestled right on the beach with a delicious breakfast and a famous blue door that leads you to a long dock and hammocks overlooking the water.
Finally, one would be remiss not to include Grand Roatan Resort in a Roatan Travel Guide. Located at the tip of West Bay, right in front of some of the best snorkeling off Roatan Island, this five star resort is a place you could just stay at the whole week. Offering delicious food, a lively bar and beach front living, there is little to be missed at this large property.
Roatan Travel Guide of What to Eat in Roatán Island
As foodies, when creating our Roatan travel guide, we wanted to leave no stones unturned for the best local meals. From traditional island cooking to fine dining, Roatán offers a great selection of places to satisfy any taste buds and budget.
Local Produce & Street Food Stalls
According to locals, travelers should not miss the opportunity of tasting baleadas while in Roatán Honduras. Baleadas comprises of homemade tortillas filled with cheese, beans, cream and any additional fillings like avocado, chicken, egg or steak. Throughout the day and into the night, a group of ladies on the beach at Half Moon Bay, across from the Cocoloco gift shop, serve this wonderful local street food. And apparently, everyone who visits Roatán Honduras meets the Banana Donut Guy who does the best doughnuts in the region, selling them out of a large container in West Bay. 
Another gem in the West End is Sandy Buns Bakery. Bread is baked fresh daily, and if you want something specific that isn't there you can put in an order and it will be ready for you the next day. The cinnamon roll at this bakery is to-die-for so make sure to give it a try if you have a sweet tooth (and even if you don't).
Restaurants in Roatán Honduras
There are numerous restaurants in Roatan to spend your evenings in, but we've done the work and found the best for you!
Fine Dining
Silversides is the best restaurant in Roatán for fine dining. They serve a selection of freshly made contemporary cuisine from around the world using local ingredients. All this on Barefoot Cay, a tiny island located off of Roatan. To get there a complimentary shuttle picks you up.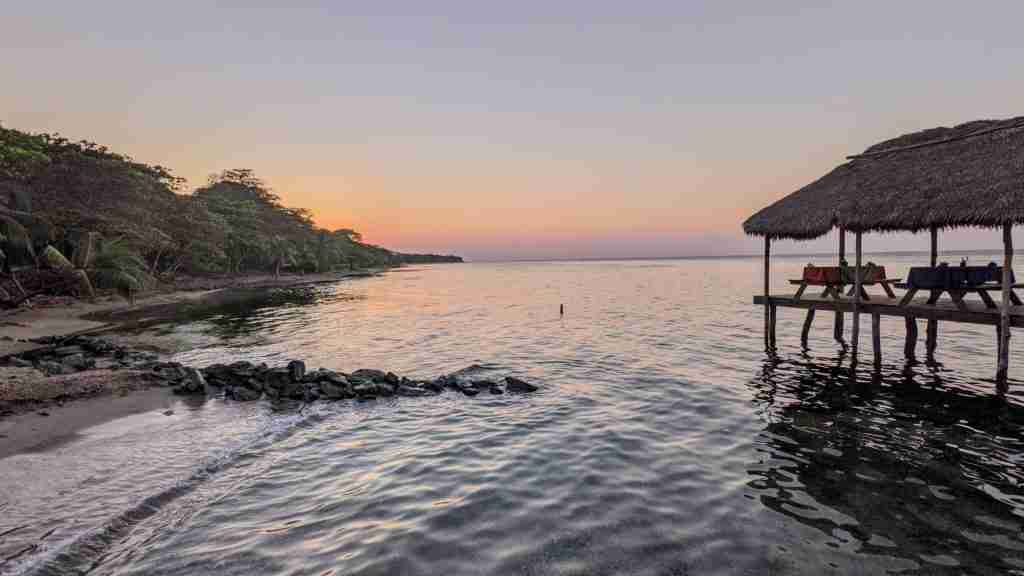 For something a little different, get in a car and drive to La Sirena de Camp Bay. This restaurant is positioned on a dock over Camp Bay's glistening ocean and overlooks the island's longest beach. Their speciality is serving fresh local seafood, such as lionfish and coconut shrimp. But be sure to sample their exquisite rum punch, too.
Budget-friendly Restaurant
Anthony's Chicken is another favorite restaurant in Roatán Island, serving delicious chicken baleadas and many other classic Caribbean dishes. The jerk chicken is the dish to try here, and wonderfully most meals cost just over $5.
The Breakfast, Lunch, & Dinner Restaurant
For a blend of fine dining and grill cuisine, head on over to The Beach Grill located at the Blue Bahia Resort for a broad menu of savory dishes at any time of the day. It's more than a dining experience here, as the alfresco dining area sits next door to the pool and ocean, and in the evenings on Thursday, live music further sets the serene scene.
The Best Bar in Roatan Honduras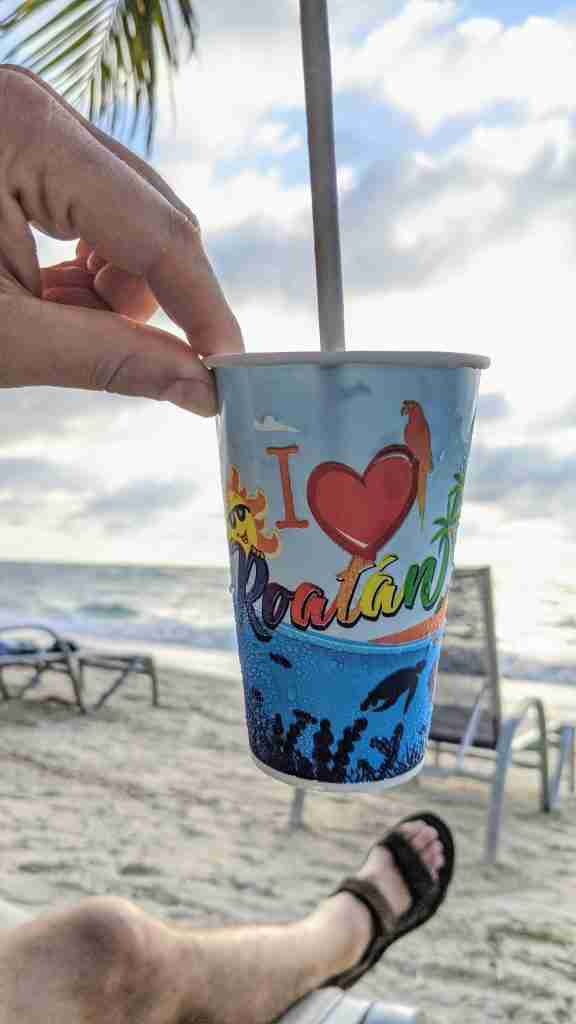 Are you looking for a fun bar to drink the day (and night) away? Head to Beacher's Bar and Grill located in the heart of West Bay. A beach front bar and grill, you can enjoy laying on their complimentary beach chairs while sipping on Mojitos admiring the most famous beach in Roatan. There's an electric atmosphere here with live entertainment, and the delectable food and talented mixologists behind the bar continue this social scene way past the sunset on the beach. Depending on when you go, you might be in for a special surprise – some of the best local bands perform here to keep people dancing.
The Best Things to Do in Roatan, Honduras
No Roatan travel guide is complete without a detailed list of the best things to do and Roatan has plenty to keep anyone occupied.
Go Snorkeling in Roatán Honduras
With its pristine waters and vibrant marine life, snorkeling in Roatán is among the best things to do on this island. There are over 100 snorkeling spots in Roatan. But snorkeling in Roatán's West Bay is considered the best. Not only is it easy access from shore to explore the reef but the reef here is truly incredible. Picture snorkeling through canyons of beautiful coral with hundreds of fish around you. This is what you can experience when snorkeling in Roatan's West Bay. You can reach the reef by swimming out via the rock wall at the beach's southwestern edge right in front of Grand Roatan Resort, and you can rent snorkeling equipment from the beach.
Check out these snorkeling tours you can book in Roatan to be able to visit the best snorkeling spots.
Another fantastic location for snorkeling is off the coast of the West End. The easiest, safest, and the local's favorite way to reach the reef is to take a water taxi from the West End pier. The Half Moon Bay and the Blue Channel are other excellent spots for snorkeling at the West End.
Go Diving in Roatán
Scuba diving put Roatan on the travel map, and one of the best locations to go diving in Roatán is in the seamount of the Roatán Banks just before Cayos. Here you'll find everything from giant barrel sponges, crabs hiding in the reef crevices and green morays. It's an excursion you do not want to miss, so make sure to book one of the day trips.
People come from all over the world to dive in Roatan. The island sits on the second largest reef system in the world and reef here is protected by the local government. Diving in Roatan is all about the beautiful coral. There are many exquisite diving spots in Roatán, including many dive shops in the West End and throughout the rest of the island.
There are many dive tours and dive shops to choose from. In fact, we could write an entire Roatan travel guide focused solely on diving.
You can find various dive tours to book on Roatan here.
Try Some Water Sports
On the East End of Roatán Island, Subway Watersports offers everything you could need – diving, diving training, island tours and excursions, kayaking, fishing, Whale Shark Safaris, pigeon cay and snorkeling. They are situated at the beautiful Turquoise Bay Dive & Beach Resort and are easy to get to. But if your hotel/accommodation happens to have a dock, they'll also come and personally pick you up for your day in the water. Even if you don't go with Subway Watersports, there are so many fishing trips, glass-bottomed-boat tours, kayaking and water-skiing opportunities on the island. Your hotel will be able to point you to those nearest to you.
Explore The Beaches on Roatan
The beaches on Roatán are havens of tranquillity and scenic beauty. West End beach is a hotspot for cruise ships, so make sure to visit this underrated beach before noon. The West End is the destination to go to if you're looking for restaurants, beaches, shops to explore on foot during those few minutes you're taking a break from sunbathing or swimming. There are also many Roatan vacation rentals, holiday rental homes, boutique hotels and apartments to rent next to this beach.
Similarly, West Bay beach is a popular area for resorts, but has more of a touristy atmosphere than the West End's laid-back vibe. There are plenty of sports activities to enjoy here, but the beach does get crowded especially on cruise days. Still, it is considered the most beautiful white sand beach on the island and is home to the best snorkeling on Roatan.
Explore the Wild East End
A top recommendation in our Roatan travel guides for those staying longer in Roatan is to explore the East End. Unlike the rest of the island, the East End of Roatán is undeveloped and feels much more in keeping with traditional country island living. At this end of the island, travelers can find a variety of birds, armadillos, iguanas, butterflies and watusi (island rabbit) and the original forest growth make for a beautiful jungle hike. Also, cattle, horse and island farmers are often seen selling melons and bananas to anyone who passes by.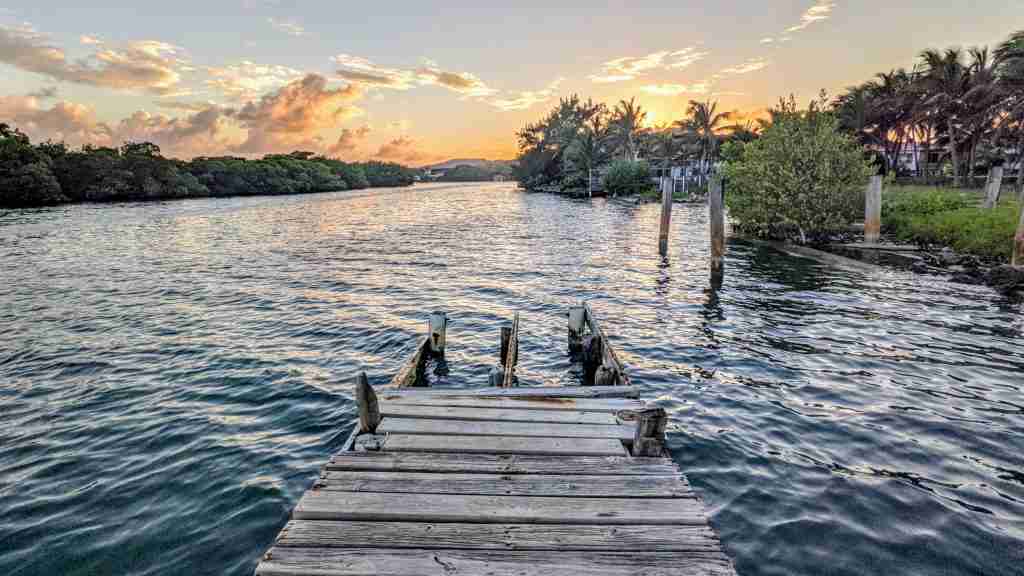 One of the East End's main highlights is the quaint fishing village of Oak Ridge, which looks like Roatán's equivalent of Venice. Here, narrow streets, waterways and canals are adorned with wooden houses, while nearby communities can be reached by boat, such as Jonesville Point Marina. Here, The Hole in the Wall Bar is open for lunch and dinner, serving lobster and shrimp – a local speciality.
A short distance from here is Camp Bay, a beautiful stretch of white-sand beach where travellers can experience lunch on a floating palapa bar. It should be noted that locals living on Roatan spend their vacations on the East End's Camp Bay beach. From here, there's a fantastic water taxi expedition to see the mangroves. Depending on who you tour with, you'll see a half-sunken shipwreck called "Twitter' and hear stories about the 16th Century pirates.
Visit the Carambola Botanical Gardens
With 40 acres of natural wonders, the Carambola Botanical Gardens promises 'a walk on the wild side". Here, travelers can explore their many jungle trails that offer excellent wildlife photography, bird watching and the Monkey La-La can be seen playing here. There are hundreds of plant species, orchids, exotic flowers, medicinal plants, fruit and nut trees, the "Chocolate Tree" and the famous Honduran mahogany tree that'll capture the hearts of any plant lover. While here, make sure not to miss the chance to hike your way to the summit of Carambola Mountain, as there's a cliff opening to some magnificent views.
Visit the Local Roatan Villages & Harbors
There are many towns and harbors on Roatán Island, and the most commercial of them is Coxen Hole. Otherwise known as Roatan Town, this is where all the main shops and bus stops are.
From Coxen Hole, the road leads to the small French Harbour, the islands second-largest town and busy fishing port. The French Harbour offers guests the chance to interact with rescue Sloths and Monkeys at Daniel Johnson's Monkey and Sloth Hang Out.  
Also, French Harbour holds the only Mall on Roatán, so if you're looking for a day of shopping, this is the place to go before chilling in one of its many down-to-earth coffee shops and restaurants.
Visit Local Communities
If you're into history and culture, then visiting some local communities on the island will tick all your boxes. Just 5km from Oak Ridge is Punta Gorda, the oldest Garífuna community in Honduras, keeping many of its ancient traditions alive. The best time to visit is on a Sunday. Every Sunday, the community celebrates with traditional food, dancing and music. Alternatively, on the 12th of April, the community celebrates the anniversary of their settlement's founding, and all are welcome to join in!
Another unassuming community lives in Sandy Bay. There's the Institute for Marine Sciences here, with exhibitions on marine life and the island's geology. There's also a museum narrating the local history and archaeology. Sandy Bay is a history lover's paradise!
Go Kiteboarding in Roatan, Honduras
Located on the East End at Camp Bay Lodge, Kitesurf Roatan is a great place to learn to kite surf or kiteboard whether you are starting from scratch or already getting up on the board. Steady wind and flat water makes this an ideal location for beginners who have never tried kiteboarding before to give it a go. Stay at Camp Bay Lodge and experience everything the east end has to offer while learning to kite board in Roatan.
Take a Weekend Trip to Utila
Staying in Roatan for at least a week? Why not hop on the ferry and head over to Utila. This can be done as an overnight trip or a weekend getaway. Utila is a small island (much smaller than Roatan) so you can explore it in only a couple of days. If you're a diver, diving in Utila is very different than Roatan. Although they are on the same large reef system, the reef in Roatan is actually different than what you see in Utila. It is also a very healthy, beautiful reef. There is an opportunity to swim with whale sharks or swim with Dolphins in Utila in between dives. This makes a dive trip a whole day trip experience.
Conclusion
Hopefully our Roatan travel guide has managed to convince you that Roatán Honduras is the perfect location for an island vacation. Its culture and history will surprise you, and its natural beauty will leave you speechless! Discover it for yourself before it becomes a tourist hotspot!