Situated in the southern realms of South America, Patagonia is one of the world's last untouched wildernesses. Chilean Patagonia is a land of towering peaks, crystal-clear rivers, blue-hazed glaciers and treeless steppe, it offers vistas like nowhere else on Earth.
Often at the top of hiker's bucket list, the region's most celebrated trekking route, the W Trek, takes a 'W-shaped' path through Chile's Torres del Paine National Park in Patagonia. There's perhaps no better way to explore the region's dramatic landscapes than on foot, so we've created a comprehensive guide with everything you need to know about hiking Patagonia's famed W Trek.
Travel Guide to Hiking the W Trek in Patagonia
Hiking the W Trek Basics
While scenic, hiking the W Trek is no gentle stroll in the park. Demanding in places, it requires a good level of basic fitness to cover its 50-mile length successfully. This is not least because altitude is a significant factor on the route, topping out at more than 3,500 feet above sea level. After all, the W Trek lies deep within the southern reaches of the mighty Andes mountain range. Located within Chile's Torres del Paine National Park, the W trek can usually be hiked in four or five days.
There are a number of options available for those looking to hike the W trek. Some choose to pre-plan the lodging, purchase a pass and do it on their own. While this is certainly an option, the lodges fill up months in advance. Another option for those that don't want to hike the W trek alone or are booking closer to your hike date and the lodges are full, is to book a guided hike.
Guided hikes can be private or you can book a small group hike to go with a guide and some other people.
Accommodation on the W Trek
Most of this multi-day hike will require overnight camping in tents or at a designated lodge, with hostels and hotels accessible at the start and end of the trek. Camping is only permitted with designated refuges, or refugios at Torres del Paine National Park. Keep in mind that these often get booked up a year in advance so make sure to plan ahead to get the best spots at your favorite refugio.
Lodging at the refugios are either tent camping or a shared room inside the lodge. Tents provided at the refuge are meant for the colder weather, rain and wind so they are warmer than tents you may be used to. Still, if you require the comfort of your own bed inside a warm, cozy lodge then make sure to book even further out because those rooms book up the fastest.
The upside of this arrangement is that you'll have access to shared bathroom facilities, which generally include hot showers ideal for soothing sore muscles after a day's walk. Refuges also have heating and electric lighting, and a communal dining room for eating meals sheltered from the elements. Most contain a small shop selling basic items.
Many of the refugios even have wifi so you can catch up on communication with loved ones. Keep in mind that the cost is much higher because it is satellite internet. You will not have cell service while hiking the W trek so make sure your loved ones are aware.
HOT TIP: If you find that individual reservations are booked up in all of the refugios, there may still be availability through a guided tour. You can join a guided hiking tour that is organized by the companies that own the shelters and this comes with a guide for your hike as well as lodging at the shelters along the way. It will be slightly more expensive than hiking and booking everything solo and you will be restricted to one company of shelters versus being able to pick and choose but the upside is your dates will be more likely to be available when planning closer to your travel date.
When to Tackle the W Trek
Hiking the W Trek is open right throughout the year, but if you're planning on heading along it independent of guides and tour groups you're limited to the period between October and April. This coincides with the southern hemisphere's summer months and is also great to combine with a visit to the beautiful Atacama desert.
Independent hiking is complicated by the fact that places at refugios need to be reserved ahead of time, and can be fully booked months in advance. This is particularly true for the high season, which lasts from December to February. The route is also at its busiest during these months, which some trekkers find takes away from the overall experience of solitude and isolation Patagonia is renowned for.
Getting Started: Where to Fly Into and How to Get There
The standard gateway to the W Trek is the town of Puerto Natales, Chile. It lies more than 1800 miles south of the Chilean capital, Santiago. Limited flights connect the airport at Puerto Natales with Santiago, and it's often easier to fly to either Punta Arenas further south in Chile, or even to El Calafate, just across the border in Argentina.
From either of these latter airports, you'll then have to head to Puerto Natales by road. Long distance buses cover the distance from Punta Arenas in around three hours, or around 7 hours from El Calafate including border formalities. There is also an opportunity to rent a car and drive yourself.
If coming from Argentinian Patagonia, you should arrange your visa for Chile ahead of time. However, most European, North American and Australian passport holders require nothing more than six months validity on their passport for tourist visits of less than 60 or 90 days (dependent on nationality).
Puerto Natales – The Gateway to Torres del Paine National Park
Puerto Natales has a good cluster of hostels and hotels that are well used to welcoming those starting or finishing hiking the W Trek. Perhaps even more helpfully, this once small fishing village has a number of stores where hikers can rent any equipment they may need. Most stay open until 8 or 9 pm, allowing you to organize any kit requirements even if you arrive later in the day.
It's also possible to securely store gear you won't need during the trek. Ideally, your backpack won't weigh more than around 30 lbs.
Storage can be arranged with your guiding service if you hire a guide, with your hostel/hotel depending on where you are staying or you can rent storage at the bus station. Ask your hotel or hostel if it is possible to store some of your items while you do the W trek. If they don't have storage available, you can store your items at the bus station. Be aware of the opening hours if you choose this option as you will only be able to drop off or pick up your items during specific hours.
Getting to the W Trek from Puerto Natales, Chile
It's possible to walk the W Trek in either west to east or east to west directions. That said, the vast majority of trekkers start the trail at the end closest to the entry gates into Torres del Paine National Park, which means they tackle the route from west to east. In turn, starting the trek in this direction means you're not thrown into the deep end on day one.
Several trustworthy companies run buses that drop off and pick-up hikers from the park entrances. The trip takes between two and four hours depending on which entrance is used. They all have departures in the morning from Puerto Natales, usually around 7 am. If you're struggling to get a seat, less popular services also operate in the early afternoon, leaving Puerto Natales around 2.30 pm.
You should buy your ticket ahead of time at the company offices inside Terminal Rodoviario, where the buses depart from. You'll find the terminus on Avenida Espana. Round trip tickets (around $20) permit a ride on any of that company's returning buses.
Buses generally have stops at Laguna Amarga, Pudeto, and Administrativa. The stop at Laguna Amarga is primarily used by those heading along the W Trek from east to west as it connects with the minibus to Las Torres base camp.
If you're following the majority of trekkers in starting the W Trek at its western end, you're better off buying a ticket to either Pudeto or Administrativa. From Pudeto, a catamaran crosses Lake Pehoé in around half an hour. Its destination is Paine Grande. As it lies midway along the W Trek route, arriving via Pudeto means repeating your day one walk on day two.
A way of avoiding this is to head instead to Administrativa and then catch the three-hour ferry that travels the length of Lago (Lake) Grey towards the stunning Grey Glacier where there is a campsite.
Fees for entering the park are the equivalent of roughly $30, and can be paid in Chilean pesos, US dollars or euros. If you pay in dollars or euros try and have the exact amount and don't rely on there being change available. There are numerous currency exchanges in Puerto Natales. Tickets last as long as you stay within the park, or for five consecutive days of entry.
W Trek Itinerary
Day 1
For those crossing Lake Grey, day one of hiking the W Trek will be mostly taken up by arrival at Grey Campsite, situated between the lake and montane forest. However, there's still a chance to give your hiking boots a little action, with a trail leading to a viewpoint of Grey Glacier. Approximately one mile in either direction, it has an ascent and descent of around 1,200 feet in total.
If you get lucky with the weather you will have incredible views of the glacier and the glacial lake with icebergs swimming in it. The day we went was cloudy, windy and rainy making it very difficult to complete the hike. While you can't predict the weather, be aware that the glacier creates a micro climate so just because it is sunny in other parts of the park does not mean that it will be the same nice weather near the glacier. Pack a hat and a warm jacket as it can get very cold, windy and wet.
Day 2
Day two is usually the first full day of hiking the W Trek, with the path following the eastern shore of Grey Lake for the first third of the day's route before moving inland.
The path is relatively gentle, and the scenery simply extraordinary from early on. The campsite of choice is called Refugio Italiano, which sits at the southern end of French Valley. In all, hikers usually take around eight hours to reach this point, covering around 13 miles and a further 1,000 feet in altitude.
Day 3
Day three is normally dedicated to hiking French Valley which is the favorite part of hiking the W trek for many.
Following streams and rivers much of the way north, the valley offers spectacular views of glaciers towards the lookout at Britanicos Camp, although it's uphill all the way. After taking in the majestic scene, you then complete the central part of the 'W' by returning to your previous night's camp, having covered around ten miles and another 1,000 feet in altitude.
The day's trek usually lasts around seven hours. Just like with the previous treks, the glaciers here can create microclimates which means that the weather could be unpredictable. Parts of this trek can be especially windy so hold on to your hats!
Day 4
Day four of the W Trek sees hikers take on the second 'V' of the W-shaped route, along the Sendero Paso Los Cuernos trail. Much of the day's path follows the shores of Lago Nordenskjöld, which are typified by alpine grasslands crisscrossed by small streams. You'll more than likely end the day at Chileno Camp, after seven hours and 12 miles of walking.
Day 5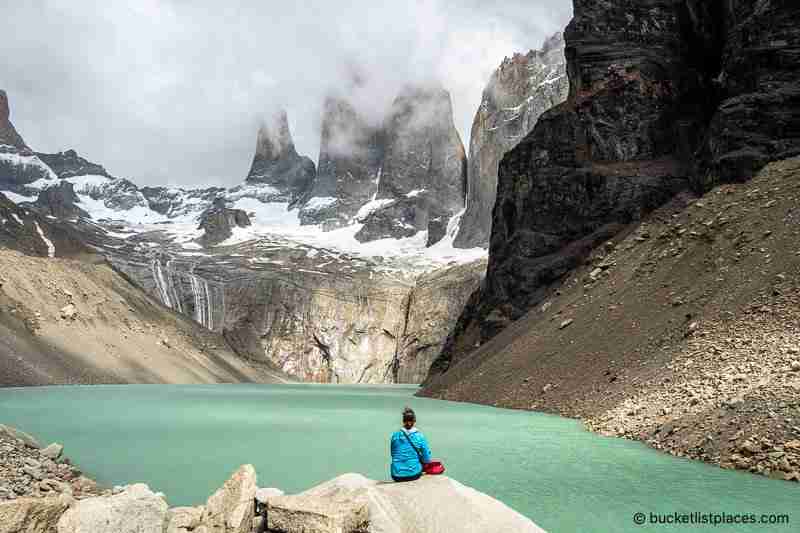 Day five is normally the last day of hiking the W Trek, although it's possible to cover shorter distances each day thanks to a chain of intermediate campsites along the way.
For most though, day five means the journey to the base of Los Torres mountains, which rise to a height of 9,500 feet. Heading towards their granite towers you'll follow the sound of the River Asencio. The trek ends with a scramble over loose moraine, so be sure to save some energy.
In all, you'll cover around nine miles in six hours, allowing plenty of time to meet the bus back to Puerto Natales.
What to Pack when Hiking the W Trek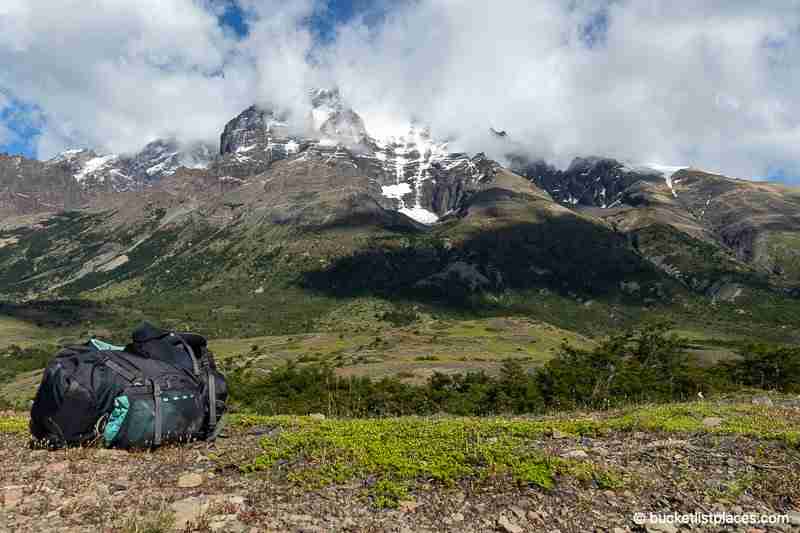 Camping equipment can be rented at refugios, but this will add to your costs. If you're completing the W Trek as part of a tour, tents and meals will be prepared for you. Even so, you'll still need some specialty equipment to finish hiking the W Trek. In addition to cold weather gear, you should take waterproof clothing, as well as a battery-operated head torch for nights in camp and early morning starts.
Weather can really vary in the summer so you will need both warm clothing on the cold days and nights and light clothing for hotter days.
Below is a brief checklist of the must have things to pack along with you so you are prepared for the elements when hiking the W trek.
T-shirts
Light-weight, foldable rain jacket
Rain pants
Warm waterproof jacket/parka
Layers (thermal under shirt, thermal leggings)
Sweaters
Wool socks
Headlamp
Hiking poles
Camping gear (if not renting at refugio)
Comfortable hiking backpack
Hiking leggings
Shorts
Fast drying tank tops
Ski mask
Warm hat
Baseball hat
Gloves
Water container (either water bottle or a hydration bladder)
What to pack when hiking the W trek
Conclusion
While there are many tours and ways to visit Torres del Paine National park, The W Trek in Torres del Paine National Park is an ultimate bucket list experience for anyone visiting Patagonia in Chile. Taking in incredible mountain, lake and glacier views there's really nothing else like it. Follow the recommendations in our guide to hiking the W Trek in Patagonia, and you'll be well on your way to being able to tick off this bucket list.
Looking for more epic bucket list destinations in South America? Check out our content for Ecuador for some incredible places to explore.