Laos is perhaps one of the least visited and most under-appreciated tourist destinations in Asia. A reclusive country in South East Asia, Laos has only recently opened its gates to foreign tourists. But the industry quickly took off, becoming one of the economic driving forces within the country. One of the most beautiful countries in Asia, Laos is a must-add to any bucket list. So what are the most beautiful places in Laos to visit?
Compared to other more popular destinations such as Vietnam, Thailand, or Cambodia, Laos is often overlooked because it is still a relatively well-kept secret amongst in-the-know travelers. With delicious food, breath-taking waterfalls, dolphin-filled rivers and lush jungles, there is a bit of something for any traveler's taste.
Laos is an incredible country with impressive and unspoiled natural reserves, intermingling with bustling cities. The Lao people are some of the friendliest people in the world, and their culture is extremely diverse, offering a satisfying experience to all tourists who want to stay off the beaten paths. If you have not yet decided on where to visit in Laos, the following destinations are the most beautiful places in Laos and the best places to visit.
Vientiane
The capital city of Laos, the city of Sandalwood. Vientiane itself is quite a small city compared to some of its more popular neighbors such as Hanoi or Bangkok, so you should not worry about the throngs of tourists who overrun big cities. Vientiane is, in fact, the smallest capital city in South East Asia, and it is for this reason that it still retains a relaxed and calming vibe of a city almost frozen in time.
As Laos was once a colony of France, the French influence is still very evident in the city, most notably in the architecture and the cuisine. Here and there in the city are well-preserved French-colonial villas, and there are also plenty of amazing restaurants that offer exquisite dishes that combine the tastes of the East and the West.
While staying in Vientiane, don't miss out on the chance to take a stroll along the boulevard that parallels the Mekong river. The calmness of the Mekong and the serenity of Vientiane as a whole will make this walk an uplifting experience.
Vang Vieng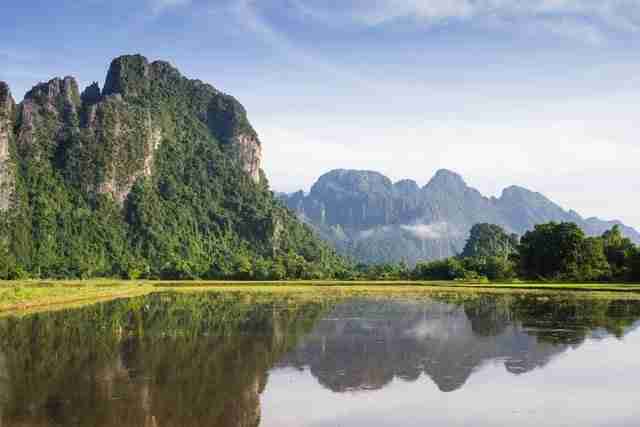 Vang Vieng is the antithesis to the calming vibe of Vientiane. Originally a small town famous for its karst formations, Vang Vieng has seen a huge surge in tourists in recent years, and it has become widely known as a haven for backpackers, parties, and cheap drinks. 
However, parties are not the only thing Vang Vieng has to offer. Its Karst hills and cave systems offer a great challenge for risk-takers. Local tour companies offer kayaking trips and plenty of other activities as well, so don't hesitate to give them a try! 
Luang Prabang
No trip to Laos is complete without a visit to Luang Prabang, the fabled former royal capital of Laos. An incredible city and one of the most beautiful places in Laos, Luang Prabang is a recognized UNESCO World Heritage Site. Located in the northern section of the country, it is arguably the heart and soul of the Lao culture. This small town features some of the most impressive Buddhist and colonial landmarks in the country, and it rarely gets crowded with tourists, allowing you to fully explore the splendor of a bygone era without being interrupted by the hustle and bustle of a modern city.
Aside from visiting monasteries and temples, you could always try visiting the local night markets. Some of the local vendors might surprise you with their selection of traditional crafts!
While in Luang Prabang, be sure to visit the bear sanctuary to see the incredible wildlife up close and contribute to an incredible cause.
Mount Phousi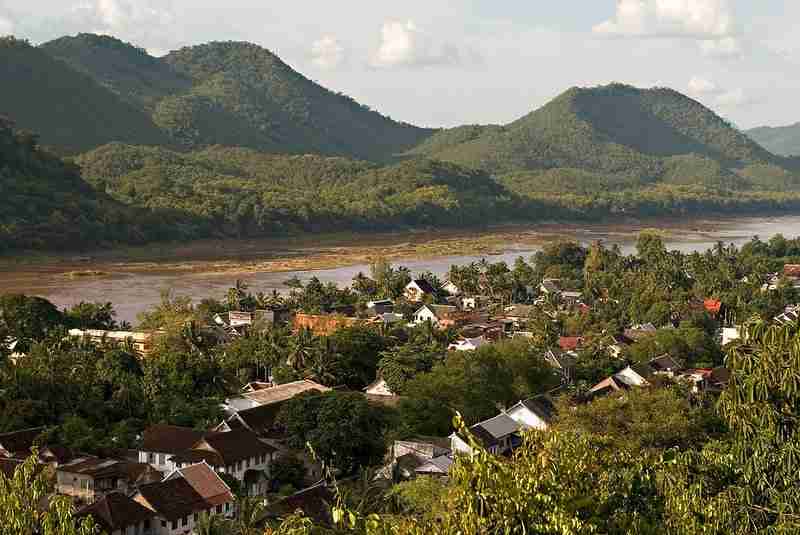 A religious site sitting at the center of Luang Prabang is a hidden gem which shies away from the throngs of tourists. Mount Phousi is a towering natural structure of 100 meters in height, offering unobstructed views of sunrises and sunsets on the Mekong River. On the way to the top of the mountain are beautiful ancient temples of at least hundred years of age, so don't hesitate to drop by if you have some time within your itinerary.
Kuang Si Falls
Located just about 29 kilometers away from Luang Prabang is the Kuang Si Falls, a perfect destination for a day trip. At the top of the most beautiful places in Laos list, this series of waterfalls is also one of the prettiest in the world. Boasting jaw-dropping views of unspoiled natural beauty, the falls feature a series of small pools and ponds that are perfect for diving and swimming, providing the perfect heat relief for hot summer days. The gleaming turquoise-colored water will make this spot one of the most instagrammable destinations in Laos.
Nong Kiao
Far from being a tourist hot spot, Nong Kiao is a picturesque village nestled between lush rainforests and the serpentine Nam Ou River. Surrounded by unending forests and being relatively cut off from other big cities, Nong Kiao feels like a time capsule, where life seems to have frozen in time, unspoiled by modern life. If you ever want to stay lost in time, perhaps this destination will be the perfect choice for you!
Among the most popular scenes in the village is a photogenic bridge that connects the two sides of the village. As it is quite close to rainforests as well as mountains, the village has many tour companies that provide numerous activities such as treks into the forest or visiting other remote villages.
Si Phan Don
Aptly named the 4,000 islands, Si Phan Don is a group of islands at the southernmost point of Laos, right before the Mekong River enters Cambodian territory. Most of the islands are tiny in size, and people generally don't live on them. This unspoiled nature to them makes them one of the most beautiful places in Laos. Where there are few humans, there are bounds of fish! The high water quality in the area allows plenty of fish to grow and thrive in the area, so if you are looking for some fishing activities, this might be just the spot you need.
The area is also quite popular for the nearly-extinct Irrawaddy Dolphins. If you are lucky, you might be able to catch the sight of one!
Phonsavan
The famous Plain of Jars in Laos, also known as Phonsavan, is sadly a rather under-appreciated destination. It is not only one of the most beautiful places in Laos, it is also one of the most unique. The Plain of Jars offers a huge bag of treats to tourists who are interested in the culture of the Lao people.
Phonsavan is a vast open field with big stone urns here and there, each weighing up to thousands of kilograms. No one knows how the stone urns got there or what purposes they served, but people speculated that they might have been used to store wine or rice.
As the area is of great cultural value to the Lao people, and as there are local people living in the area, the best way to explore Phonsavan is with a local guide who knows plenty about the culture.
Pakse
Often overlooked by international tourists, Pakse is a city in the southern section of the country which will certainly surprise you with its calming and relaxing atmosphere, which is even more evident during the rainy season, when the shades of green adorn the entire city with a refreshing mantle.
Pakse is also a great travel hub for those who want to explore Southern Laos. It is quite close to famous landmarks such as Si Phan Don or Bolaven Plateau.
Thakhek Loop
Those who enjoy a road trip will certainly find the Thakhek Loop a great boon. Stretching over a massive length of nearly 280 miles, the Thakhek Loop runs through scenic forests and magnificent waterfalls on its way. Here and there on the way are paddy fields that stretch towards infinity, dotted with a few farmers. The loop will take you through the different signature landscapes of Laos, so be prepared to be amazed! The trip could take as short as 2 days or as long as 4 days in total. The town of Thakhek does have plenty of spots that offer bike rental services, so you don't have to bring your own bike.
Conclusion
Laos is a beautiful country that is relatively quieter and less busy than other surrounding destinations. Though it is hard to identify only a few of the most beautiful places in Laos, these destinations will give you a great start if you only have a short period of time to explore. If you have the chance to visit this amazing country, make sure to take the plunge and immerse yourself in the local traditions and culture. You will certainly be amazed!