Dreaming of visiting the best ski resorts in the U.S. in one epic ski road trip?
For some people, the southwestern United States bring to mind images of lone cacti in still desert air. But the likes of New Mexico, Colorado and Utah have some of the top ski resorts in America.
We've put together the ultimate 2 week bucket list itinerary to hit up all of the top rated resorts in one epic trip.
Ski Road Trip Itinerary to Visit the Top Ski Destinations in the U.S.
Day 1 – Fly into Albuquerque, New Mexico
New Mexico's largest city is an excellent place to start any ski road trip in the region. Well connected by road and air, Albuquerque has long been seen as both a cultural destination and an access point for all the American great outdoors can offer – including great family-friendly skiing. So alongside the mountains, you'll find a thriving restaurant scene and a couple of descent museums too. What's more, a plethora of ski stores ensure you can pick up any last-minute additions to your kit without it becoming a huge fuss.
The city has more than 300 days of sunshine per year, meaning that even during the ski season you're all but guaranteed boundless blue skies as a backdrop to your runs on the slopes. It also has its very own ski area just a twenty-minute aerial tramway ride away on the 10,700-foot summit of Sandia Peak. Nestled within the natural beauty of the Cibola National Forest, the area contains four lifts and 35 different runs. Its facilities include a ski school and equipment rentals.
Day 2 – Ski Santa Fe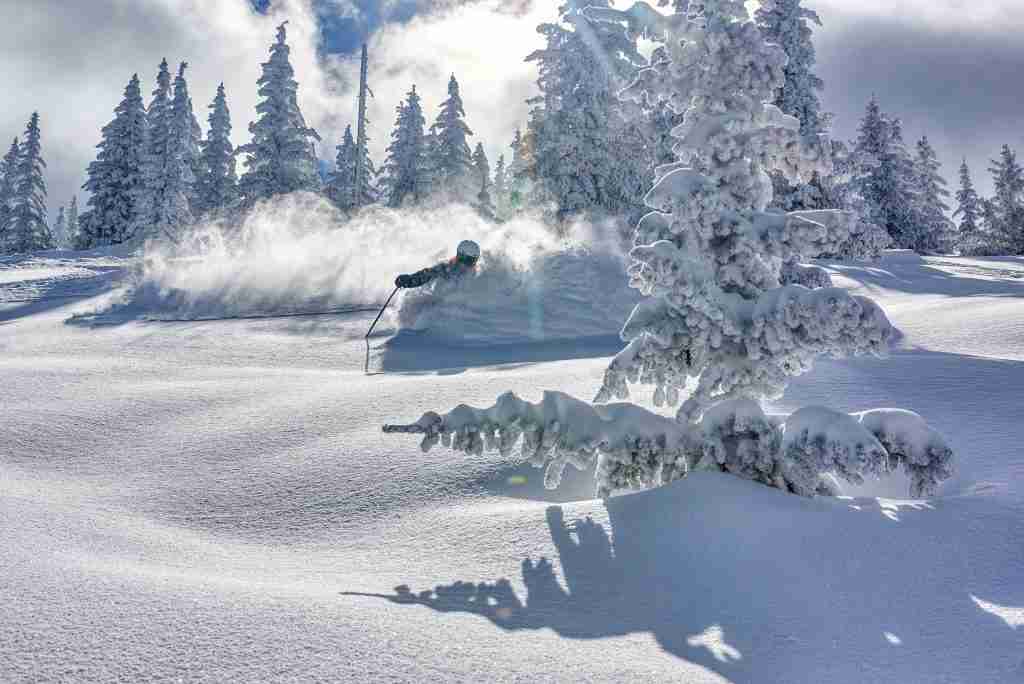 Having enjoyed Albuquerque's reputation for hospitality, it's time to kick off the ski road trip with a 1.5 hour and 80-mile journey along the I-25 N to Santa Fe, one of the most beautiful places in New Mexico.
Ski Santa Fe, the ski area, is just north of the city. With a base elevation of over 10,000 feet, snow is never really a problem during the ski season. Whether you're after perfect pistes (of which there are more than 80) or off-piste backcountry exploration, there is a bit of something for everyone.
Much better known than Albuquerque's Sandia Mountains, Ski Santa Fe is one of the most popular ski resorts anywhere in the US – with good reason. It is one of the best value destinations around, with walk-up prices of $88 per day for adults. And once the skiing and snowboarding is over for the day, you still have the delights of Santa Fe to look forward to, which is where we'd recommend you bed down for the night before hitting the road again tomorrow.
Days 3 & 4 – The Enchanted Circle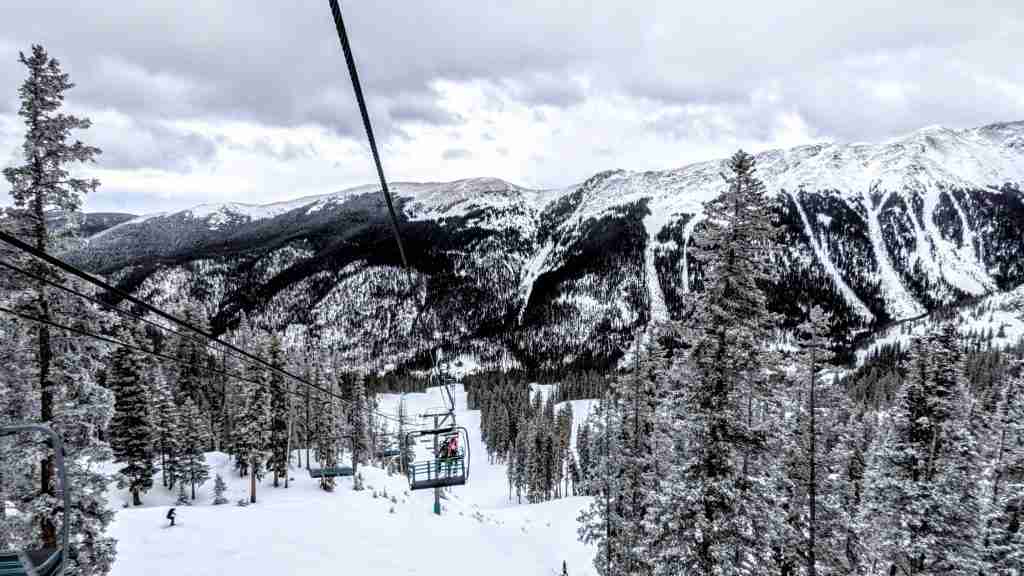 Head further north on your ski road trip, and you'll discover what many consider to be New Mexico's foremost ski area. It's roughly 2 hours or around 100 miles from Santa Fe to Taos Ski Valley at the heart of what's sometimes called 'The Enchanted Circle'.
But with two days in hand, there's no real need to hurry, and you might even consider stopping off on route at Sipapu, the oldest ski resort in New Mexico. Founded in 1952, it lies 20 miles southeast of Taos, and lift tickets are as low as $19 per person.
The Enchanted Circle consists of an 83-mile loop of mountains, valleys, flat-topped mesas and further areas of nation forest. Taos Ski Valley sits within them, neatly closed off from the rest of the world to give it an intimate feeling while still having all you need for a couple of good days on the slopes.
It boasts some of the lightest powder in North America, as well as more beginner and intermediate slopes than anywhere else in the state. Its Kachina Peak is perhaps the favorite run to tackle of more than 100 in total.
Away from the slopes, the valley has a gentle alpine village air, with a good number of shops and restaurants, as well as a spa should you need to ease aching muscles. But for your best start to day 5, it's probably best to make the three-hour (170 mile) journey across the state border into Colorado for Wolf Creek at the end of Day 4's runs.
Day 5 – Wolf Creek, Colorado
Boasting the most snow in Colorado, Wolf Creek ski area has 1,600 acres of skiable mountain. The Navajo Trail run alone stretches for an incredible two-mile length. Able to operate from early November until the beginning of April each year, it tends to be one of the first to open for skiing. What's more, the area has a spectrum of slopes evenly spread between beginner, intermediate, advanced and expert.
The relative lack of crowds on the slopes makes Wolf Creek a relaxed place to ski and snowboard, with the majority here being local residents rather than incomers. Compared to more famous ski destinations in the states, its facilities might be considered basic, but take it for what it is and you're sure to be pleasantly surprised.
Days 6 & 7 – Telluride
The winding route from Wolf Creek to Telluride takes a somewhat circuitous path, first around the San Juan National Forest and then north past Mount Wilson. At around 3.5 hours and 200 miles, it's one of the longer connections on our ultimate ski road trip. But the views along the way more than makes up for it the long distance.
Telluride itself sits at the base of Mount Sneffels. It has recognition not just in North America but across the globe as a premier ski and snowboarding destination, to the extent it tops the poll with the Condé Nast readership. Seeming to offer something for everyone, Telluride receives an average of 300 inches of snow each season, making around 2,000 acres of land skiable.
What's more, the resort enjoys 300 days of sunshine a year, just like further south in New Mexico. Like Wolf Creek, it has a relatively even split between runs graded for beginner, intermediate and advanced skiers, making it another excellent stop for groups with different levels of ability.
Days 8 & 9 – Snowmass
If you manage to tear yourself away from all Telluride can offer, then make the equally mesmerizing journey towards Snowmass Mountain in Aspen, Colorado. It's another long run on the road, at around 170 miles and just under four hours driving time. But it can be easily broken up with a stop off at the Black Canyon of the Gunnison National Park and Conservation Area, which offers trout fishing, kayaking, whitewater rafting and various hiking routes. There is also great hiking in the Aspen area.
Back on the slopes, we've chosen Snowmass as a great alternative to the better-known Aspen, which lies only a couple of miles away from the village with its ski runs easily within reach. Operating from the end of November, there's probably been no resort better named than Snowmass. 98 trails can be accessed by 20 different chair lifts, providing access to everything from glades to halfpipes. Perhaps the only downside of this otherwise all-round destination is the fact that only around 5% of its 100 trails are designated as suitable for beginners.
Day 10 – Vail
The epic mountains of Colorado beckon for a further day of slope fun in Vail. This part of your ski road trip can be reached in around 2.5 hours (110 miles) from Snowmass, passing by the charming town of Glenwood Springs along the way.
The village itself has a definite alpine ambience, with wonderful painting and embellishments to many of the steeply-roofed building façades. As a result, Vail is somewhere it would be very easy to forgo the slopes for a rest day and enjoy the simple pleasures of good food and warm drinks in a convivial and homely atmosphere.
But if you're dead set on hitting the slopes, that's also not a problem. The seven back bowls here offer plenty of virgin backcountry powder, while Golden Peak acts as the perfect base for anyone looking for pleasurable runs, racing, or their first turns on a slope.
Day 11 – Steamboat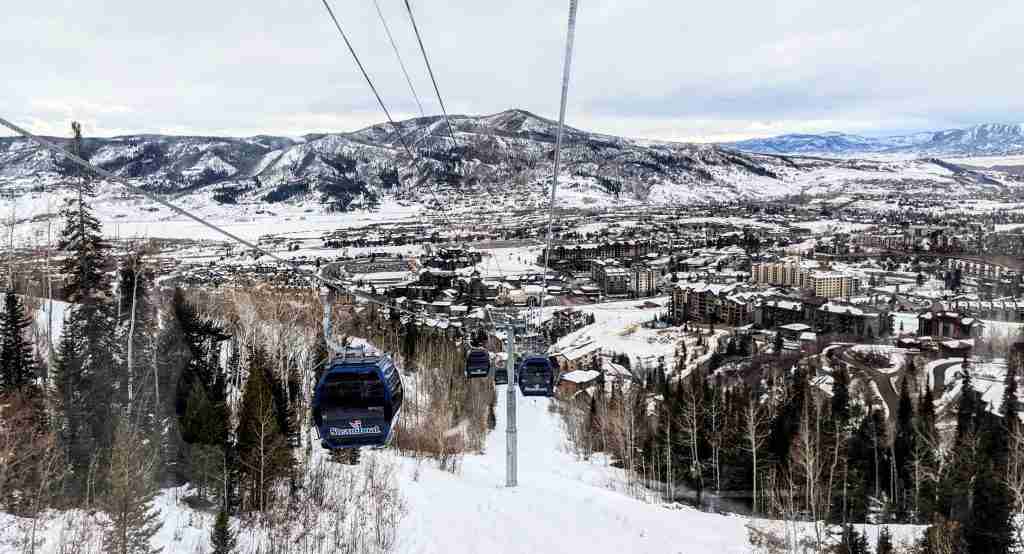 Named for the famous Steamboat hot springs in town, Steamboat certainly deserves a day of your ultimate ski road trip. This is perhaps all the more surprising given how close the resort is to Denver, Colorado's most populous city, which sits within sight of the mountain.
Its proximity to Denver makes it a much-loved ski destination, while taking nothing away from the quality of the runs on offer here. Approximately 125 miles from Vail, it will take you around 2.5 hours to reach Steamboat.
One of the homeliest of all the ski destinations on this 2 week ultimate ski road trip, Steamboat's warmth wraps around you like a much-loved blanket does. Its 'Champagne powder' snow covers some 170 different trails, and has produced more winter Olympians than anywhere else in the country. In fact, it's not unheard of to end up sharing a chairlift with one of them.
Days 12 & 13 – Park City, Utah
Park City in neighboring Utah is roughly 500 miles from Steamboat. The quickest route by road is via the I-80 W, which will take around 7.5 hours. This trip can be split up by forgoing a day of skiing and instead spending a night in Vernal, Utah to visit the Dinosaur National Monument by driving along US-40 instead. This route is far more picturesque and give you the ability to visit one of the most interesting Dinosaur fossil sites in the world. Make a day of this road trip within a road trip, stopping off at the various points of interest.
Park City has magnificent natural surrounds, so be sure to spend your first couple of hours after arrival simply enjoying all there is to offer. The following morning, you can get straight down to the skiing and other winter sports available. These include dog sledding excursions, snow biking and snowshoeing, throwing something new into the mix.
One of the major locations of the 2002 Winter Olympics, Park City Mountain is not only the largest ski resort in the country, but it also comes highly-rated, with pretty much every form of skiing and snowboarding possible across more than 7,000 acres of skiable terrain.
Day 14 – Alta & Salt Lake City
While only a couple of miles as the crow flies from Park City, Alta is roughly an hours' drive time away, on a 40-mile route that edges the extremes of Salt Lake City (but more on that tomorrow). The area has six lifts and more than 100 different trails. Almost half of the total skiable terrain here is suitable for either beginners or intermediates, and the resort manages to combine great skiing with as natural a setting as possible. However, snowboarders be warned that Alta echoes nearby Deer Valley and Mad River Glen in prohibiting your sport. The half a million annual visitors have to stick instead to two skies.
The center of Salt Lake City is around 40 minutes' drive from Alta, with the international airport not all that further, making the city an ideal place to end any ski road trip in this part of the United States.
If you're not from these parts, Salt Lake City has an intriguing culture all of its own, thanks to the large number of Mormons who call it home. Although it's much more liberal in outlook than much of the rest of the state. Among its non-snow-related attractions, be sure to check out the Salt Lake Temple, which rises a mighty 222 feet above the surrounding area and is not only the focal point of Temple Square, but also Mormonism worldwide.
Conclusion
Looking for the ultimate 2 week ski road trip in the United States? You've found it! This itinerary takes in the very best skiing and snowboarding in New Mexico, Colorado and Utah all in one epic trip. Albuquerque and Salt Lake City act as brilliant start and end points for what's sure to be an unforgettable road trip.
For more epic adventures check out:
15 Most Beautiful Places in Slovenia You Must Visit
Roatán Travel Guide: Best Things to Do, Where to Stay, Eat, Drink