Alaska is an outdoor wonderland without comparison so putting together the best Alaska road trip itinerary can seem daunting. When putting together our Alaska travel guide, we wanted to make sure to include a little bit of everything Alaska has to offer. Its landscapes soar between the snow-capped peak of the United States' highest mountain – Mount Denali – and coastlines wrinkled with fjords and regularly visited by breaching whales.
In between, you'll find meadowland home to bears and some of America's last wild roaming bison. Quaint towns rise amid phenomenal landscapes, among them Anchorage, gateway to the state by both air and road.
As dramatic as it is large, Alaska has the ability to instill both awe and wonder at ever turn. From glaciers to bucket list brown bear viewing tours where you can get up close with a bear fishing for its dinner, there is surely something for everyone in Alaska's wilderness.
So why not give the state the recognition it deserves by following our 10 day Alaska road trip itinerary and travel guide, starting and ending in Anchorage? This Alaska travel guide will take you through views with endless panoramas, little traffic, and so few roads it's difficult to ever get lost. Most importantly, you will see some of the most beautiful places in Alaska.
Starting point: Anchorage to Talkeetna
Celebrating its one hundredth birthday in 2020, today Anchorage is the most populous city in Alaska. Lying at the northern end of the Cook Inlet, its downtown area might be humble in appearance, but that's more to do with its extraordinary backdrop of the Chugach Mountain Range that rises up behind it.
There's plenty to divert your attention in Anchorage for a few hours after landing at the airport and making the short five-mile journey into town by road. One option would be to get a sense of the spirit of Alaska in the downtown area – the biggest settlement you'll come across on this epic Alaska road trip itinerary. If you've forgotten a vital piece of kit, now's your chance to pick it up too.
If you have the chance to stay in the Anchorage area, located just 30 minutes north of Anchorage on your way to Talkeetna is Loft in the Clouds, one of the best places to stay in Anchorage county. This breathtaking loft is perched at the foothills of Chugach State Park and just a short walk away from one of the most popular hiking trails in Alaska. With 4 bedrooms and 2.5 baths it sleeps up to 10 people so it's a great way to save on lodging for larger groups compared with the expensive hotels in Alaska. Did we mention the roof deck with views of Denali? Incredible.
Every Alaska travel guide will mention a trip to Denali National Park. However, if at all possible, you certainly shouldn't miss the Anchorage Museum before making your way to spend the night at the Talkeetna Alaskan Lodge. The drive there will take you around two hours, so bear this in mind.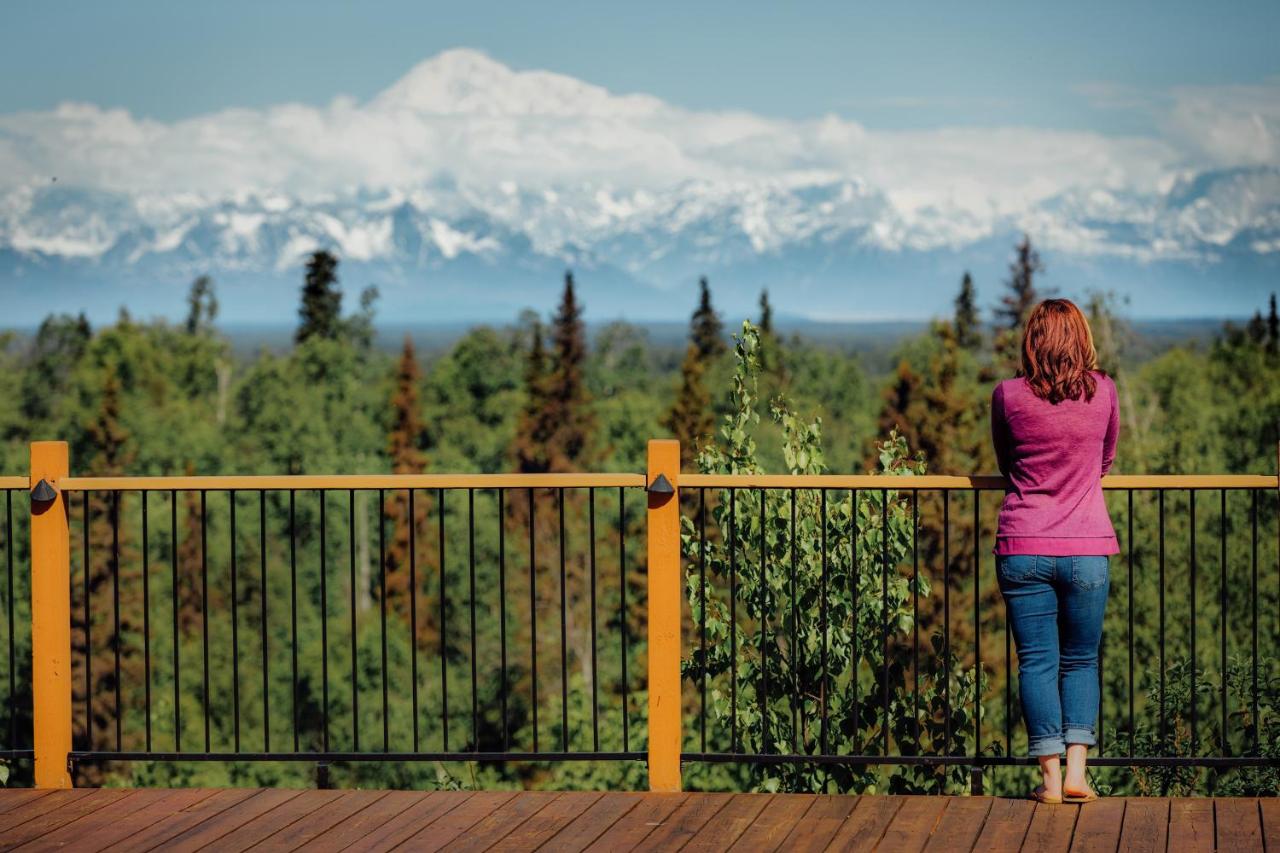 Situated on the edge of Denali State Park, this unforgettable bolt hold not only boasts cozy beds, but also views across to Mount Denali (formerly Mount McKinley), and award-winning cuisine. The only downside is how hard it's going to be to leave the next morning. Just keep in mind, finding places to stay in Alaska can be difficult last minute in the summer so make sure to book ahead!
Best Things to Do in Talkeetna and Denali State Park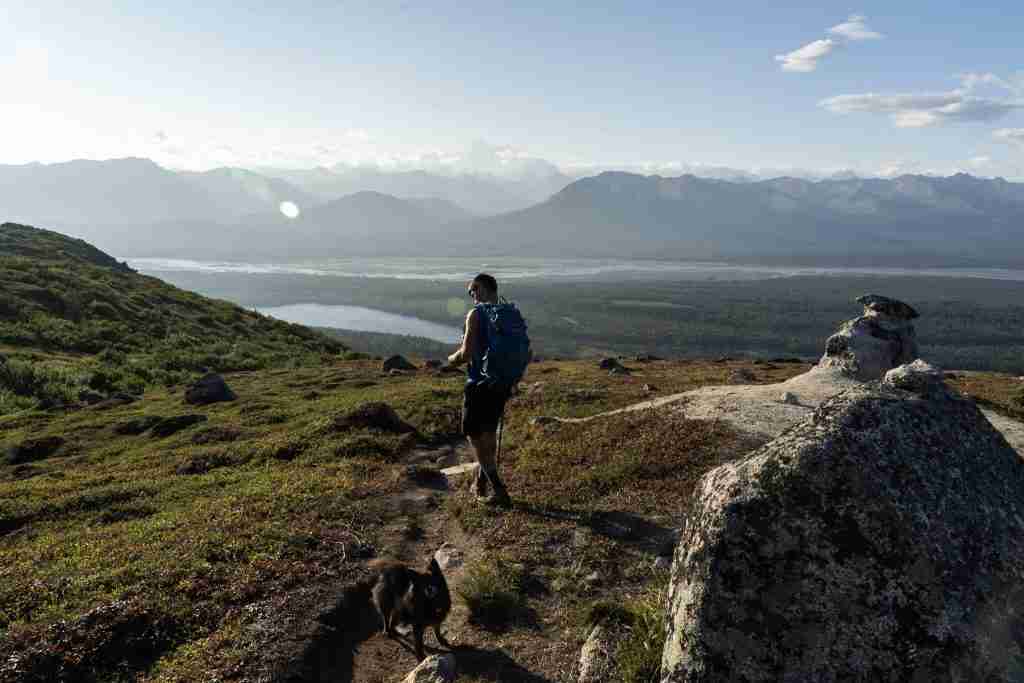 Pay a visit to the Denali Brewing Company
This fantastic brewery also is home to Alaska Ciderworks, Alaska Meadery and Denali Spirits. A little bit of something for everyone's tastes. They also serve delicious food and desserts.

Take a scenic flight and land at Denali base camp
One of the most incredible experiences in Alaska is to take a flight tour fro Talkeetna to Denali base came. There are opportunities just for a flight tour where you are able to view the tallest peak in North America and other tours give you the opportunity to land on a glacier and experience an adventure of a life time.

Hike in Denali State Park
Few visitors to Alaska know this well-kept secret. The best views of Denali from hikes are actually on Denali State Park trails. If you have extra time and love to hike, the famous Kesugi Ridge trail is a must. This multi-day, through hike is 29 miles one way and goes along the ridge of several peaks with incredible views of Denali and the Alaska Range. For those that don't have that much time (or motivation) for a through hike, you can still do parts of this trail and on clear days the views are to-die-for. Little Coal Creek trail and Cascade Lake Trail are other fantastic day-hike alternatives.

Go rafting or river tubing
Another great way to check out the area and do some wildlife spotting is by boat. This is a great relaxing family adventure for those visiting with kids.

Go on an ATV adventure
If your preference is to stay on solid ground (or you have multiple days to explore), consider taking an ATV tour. With so much of Alaskan wilderness unreachable by car, there are miles and miles of off-road trails that you can explore with an ATV tour. Tours can be half day, full-day and even multi-day. It is a great way to go deep into the Alaska wilderness.

Go Ziplining Through the Alaska Wilderness
Imagine spotting wildlife while soaring through the air on a zipline. Enjoy a 3 hour tour and on clear days get incredible views of Denali, the tallest mountain in North America.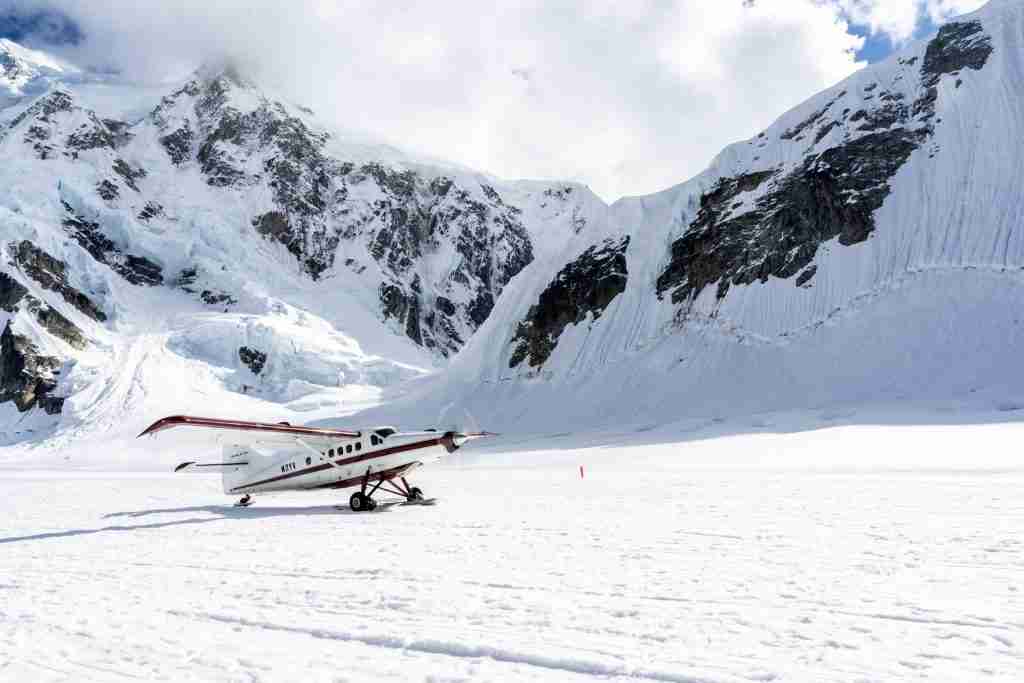 Next Stop: Denali National Park Visitor Center
Thanks to the unrivaled position of Talkeetna Alaska Lodge, you've already had your first glimpses of America's highest mountain. The next stop on your Alaska road trip itinerary gives you the chance to get up close and personal with this majestic peak at Denali Visitor Center. It lies a further two hours 40 minutes (150 miles) north along a road that gently carves its way between mountains.
Only open during the summer months, Denali Visitor Center acts as a one-stop shop for all things mountain related. Here you can learn more about the natural and cultural history of the area. But this is also the place to head for ranger-led walks and for the free permit you'll need if you fancy exploring the backcountry by yourself.
Best Things to Do in Denali National Park
Take the National Park bus deep into Denali National Park
Only the first 15 miles of the 90 mile road into Denali National Park is open to cars. Beyond that point it is only accessible by park bus tour, on foot (that's a long walk!) or bicycle. If you have a full day to kill and would like the highest chances of viewing the wildlife in Denali National Park as well as access to the back country, book a Transit bus or a Bus Tour. Keep in mind, the buses take a full day (8 hours) but give you the chance to see the most of the park in one day.

Hike in the back-country of Denali National Park
Rangers at Denali encourage people to go out and explore the park on their own which is what makes Denali a truly unique destination for backpackers. Obtain a back country permit and camp in isolation and beauty. Even on day trips, you can explore the back country by taking a Transit bus down the 90 mile road and get off and explore where you would like.

Camp overnight at Wonder Lake Campground
One of the best experiences (and one that gets booked up sometimes one year in advance on popular dates) is camping deep in Denali National Park at Wonder Lake Campground. To reach the campsite, you must take all of your gear with you on the park's Camper bus to the last stop. From there, you can set up camp and hike in the back country of Denali where you will have access to the most amount of wildlife. The views at Wonder Lake are famous for reflections of the famous Denali peak on clear days. Dozens of photographers trek to the area daily to get the perfect reflection shot.

Hike one of the many accessible trails from the Visitor's Center.
If you are short on time and only have a few hours to spend at the park total, you can still enjoy some great day and half day hikes from the visitors center. The most famous is the Mount Healy Overlook Trail and the Triple Lakes Trail. If you are traveling with a group and have 2 cars, you can do the Triple Lakes Trail as a through hike cutting the distance in half by leaving one car at the start of the trail and the other car at the other end. If you are traveling out and back it will be a full-day hike.

Mount Healy Overlook Trail (pictured above) is a 7 mile hike with nearly 2500 ft elevation gain. While challenging, the views on this hike are absolutely jaw dropping and you don't need two cars to get from one side to the other. The hike should take around 4-5 hours to complete. Because of how open it is, make sure to bring hiking poles and be careful during rainy days as it will be very slippery.
Denali Highway to Tangle Lakes Campground
As we continue along our itinerary on this Alaska travel guide, the shortest (and most scenic) route to your next destination of Tangle Lakes Campground in Paxson is via the Denali Highway, a lightly used gravel road also known as Alaska Route 8. The Denali Highway is at the top of the list of best things to do in Alaska. Boasting some of the most beautiful views of the Alaska range, this road gets bumpy so make sure your vehicle is in good shape to handle unpaved roads. Be aware, many rental agencies explicitly forbid traveling on the Denali Highway and other gravel roads.
There are a number of stops along the way for incredible views, stunning hikes to glacier lakes and ATV trails. If you like wild mushrooms, this area is a gold mine for the delicious bolete mushrooms (the family that includes the famous Porcini).
The full journey to the campground will take around 2.5 hours not including stops along the way. You'll want to retrace your steps to Cantwell, and turn off here. Like the Denali Visitor Center, this road is closed during the winter months, meaning a six-hour drive through wondrous landscapes in a large arc that first heads north via the city of Fairbanks and wonderfully named town of North Pole.
The campground has an attractive setting to pitch a tent and enjoy the late evenings of the Alaskan summer and the famous white nights that come along with it. It can be found amongst a series of small lakes that form the source of the Delta River.
Next Stop: Wrangell-St. Elias National Park Visitor Center
Begin the next day early with a trip roughly two hours south along the main road to Wrangell-St. Elias National Park Visitor Center, also known as the Copper Center Visitor Center.
This visitor center offers a similar range of attractions to that on Mount Denali. In addition to an exhibition hall and theater, its staff of rangers lead guided walks in the summer months. You'll also find various viewpoints that are just perfect for a social media post, and the Ahtna Cultural Center C'ek'aedi Hwnax 'Legacy House', where you can discover more about the region's native populations.
Note: The visitor's center is primarily informational and not an attraction within the park in and of itself. It will serve as a stop to get information and determine the best things to do in Wrangell-St. Elias National Park for your Alaska road trip itinerary.
Best Things to Do in Wrangell-St. Elias National Park
Drive the road to McCarthy
The road to McCarthy will take a couple of hours as it is unpaved but it is generally a decent road that doesn't require a 4×4. Typically RV companies will prohibit taking the RV down the road. There are settlements at McCarthy where you can spend the night at a hotel and restaurants to grab a bite when you reach the end. This is also the starting off point for many hikes including the ability to walk on a glacier.

Visit the Kennicott Historical Mines
Once you reach McCarthy, it is forbidden to bring your car in and you will need to get around by foot or by shuttle. From McCarthy, take a shuttle to Kennicott Historical Mines and get a sense of the history of this area (as well as stunning views). From here, you can do the hike that will bring you on a Glacier.

Walk on Root Glacier
Alaska is one of the best places in the world to view glaciers. From Kennicott, take the hike to visit one of the most accessible Glaciers in North America. A 4 mile round trip hike will take you up close and personal to Root Glacier where you will have the opportunity to trek on a glacier. Bring along hiking poles and make sure to follow tracks and be very careful as glacier trekking can be very dangerous.

Take a Helicopter or Scenic Flight Tour into Wrangell-St. Elias National Park
If you are short on time or don't feel comfortable driving on bumpy roads, a scenic helicopter or flight tour is the perfect way to see the stunning mountains in Wrangell-St. Elias National Park. There are several companies that offer tours, everything from fly over to landing on glaciers. This is a perfect half day activity to see

Drive the road to Nabesna
If you have extra time to add to your trip, the road to Nabesna gives you a look into the park from a completely different angle. Far less popular than the road to McCarthy, there are tons of beautiful views and campgrounds along the way. To get all the way into town (especially in the spring and early summer) you will need a 4×4 with clearance to cross a few small rivers. Even if you don't go all the way, this is a beautiful drive and a secret thing to experience on your Alaska road trip itinerary.
Glenn Highway and the Turnagain Arm
As your route turns westward from the settlement of Glennallen onto Alaska Route 1 (or the Glenn Highway), a few miles north of the visitor center, the mountain views hardly ever leave your side. There is no shortage of places to stop for a quick photo opportunity, such as at Glacier View, to capture the full glory of the likes of Mount Witherspoon and Mount Einstein.
The best way to view the glacier along the way on Glenn Highway, for those who are athletically inclined, is to hike the Lion's Head trail. At the top you will have incredible glacier views as well as breathtaking views of the surrounding mountains. If you happen to be there toward the end of the summer, end of October/beginning of September, you will be treated with brightly colored yellow and orange leaves as the shift from Summer to Fall changes the foliage.
As you continue along your Alaska road trip itinerary you will enter one of the most beautiful drives in Alaska and one of our personal favorites in this Alaska travel guide. The drive through Alaska's Turnagain arm is along the water where you can experience for yourself the drastic tide change.
There are many pull-offs, hiking trails and campgrounds if you want to linger in the area and enjoy the stunning scenery for longer. This is also a great place to view Belugas from shore as they hunt for fish right off the coast. The aptly named Beluga point is the perfect spot to see Beluga whales in Alaska.
After a scenic drive through the Turnagain arm you will come to Alyeska resort, a must-stay hotel located in Girdwood. Famous for winter skiing in Alaska, the resort is equally a must-visit in the summer. Surrounded by pine forest, the Alyeska Resort is a chalet style hotel just 40 miles but a world away from Anchorage, which you'll pass along the way. Guests are able to take advantage of a full range of amenities that include a spa, saltwater pool and scenic aerial tram. For a quick break in your Alaska road trip, take the tram up to the top and enjoy dinner at the mountain top restaurant.
If you have extra days in your road trip and love hiking, a popular hike in the area is Crow Pass. While the full hike is a one way, multi-day hike you can enjoy some of the best views of the hike by doing a day hike to a beautiful hut on a cloud lake.
Next Stop: Portage Glacier and Whittier
Drive just 45 minutes further southeast along the coast on your Alaska road trip itinerary and you'll reach Whittier, on the shores of Passage Canal on the western side of Prince William Sound. Home to only 200 people, Whittier is nonetheless a worthy stop on our Alaska road trip itinerary since it incorporates a section of the world's northernmost temperate rainforest, the Tongass.
The Tongass here is protected under the stewardship of Chugach National Forest. An area of exquisite natural beauty, it is the habitat of bald eagles, the site of no less than 22 glaciers, and home to more than 500 miles of hiking trails. Once you've had your fill of this world-famous landscape.
Best things to do in Whittier
Hike Portage Pass
While here, be sure to hike the Portage Pass trail to get the best views of Portage glacier.

Take a Scenic Glacier Cruise
For non-hikers, take a scenic cruise to get up close and personal with the 22 glaciers in the area as well as a chance to view wildlife.

Take a Jet Ski tour
For an even more exciting adventure do a jet ski tour to view glaciers and wildlife.

Next Stop: Seward and Kenai Fjords National Park
Departing can be such sweet sorrow, as Shakespeare put it, but surely not when the endlessly impressive Kenai Fjords National Park awaits no more than two hours south. As you continue along our Alaska travel guide, you will find that no matter where the Alaska itinerary takes you, the views are breathtaking.
The Kenai Fjords National Park guarantees the long-term survival of the Harding Icefield, one of the largest in Alaska and therefore the United States. The largest of almost 40 glaciers is Bear Glacier, although Exit Glacier is a much more popular choice for many, and lies at the end of the park's only road.
But what attracts most visitors to this part of Alaska are the park's animal inhabitants. Kenai Fjords National Park boasts an impressive array of species, including both brown and black bears, moose, sea otters, seals, killer whales and even humpbacks. Land tours and whale-watching tours are easy to organize, and not to be missed.
When it comes to where to stay, a good range of accommodation options can be found in the nearby town of Seward on Resurrection Bay.
Best things to do in Seward Alaska and Kenai Fjords National Park
Kenai Fjords National Park Glacier and Wildlife cruise
There's no better way to visit the glaciers inside this park than to take a glacier and wildlife cruise. On the cruise, National Park rangers give talks about the history of the park as well as share unique facts about its flora and fauna. If you're lucky, you may even spot humpback whales and even Orcas on the cruise.

Helicopter and Dog Sledding Tours
Land on a glacier and have the opportunity to go dog sledding. This is a truly bucket list experience on an Alaska road trip itinerary and one that can only be done during certain times of the year.

Rent a National Park Cabin
A little known secret that I will open up to you in our Alaska travel guide is that there are several national park cabins available for rent in Kenai Fjords National Park. The cabins book up months in advance but if you are lucky enough to snag a booking you can enjoy camping out on the beaches of the national park, sharing Salmonberry bushes with the resident bears and kayaking amongst the calving glaciers. You will need to take a water taxi to reach the cabin and those also book out in advance so this adventure requires a good amount of pre-planning.

Kayaking in Kenai Fjords National Park
There are a number of outfitters in town that will take you on a kayak tour of Kenai Fjords National Park. For those that have experience, you can also have a go at it on your own. Some of the outfitters rent kayaking gear to experienced kayakers and you can take a water taxi to different parts of the park that you can kayak and do overnight camping in.
Next Stop: Homer, Alaska
Rejoin Alaska Route 1 and you'll find yourself in Homer in around three hours and 20 minutes (170 miles). Once known as the 'end of the road' because of its location at the southern end of the Cook Inlet, it has more recently picked up the nickname of the 'cosmic hamlet by the sea'.
While the primary reason to come to Homer is for its natural beauty and moose sightings, the Pratt Museum helps detail the story of this part of Alaska. Its grounds contain a small botanic garden and historic cabin, while inside visitors will be able to enjoy learning about traditional life and see the region's contemporary art scene.
Homer has a number of great places to stay from luxurious lodges to private cabins. There is an endless list of lodging options for you to choose from.
Best Things to Do in Homer, Alaska
Take a Wildlife Watching Boat Tour
The waters surrounding Homer are filled with Salmon and many other sea life attracting Sea Otters, Whales, Orcas and much more. Take a boat tour for a chance to see these incredible animals.

Hike Kachemak Bay State Park
Take a water taxi across the bay and enjoy a day (or multi-day) of hiking around Kachemak Bay State Park. Trails here give you the opportunity to get close to a glacier as well as hike to a multitude of viewpoints that give you incredible views of the surrounding area.

Bear Viewing at the World Famous Brooks Falls
Homer is a jumping off hot spot for bear viewing tours that will take you to Katmai National Park and the world famous Brooks Falls. Most of the options to get there require flying on a small plane however there are a couple boat options if the weather and seas are calm.

Homer Spit
If you are looking for a more casual thing to do, take a walk on the Homer spit. There are many shops, restaurants and most importantly, incredible views, located here. You can even view wildlife including sea otters and sometimes whales right from the spit.
Return to Anchorage
From Homer you'll be retracing your journey on this Alaska road trip itinerary back north through the stunning Turnagain arm and then Anchorage itself, giving you one final opportunity to take in the landscapes that have made America's northernmost state famous throughout the world.
The average journey time to complete the 220 miles back to Anchorage from Homer is four hours and 15 minutes. This will be one of the longer drives in this Alaska road trip itinerary. If you have time before you need to drop off your rental car and catch your flight, you might want to consider paying a visit to the Alaska Native Heritage Center, probably the foremost authority on the traditional lives of the region's indigenous peoples.
The Ultimate Alaska Road Trip Itinerary and Travel Guide
You have reached the end of our ultimate Alaska travel guide. Follow our Anchorage to Anchorage 10 day Alaska road trip itinerary and you too will be able to discover some of the multitude of natural and cultural attractions that make the state such a bucket list vacation destination for people from across the globe.
From Mount Denali to Homer, by way of glaciers, luxurious hotel stays and a good dose of local wildlife, this carefully designed itinerary aims to provide you with the quintessential Alaskan experience. We hope you enjoy it as much as we have!