There's a natural inclination to peer out of an airplane's window in search of unfamiliar land and life below. And, as the faintest indicators present themselves, every traveller experiences a jolt of elation that takes them back to youthful Christmas days. Descending into Quito Airport provokes more robust feelings that'll leave travelers breathless and stupidly saying "WOW".
Situated high in the Andes, Quito, in Ecuador, unfurls more than 35km in length and just 5km in width. To the east, the Valle de los Chillos marks the decline towards the Ecuadorian Amazon, while the west is strikingly enveloped by the steep verdure of Volcán Pichincha – the region's active volcano. Even before landing, you'll realize there's an abundance of day trips from Quito that'll tickle every type of fancy under the sun. For some, one day is not enough and should be done as weekend trips from Quito.
NATIONAL PARK DAY AND WEEKEND TRIPS
Cotopaxi National Park
Like moths to a flame, travelers often seek experiences that defy the limitations of everyday life. One of the most exhilarating ways in which to achieve such a goal is to traverse headfirst over the contours of an active volcano.
A little over an hour from Quito city, the 33,393 hectares of Cotopaxi National Park is home to the snow-capped Cotopaxi Volcano – the second highest active volcano in the world. Its perfectly symmetrical cone towers 19,347ft over relatively flat terrain, meaning on a clear day its peak can be seen from Quito city centre.
With over 24 species of bird and a wide variety of ecosystems, forests, lakes, and lagoons, Cotopaxi National Park is a playground for outdoor adventure enthusiasts. The easiest way to see Cotopaxi National Park is to pre-book a tour with Viator, who are offering many types of tours here.
Start your day trip here by hiking to Laguna Limpiopungo where Andean gulls and hummingbirds often nest. Then hike or bike to José Rivas refuge before continuing on a well-defined path to Cotopaxi's summit ranger station. For those who love wild animals, there are hundreds of wild horses at Cotopaxi; and Tambopaxi Lodge is offering guided horseback riding tours – lasting from one to eight hours – to explore the national park.
Weekend Trip to the Galápagos Islands
For millions of years, the Galápagos Islands were a well-guarded secret from mankind. During this time, the islands evolved into a colony of red- and blue-footed boobies, frigate birds, flamingos, sea and marine iguanas, and giant tortoises. There are more native species here than anywhere else in Ecuador. It's no wonder Charles Darwin spent 19 days studying the islands in 1835: and his published work On the Origin of Species introduced the world to evolution and the exquisite beauty of the Galápagos Islands.
Although difficult to do as just a day trip from Quito, a weekend trip from Quito to the Galapagos islands can certainly be achieved. While you can't do a Galapagos luxury cruise in that time frame, you can certainly explore one or two islands on a land trip. Flights from Quito to Galápagos depart multiple times each day: once landed, travelers should spend the day island hopping, snorkeling, and hiking.
NATURE RESERVE TRIPS FROM QUITO
Weekend Trip to Mindo Valley
Situated just 90km from the city of Quito, the pint-sized pueblo (small town) of Mindo is the jungle retreat you never knew you needed. Mindo valley, the area that the town is located in, is the ultimate bucket list destination for bird watchers. With multiple nature and bird reserves, the area is known to have one of the largest concentration of birds in the world. In fact, there are many species of birds that are only found in the area.
Not that into birds? Don't worry, there is plenty more to do in Mindo Valley. From visiting a butterfly farm to ziplining through dense rainforest, Mindo is the most diverse of day trips from Quito and its off-the-beaten-track position lends itself to isolation and solitude. However, Mindo also hums with the subtle tones of native Ecuadorian wildlife – from its multitude of birds, sprightly butterflies, and many species flying to and from its orchid gardens.
It's not a surprise then that Mindo has become a popular destination for backpackers. But it's much more than that: it's a spot for culinary experiences and delightful aromatics of chocolate and coffee made locally in the area which combined will delight your nose and tastebuds.
Hiking is also spectacular in the area. But for those who don't want to hike the Mindo Cloud Forest, the tarabita (cable car) transports small groups over the Nambillo River and Cascada Nambillo waterfall; then, you can tube down the Río Mindo River, mountain bike, or go birdwatching.
Weekend Trip to the Amazon Rainforest
As the most diverse biosphere on the planet, the Amazon Rainforest is known for being the "lungs of the Earth." But it is also a place shrouded in mystery, with many dangers lurking beyond the designated paths, and its humid climate requires visitors to muster their innermost strength. It is the destination that cuts all ties with civilization, and the rustle of leaves and branches you thought you'd hear gives way to a deafening quiet similar to the stillness after a storm.
Although a day or two is not enough to explore all the wonders of the Amazon rainforest, if you are short on time it could be done as a weekend trip from Quito.
How can you make the most of a short trip to the Amazon Rainforest? Pre-book a trip with Viator, who'll privately pick you up from your Quito hotel, and take you, for two days, into the thick of the jungle. An overnight stay is arranged in locally built lodges, and traditional cuisine is served at night. Rising before sunrise, travelers hike from their accommodation to meet local communities, traverse along calm rivers, and learn about the native wildlife from their private guide.
Day trip to La Paz las Aves Refuge & Alambi Hummingbird Sanctuary
La Paz las Aves translates to 'Peace of the Birds Sanctuary' and is considered to be one of the wonders of the natural world. For those who aren't able to explore the Amazon Rainforest, this sanctuary is a superb alternative as it's the best destination for birdwatching in Ecuador, with the Andean cock-of-the-rock in resident, five species of antipas, and more than 170 bird species roaming about.
Located in the private cloud forest between Nanegalito and Mindo, there are multiple trails where birding naturalists guide travellers past birds that are usually impossible to see in the wild, including toucanets, olivaceous pihas, the blue-winged mountain-tanager, and the colourful toucan barbet. Once you've had your fill of birdsong, head to the Alambi Cloud Forest Reserve for the melodious tunes of the hummingbird.
Pasochoa Forest Reserve
Declared a protected area in 1982 and later a Wildlife Refuge in 1996, the Pasochoa Forest Reserve is one of the few remaining original Andean forests. Situated within an extinct volcanic crater, travellers will become acquainted with their daredevil side as they can hike five different trails of varying lengths and difficulty through the Andean biodiversity, grasslands, and cloud forests, before marvelling at the exquisite viewpoints, including snow-capped volcanoes.
Or they can do an extreme adventure excursion, climbing the rocky volcano and spending the night camping under the stars or enjoying the afternoon sojourning at the Pasochoa refuge lodge, kitchen, or picnic area. It is best to take the highway to Los Chillos Valley from Quito and continue on the road to San Rafael-Amaguaña. Here, hire a pickup truck that goes directly to the refuge.
HIKING DAY TRIPS FROM QUITO
Cayambe Volcano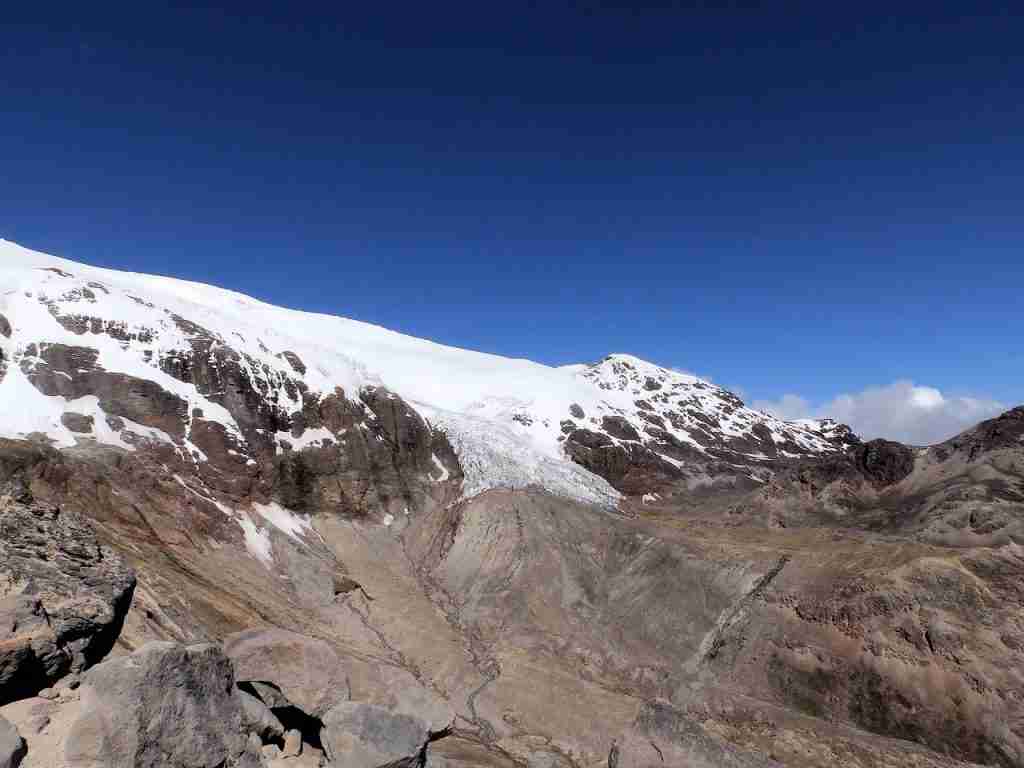 At an altitude of 4,690m and situated within the Cayambe Ecological Reserve, Cayambe Volcano is Ecuador's third-highest peak and the only peak in the world to be crossed by the Equator. For those looking for unique experiences, this is certainly a day trip from Quito made for you, as Cayambe Volcano is the only point on the Equator with snow cover. It is only 70 km north-east of Quito; and a day tour gives travelers a rare opportunity of hiking near a glacier.
Starting in Cayambe town, your private guide will transfer you into a four-wheel drive to Oleas Berge refuge before driving over green farmlands – home to many grazing alpacas. From here, beginner hikers should enjoy the dramatic views from the foothills, while more experienced climbers can try their luck with the mountain's technical terrain.
After a short time, Glaciar Hermoso, translated as 'Beautiful Glacier', provides the opportunity to marvel at the ice towers formed by the volcano. Before returning to Quito city, guests are invited to try a steaming cup of coca tea and traditional lunch at the refuge.
Pululahua Volcano Crater & Mitad del Mundo
The saying 'two for the price of one' speaks to the bargain hunters within us all, and this day trip from Quito to Pululahua Volcano Crater and Mitad del Mundo – 'Middle of the World' – is up there with the best of deals. Taking the only double-decker bus from Quito, travelers set off with bilingual tour guides to Pululahua to see one of only two inhabited craters in the world.
From the small town in the crater, guests are transported to Mitad del Mundo monument and its Ethnographic Museum, where you can get a photo with one foot in the Northern and one in the Southern Hemisphere, after which you can tell your friends you've actually been in two places at once.
With a 4D movie theatre, a beer museum, Ecuadorean chocolate factory, an exhibition of Guayasamin paintings, and a planetarium, there's certainly something to do for everyone.
Laguna de Cuicocha & Otavalo Market
A still, dark blue lagoon cushioned in a collapsed volcanic crater of 3km wide and 200m deep, the Laguna de Cuicocha is an exceedingly alkaline lake featuring two mounded islands. These uninhabited islands came into existence after a couple of eruptions: and, according to the indigenous people, the larger of the two resembles the appearance of a guinea pig – hence the name cuicocha, meaning 'guinea pig lake'.
Laguna de Cuicocha is the lesser-known version of Quilotoa Lagoon (which is equally impressive to hike), and its jagged ridge and well-marked paths allow travelers to hike the lake's entire circumferences – a 14 km circuit – without bumping into another person.
Before returning to your Quito hotel, travelers have the option to visit Otavalo Market which is just a 40-minute drive from Cuicocha. There are multiple tours to Otavalo Market, which is an excellent place to discover a community of indigenous locals who not only wear traditional clothing that maintains their cultural identity but are famous for their weaving skills and colourful textiles.
HOT SPRINGS & WATERFALLS
Papallacta Hot Springs
Only 40 miles from Quito lie the Papallacta Hot Springs. They are surrounded by verdant mountains, tropical flowers, and native animals, including hummingbirds, wild Pampas cats, and pikas. Their website promotes 'health through water' and 'relaxation, nature, rest' – concepts that soothe the soul, nourish the mind, and rejuvenate the body. And, after bustling days in the city of Quito or hiking and sightseeing the best of Ecuador, a day or overnight stay at the spa is just what the doctor ordered.
A place that combines the warmth of personable service and privacy with the splendor of the natural environment, the Papallacta Hot Springs thermal pools, lush gardens, restaurant, and plethora of treatments such as aromatherapy, massages, and facials will make you never want to leave. Its thermal volcanic waters have no end of health benefits due to its minerals, and the waters will gently exfoliate your skin.
Peguche Waterfall
Considered the most brilliant waterfall in northern Ecuador, Peguche Waterfall, otherwise known as Cascadas de Peguche, is located 3km from Otavalo and is easily accessible from the city of Quito. At 18m tall, the waterfall is considered to be sacred by the locals and during Inti Raymi – the festival of the sun in June – and it is a place of purification, with locals conducting ritual cleansing baths here.
A cobblestone street marks its entrance with stalls of handicrafts, traditional snacks, and drinks, further welcoming visitors into the Ecuadorian culture. Continue on this path to the top of the river where a secret second waterfall and mysterious caves beg to be explored. Paddle or bathe in the neighbouring hot springs or amble along the modest stream where chinchillas, guinea pigs, or the sound of birds can be found.
CITY GETAWAYS
Santo Domingo
For those looking for day trips from Quito that involve a shopping or nightclub fix, head to Santo Domingo. It's a driving distance of 132 km from the city of Quito. With its bustling energy, Santo Domingo also has a lot of history; and the statue of Ecuadorian hero, Antonio José de Sucre, stands tall in the middle of its plaza, pointing towards the area where the battle for Ecuadorian independence was won in 1822.
Before heading to one of its multiple restaurants for delicious traditional Ecuadorian food, make sure to visit the Tsáchilla communities, whose inhabitants have bowl haircuts smoothed down with bright red achiote dye. It is no wonder these people became known as Los Colorados, meaning coloured or red-heads. Then, pop over to La Perla Protected Forest, Lelia River, and 'El Bombolí' for a wonderful view.
Baños
For the thrill-seekers and adventurers, Banos is the ultimate weekend getaway from Quito. Although it could be done as one very long day trip from Quito, with so much to do it is recommended to spend at least a couple days in this beautiful town.
Banos (full name Baños de Agua Santa) is located approximately 3.5 hours driving from Quito. This small city truly has something for everyone. For those looking for day trips from Quito that have beautiful waterfalls, adrenaline-packed adventures including waterfall rappelling, white water rafting, swinging out over massive cliffs on swings or simply relaxing in a thermal spa, you can find it all in Banos de Agua Santa.
ADDITIONAL INFORMATION
All the aforementioned day trips from Quito can be taken on your own by renting a car. The roads in Ecuador are in great shape and driving is relatively easy. Alternatively, you could hire a driver for a day or take a tour to any of these destinations. Finally, Quito has great public transportation options if you prefer to get around by bus and train.